The BEST Gluten-Free Easter Recipes
You are sure to impress your guests for Easter brunch or dinner with these simple, healthy, gluten-free recipes! In this list, you will find delicious breakfast, side dish, main course, bread, and dessert recipes that are perfect for the Easter holiday. Not only are they gluten-free, but some are even paleo, grain-free, and dairy-free as well!
We have got you covered for the BEST Gluten-Free Easter Recipes!
Gluten-Free Breakfast & Brunch Recipes
From pancakes, to egg dishes, to cinnamon rolls and french toast. These are the best breakfast and brunch recipes for your Easter brunch!
A delicious grain-free and paleo pancake that is slightly sweet, made with almond flour, and filled with blueberry and lemon flavor.
These gluten-free cinnamon rolls are soft and chewy, bursting with warm cinnamon spice, and topped with a deliciously sweet glaze. They are simple and made with an easy gluten-free all-purpose flour mix.
A simple and healthy breakfast dish that is FULL of flavor. You only need a few ingredients to make a delicious dish that is a perfect compliment to cinnamon rolls.
An EASY egg dish that only takes a few minutes to prep, and is full of veggies and cheese!
French toast is the ultimate brunch dish! But we take french toast up a notch by adding apples, chai spices, and dollops of cream cheese, then bake it to golden perfection!
Gluten-Free Easter Side Dish Recipes
Simple veggie dishes, vegan mac & cheese, and delicious pasta salad are perfect side dishes for your Easter lunch or dinner!
A simple veggie side dish that everyone will love. All you need is a big skillet to saute the green beans and mushrooms together, then top with crunchy almonds!
Baked fries, with a twist! Zucchini fries are delicious, but they are even better when crusted with almond flour, making them extra crispy on the outside!
Mac & cheese is a must at holiday dinners! And this vegan mac & cheese is going to be a hit! No one will even know that it is dairy-free because it is so creamy!
Pasta salad is a go-to for a lot of people's holiday gatherings. And this one is bursting with flavor from the herb vinaigrette, crunchy veggies, and creamy goat cheese.
A simple roasted veggie side dish that only needs a few ingredients, then dress it with a delicious dijon vinaigrette for added flavor.
Gluten-Free Main Course Recipes for Easter
These gluten-free main course dishes will be the star of the show at your Easter dinner! Whether you make a roasted chicken, cornbread stuffing, or a hearty sausage stew, your guests will love it.
We all need an easy recipe for roasted chicken! This one is a spatchcocked chicken, which helps the chicken cook faster and more evenly. A perfect main dish for the center of the table!
Braising your chicken and veggies will always keep them super moist. This mediterranean dish is bursting with flavor from herbs, broth, chicken thighs, and lots of hearty veggies.
If you need a cozy soup or stew recipe for Easter, this is it! It is packed with chicken sausage, white beans, and lots of hearty veggies.
If you like to go the traditional route and make a stuffing, this one is delicious! It has a cornbread base, with added flavor from the sausage.
Gluten-Free Easter Dessert Recipes
You can't serve an Easter meal without dessert! These gluten-free sweet treats will finish out the meal and leave everyone wanting more.
You can't have an easter dessert menu without carrot cake! These carrot cake cupcakes are made with almond flour and packed with carrots, walnuts, and raisins.
These easy and healthy Chocolate Peanut Butter Eggs are made with only 6 ingredients! Making your own homemade copycat Reese's eggs is so simple, and will become your new go-to Easter treat.
Scones are one of those things that people don't make as often, but when they do, everyone is so impressed! These scones are light, slightly sweet, and packed with blueberries and orange zest.
A simple gluten-free sugar cookie! They are soft and chewy, and made with a simple GF all-purpose flour mix!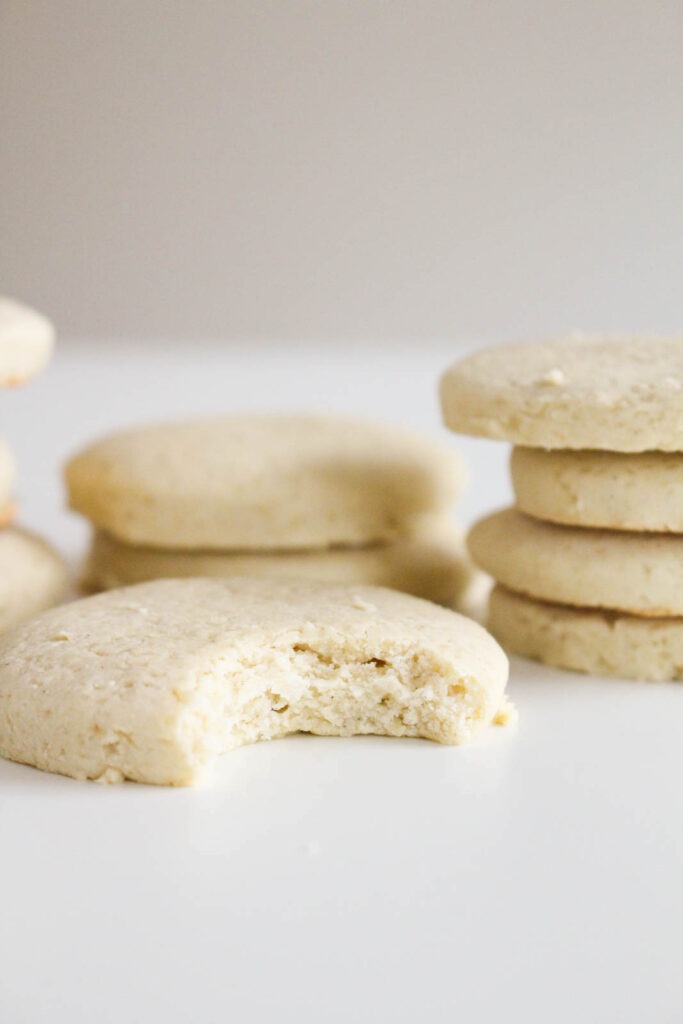 These donuts are light, fluffy, and topped with homemade whipped cream and strawberries.
Lemon poppy seed seems so fitting for Easter! These muffins are soft, chewy, and bursting with lemon flavor.
You can use any type of fruit you want for these, but I love the blueberries! The crust and crumble topping are made with simple ingredients like oats and coconut sugar.
Gluten-Free Bread & Rolls Recipes
These gluten-free bread recipes go perfectly with your Easter meal. They are simple, delicious, and pair well with anything on this list.
The perfect dinner roll recipe that goes with anything you want to serve for Easter. They are made with almond flour and dried sage.
Rosemary Cornbread Muffins
Gluten-free cornbread muffins that are packed with rosemary. Top with butter and enjoy!
Gluten-Free Appetizers for Easter
Set out a few simple appetizers to keep everyone from getting too hangry. Simple homemade hummus and quinoa sausage balls are always a hit!
Homemade hummus is so much better than store bought, and SO easy to make! Serve with chips, veggies, or GF flatbread.
Quinoa sausage balls are so versatile, and super delicious! The quinoa gets nice and crispy when roasted, and the goat cheese adds so much flavor.
I hope all of these recipes help you create the BEST Easter menu for your friends and family!
FOLLOW ALONG! Subscribe to my newsletter and follow along on Facebook, Instagram, and Pinterest for my latest recipes!