These Quinoa Sausage Balls are the perfect bite sized appetizer to have on hand for an easy weeknight meal, or even for your game day menu!
Everything is cuter when it's miniature, am I right? These cute little sausage balls are no exception. They're the perfect size to just pop right in your mouth, or even throw on top of a salad for some extra protein and crunch.
What's in these sausage balls?
ground chicken: you can use any type of ground meat you want, but I prefer to use a leaner meat for this recipe, my go-to protein for these is always chicken or turkey
spices: we are actually going to make our very own sausage for this recipe! It is way easier than you think, all you need are a few spices. Today we're using fennel seeds, red pepper flakes, garlic, onion, salt, and pepper.
quinoa: one of my favorite gluten-free grains! But wait, did you know that quinoa is actually not a grain? It's a seed! But it is prepared and cooked as if it were a grain. It is packed with plant-based protein and complex carbs
goat cheese: I love the little bit of funky flavor the goat cheese gives these balls, it makes them taste a bit different than a traditional sausage ball. If you are not a goat cheese lover, feel free to use any type of cheese you want!
green onions: the green onions give the balls so much flavor, without overpowering like a regular onion sometimes does.
Make Sure your sausage is gluten-free!
If you are new to the gluten-free lifestyle, then there is a chance that you may not know that not all sausage is gluten-free. For some types of sausage, there may be fillers, preservatives, and flavorings that can have gluten-containing ingredients in them. This is why is it is SO important to check the labels when buying sausage, especially if you have celiac disease.
And if you can't find a ground sausage that you feel comfortable eating, you can easily make your own! For this recipe, I used a few simple spices that will make your ground chicken taste just like your favorite sausage.
Using quinoa in place of flour
You will generally find flour in most traditional sausage ball recipes, but we are adding in our own twist to these. All you need to do is replace the flour for quinoa to make your sausage balls SO much more nutritious. And it automatically makes them gluten-free, no need to go find a special gluten-free flour!
Now listen, I'm from the south. And we know how to make sausage balls in the south. I used to make sausage balls with my grandma when I was a kid, and we would use Bisquick mix in her recipe. They were always delicious, but I obviously can't eat those now. So I decided that I needed to come up with a recipe that put my own spin on it.
And I think grandma would be proud.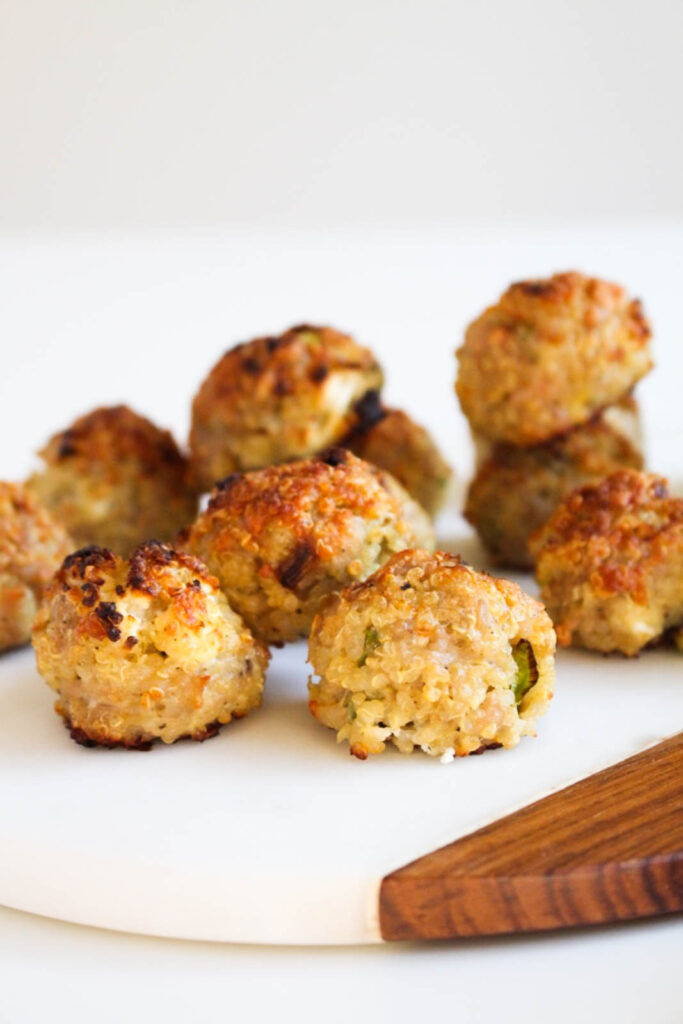 These sausage balls are crispy on the outside, soft on the inside, and bursting with little pieces of tangy goat cheese. They are the perfect appetizer for a dinner party, game day, or even a quick add-on to your salad (they would be amazing on top of this one).
Looking for more appetizer recipes?
FOLLOW ALONG! Subscribe to my newsletter and follow along on Facebook, Instagram, and Pinterest for my latest recipes!
Quinoa Sausage Balls
Ingredients
FOR THE SAUSAGE
1

lb

lean ground chicken

1

tsp

ground fennel seed

1/2

tsp

garlic powder

1/2

tsp

onion powder

1/4

tsp

red pepper flakes

(leave out if you want no heat)

1/4

tsp

salt

1/4

tsp

black pepper
FOR THE BALLS
2

oz

goat cheese

(crumbled)

1

cup

cooked quinoa

2

green onions, whites and most of greens

(chopped)
Instructions
Preheat the oven to 350 degrees, and spray a large baking sheet with olive oil spray.

In a large mixing bowl, season the chicken with the fennel, garlic, onion, red pepper, salt, and black pepper. Use a wooden spoon to stir together until evenly combined.

Next, add the cooked quinoa, green onions, and goat cheese. Stir again, until everything is evenly combined.

Use a 1 tbsp measuring spoon, and scoop out a heaping tbsp of the mixture into your hand. Use the palm of your hands to roll the mixture into small balls, repeating with the rest of the batter.

Place the balls on the baking sheet, and lightly spray the top of them with cooking spray. This step will help them brown on the top.

Bake for 20-25 minutes, until golden brown on top and cooked through.