(Grain-Free) Blueberry Lemon Pancakes
These fluffy (Grain-Free) Blueberry Lemon Pancakes are bursting with bright lemon flavor and juicy blueberries. They are made with an almond flour base, and only require one bowl!
(Grain-Free) Blueberry Lemon Pancakes
We all know that breakfast is my favorite, and these blueberry lemon pancakes are going to be your new go-to, especially when you're cooking for friends! We eat A LOT of pancakes around our house. I've made everything from pumpkin spice pancakes, to basic cinnamon oat pancakes. But these little blueberry lemon flavored guys are definitely my husband's all-time favorite.
They are so fresh and bursting with bright flavors from the lemon and blueberries. The texture is light and fluffy because they are made with a base of almond flour, with some tapioca starch mixed in. The tapioca adds a lightness to the batter, and yields softer pancakes.
They come out smelling like a blueberry muffin met a lemon loaf, and they have the most perfect crispy edges and soft center. Top them with extra berries and maple syrup, and you have yourself the BEST brunch ever.
Ingredients for (Grain-Free) Blueberry Lemon Pancakes
Almond Flour – almond flour always makes soft and tender pancakes, it is one of my favorites!
Tapioca Flour – tapioca flour is also called tapioca starch, and can be found at most grocery stores or online. It gives a lightness to the batter and helps them turn out fluffier.
Salt – you need salt with sweet!
Vanilla Extract – adds a great vanilla flavor
Baking Powder – baking powder helps them rise and get fluffy!
Lemon Zest and Juice – You need the zest AND juice to really get that great lemon flavor.
Fresh Blueberries – You can also use frozen, but they will likely let off more juice, which is okay.
Eggs – a pancake staple, in my opinion.
Non-Dairy Milk – you can use any type of milk you want, but I tend to reach for unsweetened soy milk or almond milk.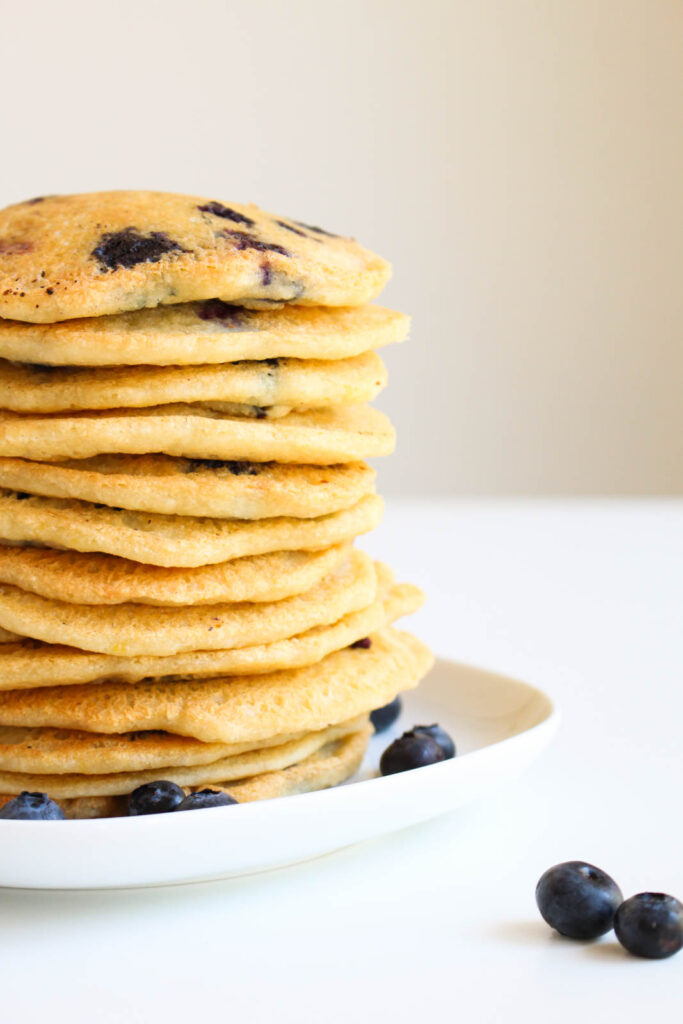 Can I use a different flour?
I would not recommend substituting flours in this recipe. Almond flour works differently in recipes than GF all-purpose flour does and will likely not turn out if you use something else. Some people think that you can easily swap coconut flour for tapioca, but I have found that that is not always true. Coconut flour is very absorbent, and will yield a very dry pancake.
What to serve with the pancakes for brunch
How to Freeze Pancakes
You can make a big batch of these pancakes and freeze them for quick and easy breakfasts. But there is a trick to freezing pancakes, you can't just stack them all in a container and freeze them together. If you froze them that way, they would be stuck together and almost impossible to break apart without breaking them into pieces. So get your biggest baking sheet, lay the pancakes out in an even layer, not touching each other. Set your baking sheet in the freezer and let them get completely frozen, then you will be able to layer them in a freezer-safe container for future use. When you are ready to eat them, you will be able to grab what you need for that day!
Looking for more pancake recipes?
FOLLOW ALONG! Subscribe to my newsletter and follow along on Facebook, Instagram, and Pinterest for my latest recipes!
(Grain-Free) Blueberry Lemon Pancakes
Ingredients
2.5

cups

almond flour

3/4

cup

tapioca starch

(also called tapioca flour)

1/4

tsp

salt

2

tsp

vanilla extract

1/2

tsp

baking powder

2

eggs

1.5

cups

non-dairy milk

(or any milk of your choice)

1

tbsp

lemon zest

2

tbsp

lemon juice

1 ⅓

cups

fresh blueberries

coconut oil for frying the pancakes
Instructions
In a large mixing bowl, combine the almond flour, tapioca flour, salt, and baking powder. Whisk to combine.

To the flour mixture, add the eggs, vanilla extract, milk, lemon zest, and lemon juice. Whisk until combined and there are no big clumps. Add the blueberries and stir them in, being gentle to not break them up.

Let the batter sit for about 10 minutes to thicken up. In the meantime, preheat a large skillet over medium heat.

When the pan is hot, add about a tbsp of coconut oil let it melt. Use a 1/3 cup measuring cup to scoop and pour the batter into the skillet. Only cook 2-3 pancakes at a time to make sure that you don't crowd the pan.

Cook for 2-3 minutes, then flip and cook for another 2 minutes, until each side is golden brown.

Repeat with the rest of the batter. (if the pan starts to get too hot and is browning the pancakes too fast, feel free to turn it down to medium-low)

Serve with butter and maple syrup and enjoy!