[Gluten-Free] Pumpkin Spice Pancakes
These Gluten-Free Pumpkin Spice Pancakes are fluffy, naturally sweet, and made with real pumpkin puree!
I feel like October is when everyone has that pumpkin-crazed look in their eyes. And then once November rolls around, we're on to all the Thanksgiving pies. That's why I just can't stop with all the pumpkin recipes this month!
Pancakes were one of the things that took me a while to master after I had gone completely gluten-free several years ago. Gluten-free pancakes can be tricky, and can sometimes feel flat and have no fluff to them.
But not these. These pumpkin spice beauties are what fluffy pancake dreams are made of.
Ingredients in Pumpkin Spice Pancakes ->
REAL PUMPKIN PUREE – It is a total game changer to add pumpkin puree in the batter instead of just pumpkin pie spice. Plus, you're adding tons of nutrition to your pancakes! Just make sure you are NOT using sweetened pumpkin pie filling.
ALMOND FLOUR – one of my favorite 'flours' to make pancakes with, it always yields soft pancakes
WHOLE OATS – adding whole oats to the mix gives a really nice texture to the pancakes, and makes them a little more substantial
LOTS OF FALL SPICES – like pumpkin pie spice, cinnamon, and ginger
THE STAPLES – and then of course your other staples like vanilla extract, almond milk, eggs, and baking soda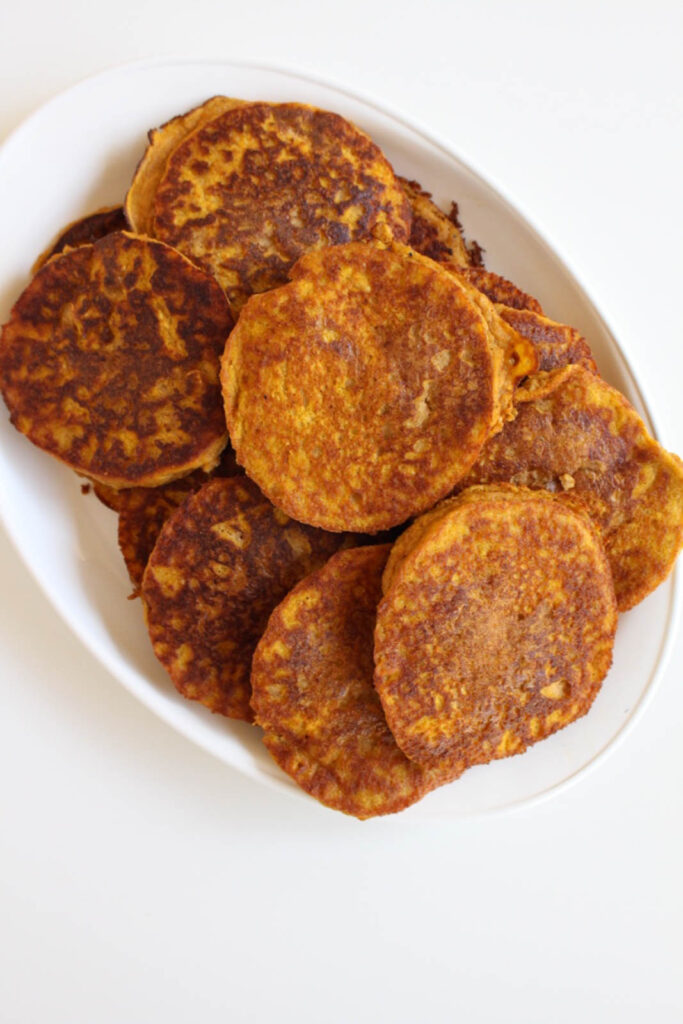 How to Meal Prep and Freeze Pancakes ->
I love making a big batch of pancakes ahead of time and freezing them for later. It will save you tons of time, which means you can have delicious pancakes on a random Tuesday if you want! (you can also do this with waffles)
I did this when I was pregnant with my daughter, and it made those first few weeks postpartum SO much easier because I could just take a couple of pancakes out of the freezer and warm them up.
After you make them, just place them on a large baking sheet in an even layer, so that they aren't really touching. Freeze them on the tray first, and then you can store them in a ziploc or glass container in the freezer. Then when you want to reheat them, just put them on a plate and microwave them for about 45-60 seconds.
These pancakes are healthy and made with simple ingredients that I bet you have in your pantry right now. They are the perfect weekend breakfast treat alongside a hot cup of coffee.
Looking for more pancake recipes?
FOLLOW ALONG! Subscribe to my newsletter and follow along on Facebook, Instagram, and Pinterest for my latest recipes!
[Gluten-Free] Pumpkin Spice Pancakes
Ingredients
¾

cup

almond flour

¼

cup

GF whole oats

1

cup

pumpkin puree

2

eggs

¼

cup

unsweetened almond milk

1

tsp

vanilla extract

½

tsp

pumpkin pie spice

½

tsp

cinnamon

½

tsp

ground ginger

½

tsp

salt

½

tsp

baking soda

2

tbsp

coconut oil

(for the skillet)
Instructions
In a large mixing bowl, combine all of the ingredients and whisk until there are no more clumps. Let the batter sit for about 10 minutes.

Preheat a large skillet (or stovetop griddle pan) over medium-low heat. Once the skillet is hot, add about a tsp of coconut oil. Then use an ice cream scoop or 1/4 cup measuring cup to scoop the batter and pour it into the pan.

Let the pancake cook for 3-4 minutes, and then flip and cook it for another 1-2 minutes. Repeat with the rest of the batter, making sure not to crowd the pan as you're adding the pancakes. Add more oil each time the pan gets dry.

You can keep the pancakes warm by putting them on a baking sheet after cooking, and putting them into a 200 degree oven. This will keep them warm as the rest are cooking.

When ready to serve, top with butter and maple syrup.