I think I'm on the verge of becoming a pancake connoisseur. Mainly because my husband demands lovingly requests pancakes pretty much every Saturday, and sometimes during the week for dinner. Breakfast/brunch is definitely our favorite meal, so I never oppose the idea of pancakes.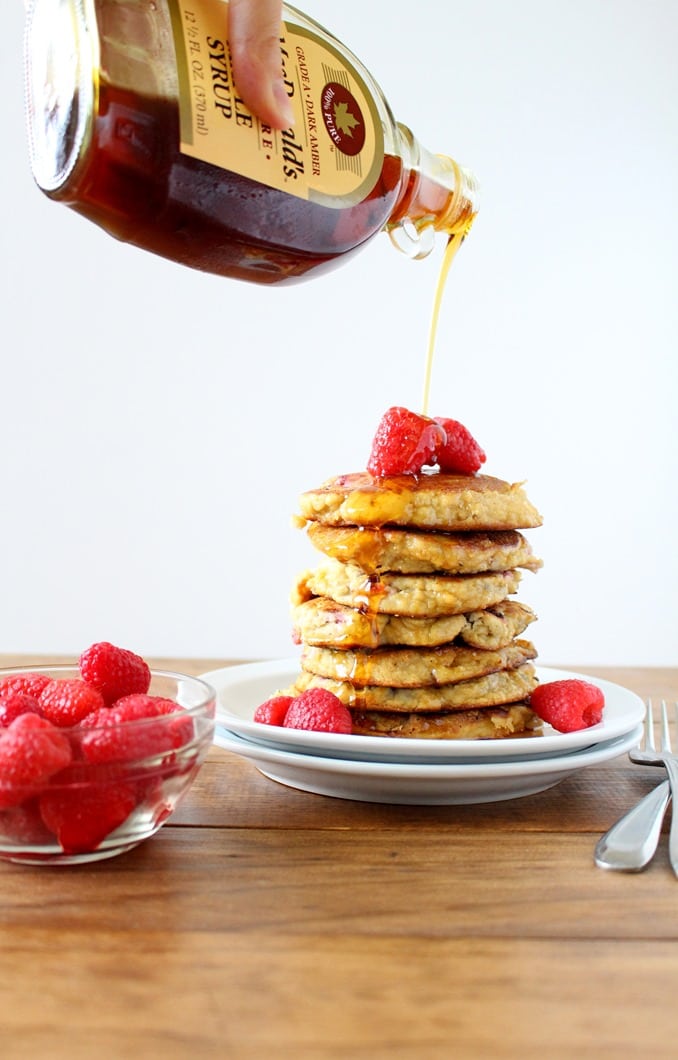 Almond flour and coconut flour are two of my favorite flours to bake and cook with, and today's pancakes are heavy on the coconut flour. They are filling, slightly sweet, tart from the raspberries, full of fiber and other good-for-you nutrients, and are OH SO good.
I have to admit, raspberries are not my favorite berry. I have never been a fan of just eating raspberries by themselves like I would strawberries or blueberries. I don't know, I guess it's the extra tartness that you get from them. BUT, when I eat them in pancakes or smoothies, I love them.
I know, I'm strange.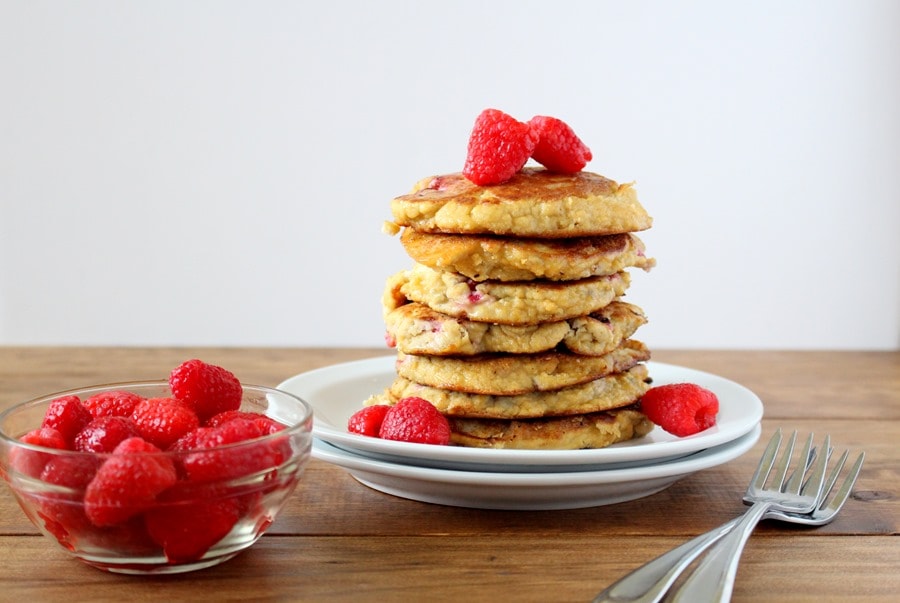 Coconut flour baked goods tend to become a little dry because the flour soaks up all of the liquids, so I decided to throw the raspberries right into the batter instead of just topping the pancakes with them. When they cook, they get soft, slightly caramelized and sweet, and give off some of their juices to the pancake.
If you love raspberries, then you will devour these pancakes. Let's take advantage of all the summer fruits while we still can!
And remember, if you make these guys, don't forget to snap a picture before you stuff your pie hole! Tag me on instagram and hashtag #thewheatlesskitchen. It totally makes my day when you guys make these recipes!
Raspberry Lemon Coconut Flour Pancakes
Ingredients
1/2 cup coconut flour
1 tbsp coconut sugar (or organic cane sugar or stevia)
1/2 tsp baking powder
4 large eggs
1/2 tsp lemon zest
1 tbsp lemon juice
1 1/4 cup unsweetened almond milk (more if needed to thin out the batter)
2 tbsp coconut oil (melted)
1 tsp vanilla extract
small pinch of salt
3/4 - 1 cup fresh raspberries
Instructions
Preheat a large skillet to medium heat. Spray with non-stick spray or melt some coconut oil in the skillet.
In a large mixing bowl, add all of the ingredients except for the raspberries. Whisk until evenly combined, add a small amount of almond milk if the batter is still too thick.
Add the raspberries and gently fold them into the batter with a spatula. Not too much because you don't want to break up the berries.
Use a 1/4 or 1/3 cup measuring cup to scoop the batter onto the skillet. Cook for 3-5 minutes, until you see a few bubbles on the top, then flip and cook for another 2 minutes or so. They are very delicate, so flip carefully. The pancake should be cooked through, golden brown and fluffy.
Top with more berries and maple syrup and enjoy!
https://www.thewheatlesskitchen.com/raspberry-lemon-coconut-flour-pancakes/