Almond Coconut Mini Bundt Cakes with Chocolate Glaze
You know how when you have food allergies, and you want some kind of baked good, you pretty much always have to make them yourself if you don't want to take a chance on getting sick? No matter the occasion, sometimes even on your birthday. Oomph.
Good thing I like to bake, so it doesn't bother me. I would never expect anyone to go out of their way to make me a gluten-free cake, especially if they don't really know much about the cross-contamination part of it. So, of course I had to make myself a birthday treat! You have to eat cake on your birthday. Duh.
Today, I turn the big 2-5. Does 25 officially make you older and wiser? Probably not.
I feel like I've learned the most within the past few years. Like…
– Worrying is dumb. Stop doubting yourself, sometimes you're kind of awesome.
– Never judge a book by its cover.
– My relationship with God is THE most important thing.
– Toe socks are super uncomfortable, don't waste your money.
– My husband is THE best person on the planet.
– Target is a black hole, be prepared to spend your life savings when you go in there.
– Always give an honest answer, even if the person doesn't really want to hear it.
– Cherish your friends.
– Don't worry about who sees you singing in the car. Just rock it.
– Preserve and take care of your body, it's the only one you get.
– Always keep learning. Always do great things.
And so much more.
Aaaaanyhoo, I made you some cake. The cutest little mini bundt cakes, to be exact. You definitely need to make these on your next birthday. Or next Tuesday. These little guys are by far one of my favorite things that have gone on to the blog. They are the perfect texture, a little thick, but not too thick. A little sweet, but not too sweet. You can taste the little bits of coconut, which of course is my favorite part. And I made the easiest chocolate drizzle to go over top, because DUH. Chocolate + coconut = Heaven.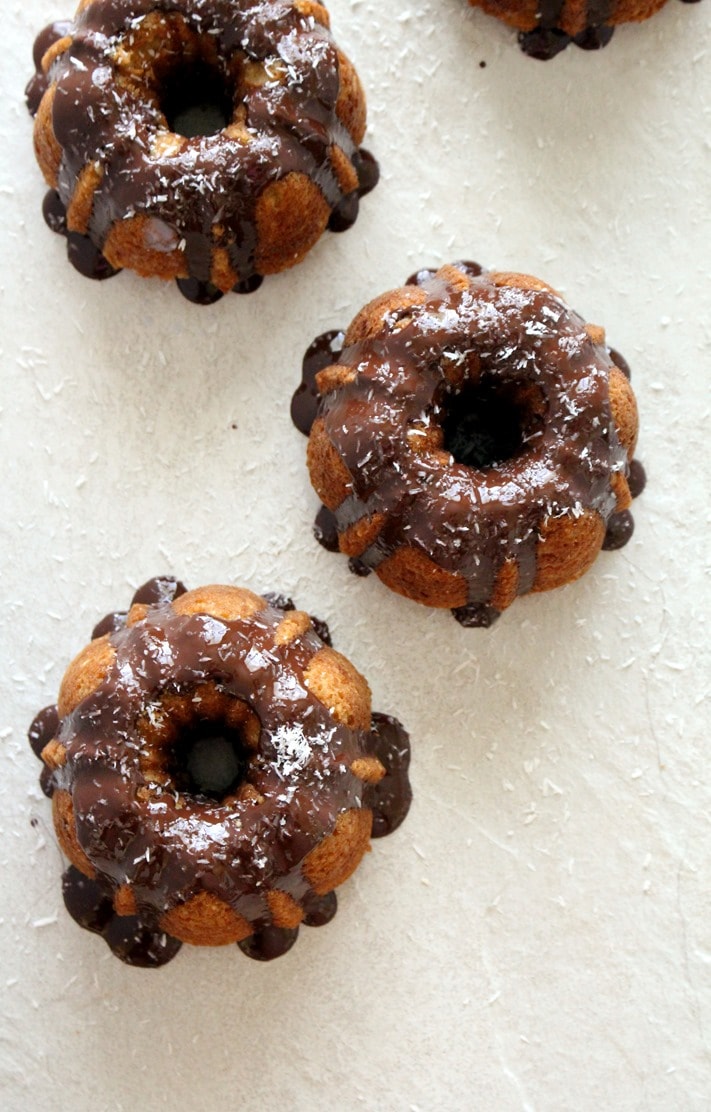 Time for me to go hang out with the fam and enjoy a few little birthday festivities!
Almond Coconut Mini Bundt Cakes with Chocolate Glaze
Ingredients
1 1/2 cups almond flour
1/2 cup unsweetened shredded coconut
3 tbsp coconut flour
1/4 tsp salt
1/4 tsp baking soda
1/4 tsp baking powder
1/4 cup coconut sugar
3 tbsp coconut oil (melted)
2 eggs
3/4 cup unsweetened vanilla almond milk

Chocolate Glaze

1/3 cup chocolate chips
1 tbsp coconut oil
Instructions
Preheat the oven to 350 degrees. Spray a mini bundt pan with non-stick spray.
In a large bowl, whisk together all of the cake ingredients until well combined. If it seems too dry, add almond by the tbsp until it becomes a thick batter.
Spoon the batter into the pan, filling the pan almost all the way to the top. This will fill 4 molds.
Bake for 20-22 minutes, until golden brown and cooked all the way through. You should be able to stick a butter knife in and have it come out clean.
Let the pan cool down for at least 10 minutes before you try to take the cakes out.
Once cooled slightly, carefully invert the pan and let the cakes gently fall out onto a wire rack.
When the cakes are cooling, make the chocolate glaze.
In a small bowl, combine the chocolate chips and coconut oil and melt for about 30 seconds in the microwave. Take it out and stir with a fork until melted and smooth.
Using a spoon, drizzle the chocolate over the top of the cakes.
Serve and enjoy!
https://www.thewheatlesskitchen.com/almond-coconut-mini-bundt-cakes-chocolate-glaze/