Coconut Curry Sweet Potato and Kale Soup
Don't hate me for bringing you a soup in the heat of summer. I promise, it's delicious and light enough to be eaten in the summer time.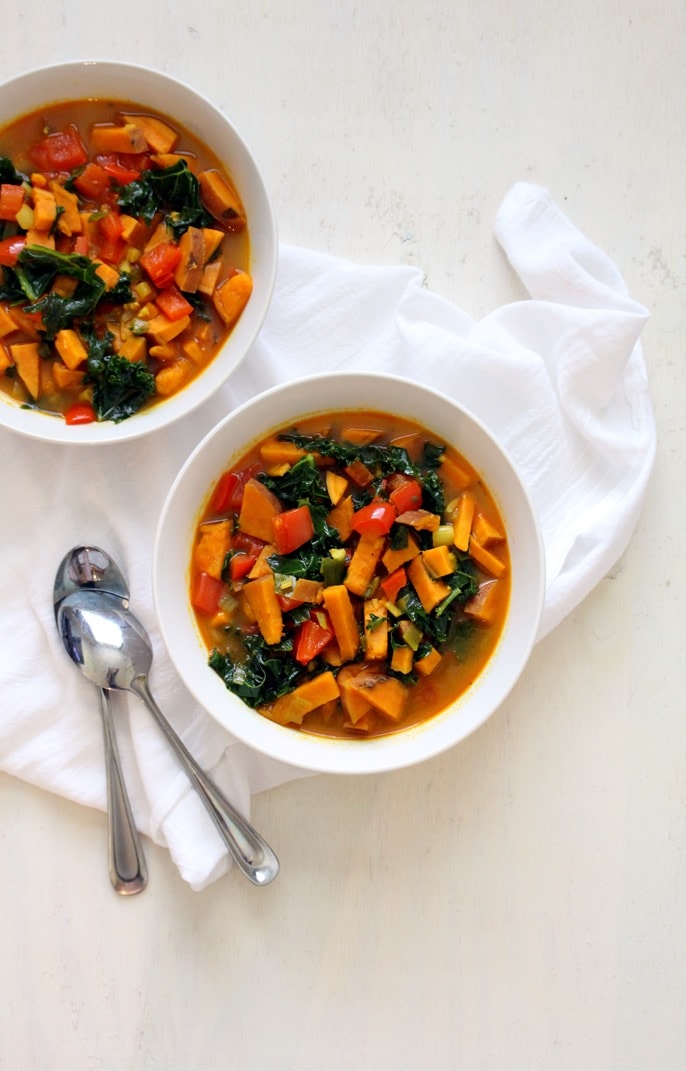 Raise your hand if you are as obsessed with foods that have 'coconut curry' in the name as much as I am. Ah yes, I thought so.
Today, we're combining my beloved coconut curry with sweet potatoes, bell peppers and kale. I used to be a little scared of curry powders because I thought they were always a part of a super fancy, complicated dish. When in fact, they are really simple to work with. I have only ever used the yellow variety because I'm a big wimp when it comes to spicy foods. If you are a trooper and like to burn your tongue off, then go for the green curry. Good luck to you, my friend.
The yellow is made up of one of my favorite spices, turmeric, which is obviously where it gets its bright yellow hue. It lends a really nice earthy flavor to the soup, while the coconut milk and sweet potatoes give it a slightly sweet taste. The sweet and savory combo is my jam. This soup marries Thai and Indian food together beautifully. Curry from the Indian food, and coconut milk from the Thai influence.
The greatest part about this meal? You only need one pot! Yessss, less dishes! It is creamy without being too thick, sweet, savory, super healthy and extremely comforting. This makes a pretty big batch, so make a big pot of it and eat on it all week.
Coconut Curry Sweet Potato and Kale Soup
Ingredients
3 large sweet potatoes, chopped into small cubes
2 red bell peppers, diced
5-6 green onions, thinly sliced
4 cloves garlic, finely chopped
2 cups kale, chopped
2 tbsp extra virgin olive oil
1 can coconut milk
4-6 cups vegetable stock, depending on how thick you want it
pinch of salt and black pepper
2 tsp yellow curry powder
1 tsp turmeric
1 tsp paprika
Instructions
Preheat a large soup pot over medium-high heat. Add the olive oil and the sweet potatoes.
Stir occasionally for about 5-7 minutes, until the potatoes just start to soften slightly. Season with a pinch of salt and black pepper.
Add the bell peppers, onions and garlic. Stir and let cook for about a minute or so.
Add the coconut milk, vegetable stock, curry, turmeric, paprika and another pinch of salt.
Give it a good stir, turn the heat down to medium, cover and bring to a simmer.
Let it simmer for about 15 minutes, then add the kale. Stir and let it cook for about 2-3 minutes to wilt the kale before serving.
Spoon into bowls and enjoy!
https://www.thewheatlesskitchen.com/coconut-curry-sweet-potato-kale-soup/