[Grain-Free] Tiramisu Pancakes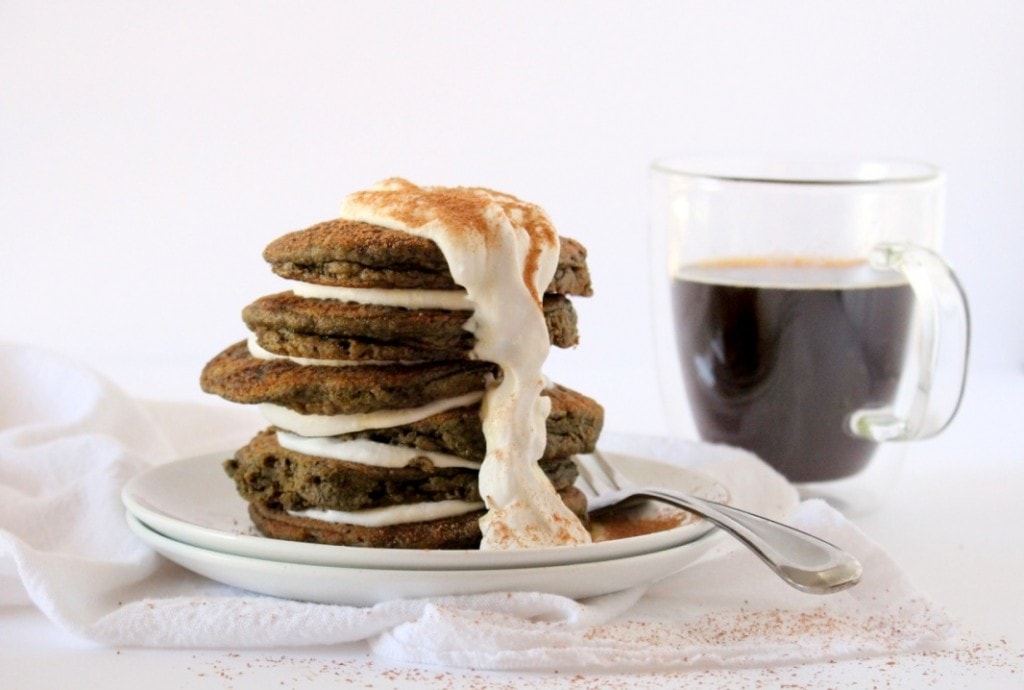 What better way to start out your birthday than with pancakes? And not just any plain pancakes, TIRAMISU PANCAKES. I think I hear the angels singing.
Let's talk about these pancakes, shall we?
Light and fluffy.
Laced with coffee.
Grain-free.
Only a handful of ingredients.
Not too sweet.
Smothered in coconut whipped cream.
And, drop the mic.
Ya'll, these are ridiculously good. If you love tiramisu, you will definitely love these tiramisu pancakes. The two main traditional ingredients in tiramisu are coffee and chocolate. I put coffee in the batter which turns into a nice deep (but not overpowering) coffee flavor when cooked. Tiramisu always has a vanilla cream layer, so I smothered them in vanilla coconut whipped cream, and then topped it off with a heavy sprinkle of raw cacao powder.
They have all of the traditional flavors, but you only do a fraction of the work to make pancakes compared to an actual layered tiramisu dessert. And like I said, pancakes are the only way to start off your birthday, in my opinion.
Today I turn 26, and I have a feeling it is going to be my best year yet. Each year on my birthday post, I write a few things that I have learned in that year –>
– Walk the walk, don't just talk about it. That goes for pretty much every area of life.
– Don't just follow your dreams, chase after them.
– Love your body, hating it is way more exhausting.
– Hand all of your anxieties over to God, you can't do it all by yourself.
– Stop trying to be perfect, it will never happen.
– This world is so much bigger than you, go make a difference.
– Strive to learn something new everyday.
– Marrying your best friend is the best thing you could have ever done.
– When in doubt, always eat the cookie.
– When stress hits, dance it out. It always helps.
– Being a people pleaser is overrated, stand up for yourself more.
– Don't forget to thank the Lord every single day for the life He has given you.
I hope you guys have the BEST weekend full of pancakes, lots of sunshine and fun adventures. I'm off to spend my birthday with my favorite guy in all the land.
[Grain-Free] Tiramisu Pancakes
Ingredients
3/4 cup almond flour
1/4 cup coconut flour
1/2 tsp baking soda
1 tbsp coconut sugar
2 eggs
1/2 cup strong coffee (I used cold brew)
1 tsp vanilla extract
cacao powder (for topping)

Coconut cream

1 can full-fat coconut milk (refrigerated overnight)
1 tsp vanilla extract
1/2 tsp stevia (or 2 tsp coconut sugar)
Instructions
Preheat a skillet over medium heat. In a mixing bowl, whisk together the almond flour, coconut flour, baking soda and sugar until combined.
Add the eggs, coffee and vanilla, and whisk again until evenly combined and all lumps are gone.
Add a small amount of coconut oil to the skillet for frying (you could also use cooking spray), use a 1/4 cup measuring cup to scoop the batter onto the skillet.
Cook for 3 minutes on the first side, then flip and cook another 2 minutes, until brown on both sides and cooked through. Repeat with the rest of the batter.
To make the coconut whipped cream, take the can out of the fridge and scoop the cream off the top. The cream and the water should have separated when refrigerated.
Transfer the cream to a bowl, add the vanilla, and then use a hand mixer to whip the cream until it doubles in volume and becomes smooth and creamy. Stir in the stevia until combined.
To serve, stack the pancakes and put a dollop of whipped cream in between each one to mimic the layers of tiramisu. Top with your desired amount of real maple syrup and sprinkle cacao powder to finish the top.
https://www.thewheatlesskitchen.com/grain-free-tiramisu-pancakes/