Figs are one of my favorite summer fruits, right up towards the top of the list with peaches. I definitely eat my weight in figs and peaches during the summer months. They are perfectly sweet and chewy, and practically melt in your mouth if they are super ripe. One of my favorite things about them is that they are so versatile. You can use them in sweet AND savory recipes –> everything from jam, pizzas, smoothies, muffins, salads, on top of oatmeal, in a breakfast bowl, or even as an appetizer with goat cheese, the list is endless.
The health benefits that you get from figs are as equally as amazing as the taste. Figs actually have the highest amount of calcium of any fruit, and are also a great source of potassium, iron, magnesium and fiber.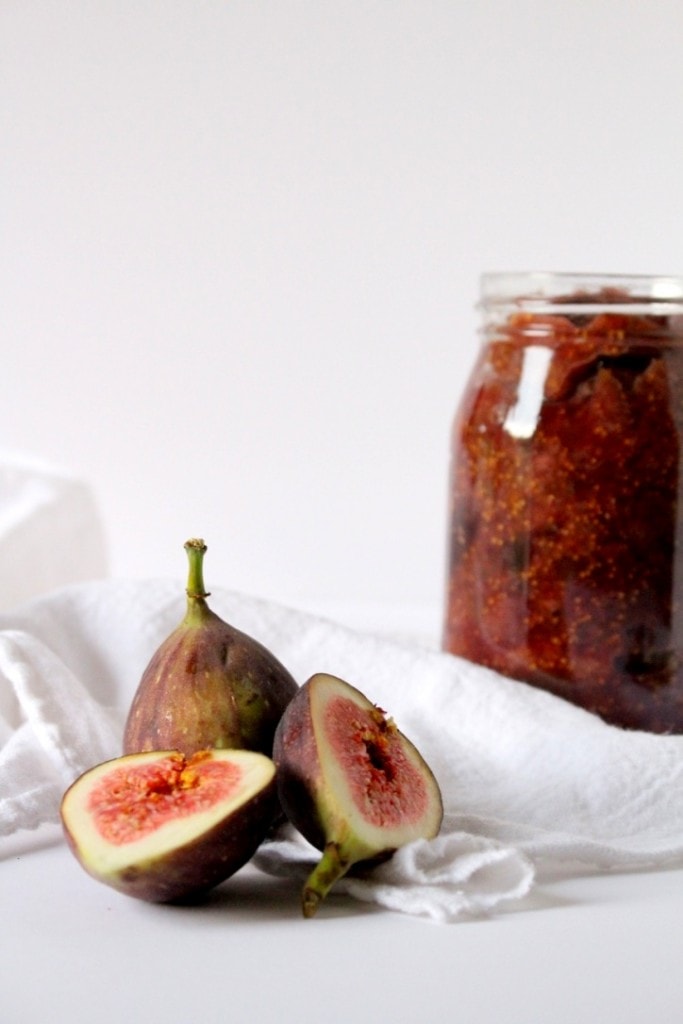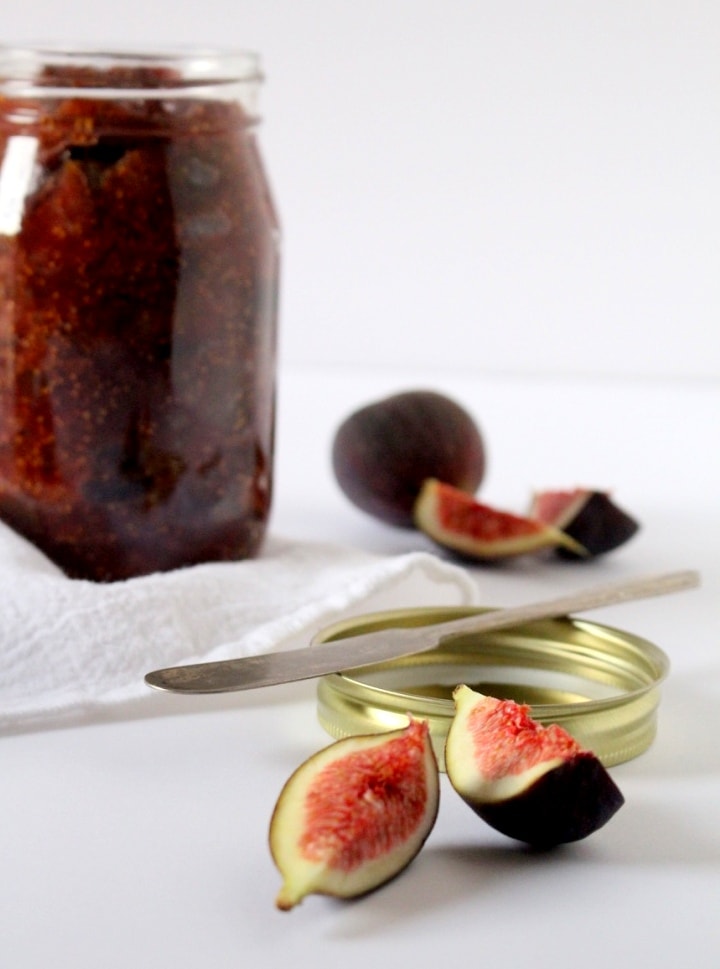 Figs only stay fresh for a few days in the fridge, so if you ever find yourself with a large amount of figs that you don't really know what to do with, then I've got you covered. This fig + ginger jam is SO GOOD, and I have been eating it on everything. Obviously on toast (because, duh. toast for life) and even smeared over top of my oatmeal in the mornings. You can get creative and use it as a spread for pizza and top it with arugula and goat cheese. WHAT? YES. Totally doing that.
This is a quick and easy jam recipe that only requires a few simple ingredients. It requires little work, and all you really have to do is let it simmer on the stove and do its thing. Those beautiful figs will turn into the most amazing creamy jam that has a tiny bit of a kick from the ginger. I hope you guys love it as much as I do. Now go get your jam on!  (oy, I didn't just say that. Please still be my friend.)
If you guys make this pretty fig jam, take a picture and show me on Instagram! Hashtag #thewheatlesskitchen, I love seeing our creations!
Ingredients
~ 20 fresh figs
1/3 cup raw honey
1/4 cup water
1/4 tsp salt
2 tsp vanilla extract
1 tsp ground ginger
Instructions
Cut the stems off the figs and quarter them. Add all of the ingredients to a medium sized saucepan and stir to combine. The figs should be evenly coated with the honey and spices.
Cook over medium heat until the mixture starts to simmer. Once it starts to bubble, turn the heat down to medium-low and let the mixture simmer for 1 hour, stirring every 10 minutes or so to make sure the honey doesn't burn.
Use a wooden to stir the mixture so that you can mash some of the chunks into smaller pieces. You can break up the pieces as much as you like, depending on how chunky you want your jam.
Once it has simmered for one hour, remove from heat and allow to cook to room temperature. Transfer it to a clean jar and store in the fridge. It will keep for about 3 weeks in the fridge.
https://www.thewheatlesskitchen.com/fig-ginger-jam/