Banana Buckwheat Pancakes & Blackberry Compote
It's cold. That means I need pancakes, all day err day. I'm being strategic by bringing you this recipe on a Friday. This is because I want you to go make them riiiiight now. This weekend. You know you want to have a lazy Saturday morning complete with delicious, nutritious, amazing pancakes. You know you do. Trust me on this.
These guys are made with buckwheat, which is quickly becoming one of my new favorite foods. I find the fact that it is called buckwheat to be pretty hilarious because it is not made of wheat at all. It technically isn't even a grain. It's a seed. Whaaa? I know.  It is a seed that is packed with tons of nutrition —> protein, fiber, manganese, magnesium, phosphorus, and more.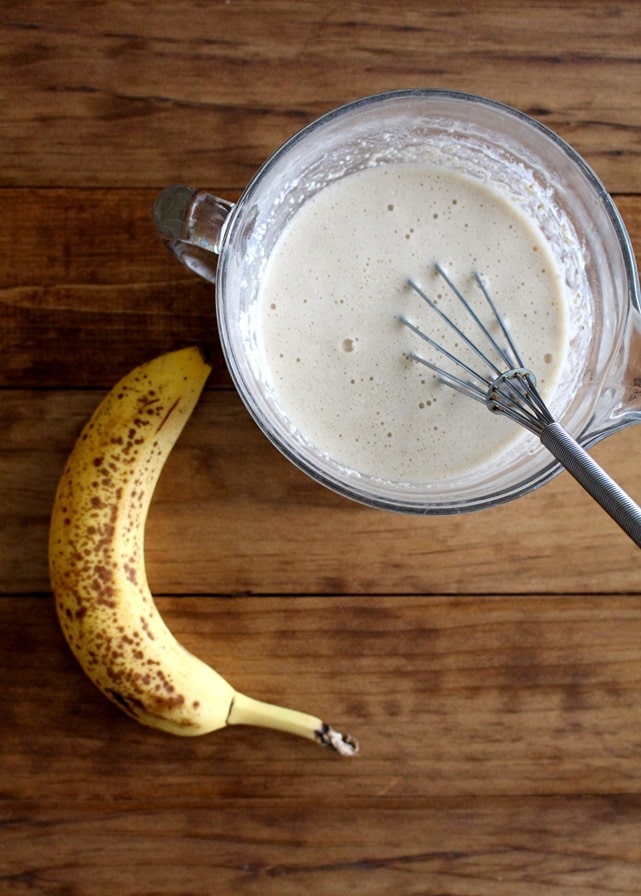 Do you want to know one benefit I get from making pancakes with bananas? Kenny won't eat them because he's not a huge fan of bananas (weirdo), soooo more for me. Shhh, don't tell him I said that. I love these because you get all of those creamy sweet little chunks of bananas running through them. Seriously, so good.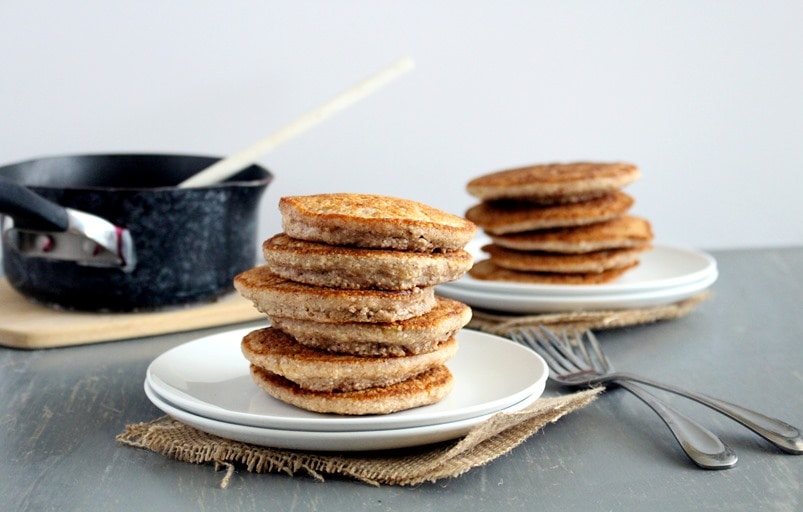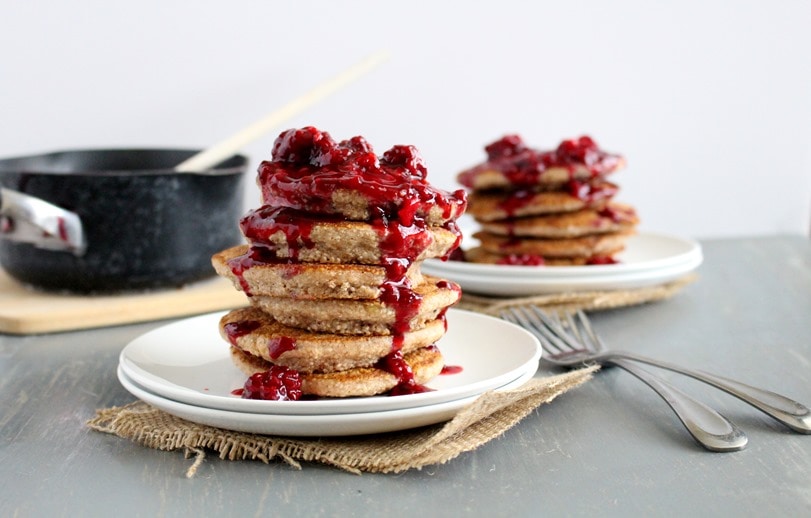 A lot of the buckwheat pancakes that I've seen use buckwheat flour in combination with another type of flour due to how dense it is, but I opted to use only the buckwheat. I actually really like the dense texture that it lends the pancakes, along with a really nice nutty flavor. And because of the texture, these little guys fill you up, it doesn't take much to feel full.
Oh and can we just talk about this sauce/compote for a minute? It's kind of the bomb. And there are only 3 ingredients, which makes it even better. It's so simple, just blackberries, a little bit of coconut sugar and some vanilla extract. Boom, you have yourself a dreamy sauce to slather your pancakes with. For real though, don't skip this part, the blackberries go so perfectly with the banana filled pancakes.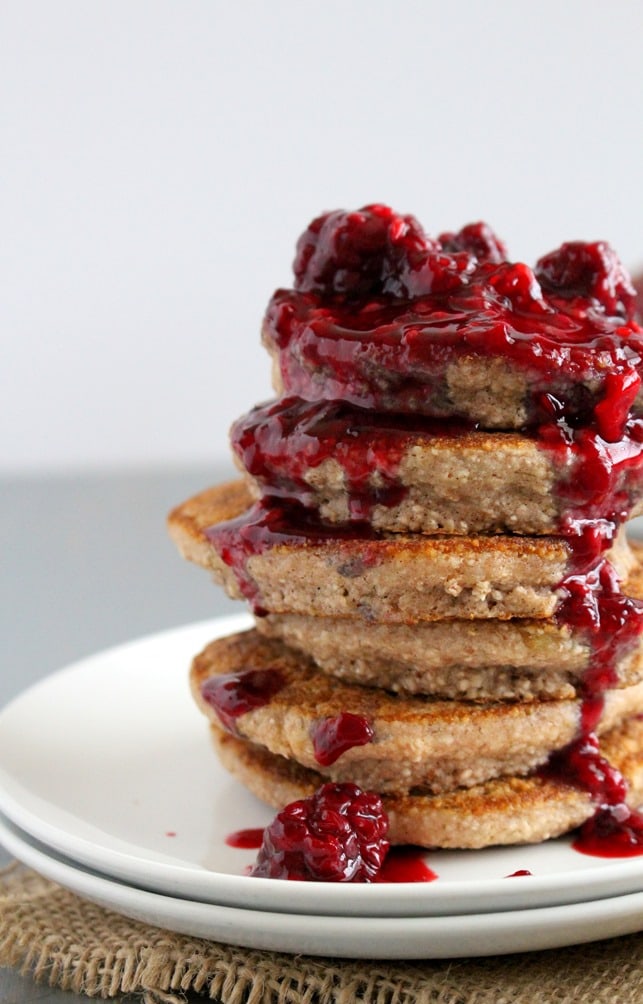 Add a nice hot cup of coffee alongside, and you have yourself the best morning ever.
p.s. Does anyone else think of The Little Rascals when they say 'buckwheat'?? Tell me I'm not the only one. —> Oooooootay, buckwheat!
Banana Buckwheat Pancakes & Blackberry Compote
Ingredients
1 1/4 cup buckwheat flour (I ground up buckwheat groats in a food processor)
1 tsp baking soda
2 tsp cinnamon
1 large banana, mashed
2 large eggs
2 tsp vanilla extract
1/2 cup unsweetened almond milk

Blackberry Compote

1 1/2 cups fresh or frozen blackberries
1 tbsp coconut sugar
1/2 tsp vanilla extract
1/2 tbsp water
1/2 tsp arrowroot powder (optional thickener)
Instructions
Preheat a large skillet over medium-low heat.
In a large mixing bowl, whisk together all of the pancake ingredients until you have a smooth batter.
Grease the skillet with butter or coconut oil, and use a 1/4 cup measuring cup to scoop the batter onto the skillet. Cook the pancakes for 2-3 minutes on the first side, then flip and cook for another 2 minutes. Continue with the rest of the batter.
To make the blackberry compote, combine the blackberries, coconut sugar and vanilla in a small saucepan over medium heat.
Use a wooden spoon to stir until the sugar coats the berries. Gently break up the berries with the spoon until they start to break down and turn into a thick sauce. If it is not as thick as you would like, you can add about a tsp of arrowroot or tapioca starch to the sauce. Stir to thicken.
Top pancakes with sauce and enjoy!
https://www.thewheatlesskitchen.com/banana-buckwheat-pancakes-blackberry-compote/