Vegan Mac & Cheese with Poblano
This Vegan Mac & Cheese with Poblano is hearty, cheesy, and so satisfying. It will make you forget about the traditional cheese sauce you had as a kid.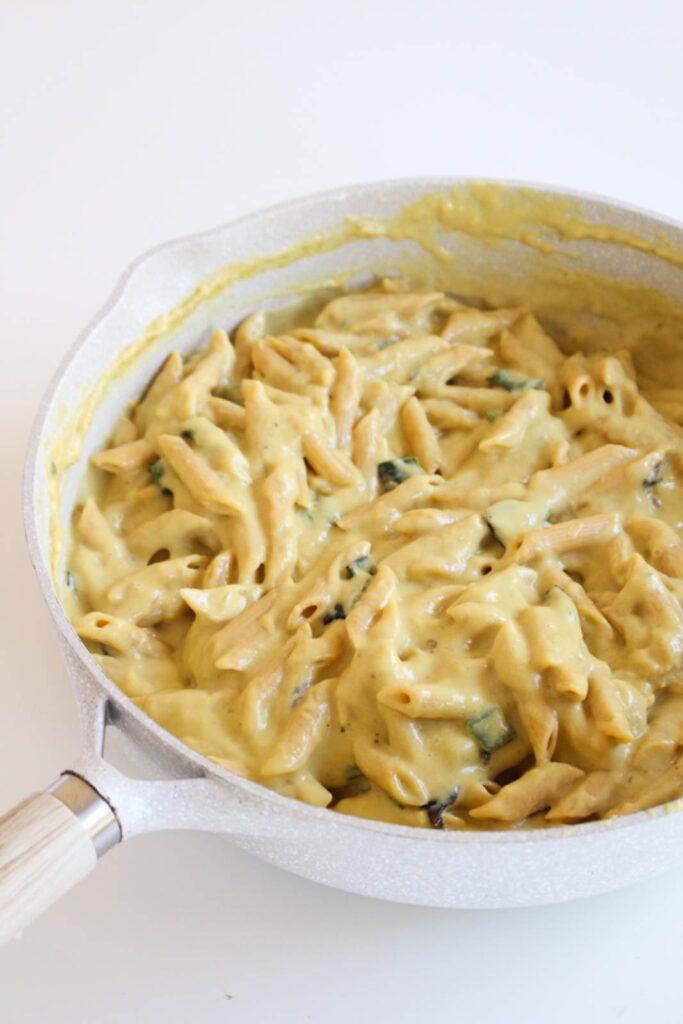 Vegan Mac & Cheese with Poblano
This Vegan Mac & Cheese with Poblano is what I like to call… grown-up mac n' cheese. Although, my toddler loved it too, so it is definitely kid-approved!
Mac & cheese really is the ultimate comfort food. I'm willing to bet we've all had lots of different types of mac & cheese in our lifetime. We've got grandma's super cheesy homemade version, the boxed microwave version, and then sometimes the super fancy restaurant version with weird cheeses thrown in the mix.
We've tried them all. And the Lord said, IT WAS GOOD.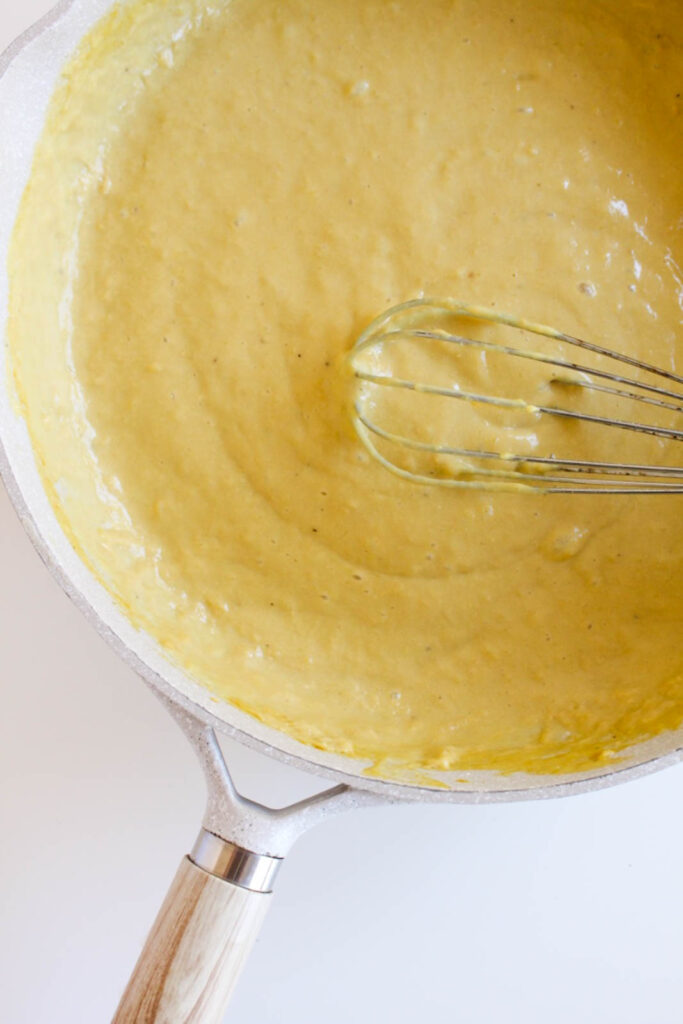 But what happens when you realize that your body doesn't really get along with dairy as well anymore? Now what?!
Enter, the very best vegan mac & cheese. I know I'm making a bold statement, but just hang with me here. This gluten-free, plant-based version will seriously win you over.
Ingredients You'll Need
There are a lot of vegan cheese sauces out there that require roughly 74 ingredients, and this is not one of them. This recipe comes together quickly, in ONE pan, and with simple ingredients.
Here are a few simple swaps to make this not only GF, but dairy-free too!
vegan butter – we used a vegan butter in place of real butter and you will never know the difference!
arrowroot starch – we used arrowroot starch in place of flour and it thickens up the sauce beautifully!
plant-based milk – we used soy milk in this recipe because it has a very neutral flavor, but you can use any dairy-free milk you choose, just make sure it is unsweetened! You don't want your mac & cheese tasting like sweet vanilla.
nutritional yeast – we use nutritional yeast in place of cheese because it has a mild cheesy/nutty/savory flavor to it
chickpea pasta – it is completely up to you on what type of pasta you want to use, but I love using Banza chickpea pasta for this because it holds up well to the sauce, doesn't get gummy, and has a nice neutral flavor to it. Not to mention it adds a huge dose of plant-based protein!
What is Nutritional Yeast?
I get this question a lot when I post recipes with it over on Instagram. Nutritional yeast is used a lot in vegan cooking because it lends a cheesy and savory flavor to foods.
Nutritional yeast comes from the same type of yeast that we use to bake bread with, it is just in a deactivated form. It is a complete protein, contains TONS of B vitamins (like B6 and B12), and it also contains trace minerals, calcium, and iron.
Not only does it lend some extra nutrition to your diet, it adds a really nice flavor to things like vegan cheese sauces.
*it is important to note -> make sure to look for the gluten-free label when you're buying nutritional yeast. It is usually GF, but you don't always know how certain companies process it, so just check to be on the safe side.
How to make Vegan Cheese Sauce
We make this sauce the exact same way we would make any traditional cheese sauce… right in the pan, no blending required.
You make the roux just like you normally would. Add the butter, arrowroot starch, whisk whisk whisk. Then add the milk, all the spices, and the nutritional yeast. Let it thicken up, and you have CHEESE SAUCE.
Add your pasta, stir, and you're golden.
OH OH OH wait. Let us not forget about the charred poblano peppers that get chopped up and thrown in the mix. You can easily leave these out, but I'm telling you they add a little something special to the cheesy pasta. Not too spicy, but juuuust enough to make it even better. And my toddler didn't even mind them. She actually picked most of them out, and it didn't even hurt my feelings because she inhaled the cheesy pasta.
If you feel fancy, you can add some vegan parmesan on top and pop it under the broiler for a couple of minutes to get it brown and crispy on top.
Okay who am I kidding, this step is non-negotiable. You NEED the crispy top.
Make this for your friends, they will love you forever.
Looking for more vegan recipes?
FOLLOW ALONG! Subscribe to my newsletter and follow along on Facebook, Instagram, and Pinterest for my latest recipes!
Vegan Mac & Cheese with Poblano
Ingredients
1

lb

gluten-free pasta of choice

(I used a chickpea penne)

¼

cup

vegan butter

¼

cup

arrowroot starch

(an all-purpose GF flour will work)

2

cups

unsweetened soy milk

(or any unsweetened non-dairy milk)

½

cup

nutritional yeast

2

tsp

dijon mustard

1

tsp

garlic powder

½

tsp

salt

¼

tsp

black pepper

1

poblano pepper

(cut in half lengthwise and seeds removed)
Vegan Parmesan
½

cup

cashews

½

cup

nutritional yeast

¼

tsp

salt
Instructions
Bring a large pot of water to a boil. Once boiling, cook your pasta according to package instructions.

To make the cheese sauce: Preheat a large oven-safe skillet over medium heat. Add the butter and let it melt. Once melted, add the arrowroot starch, and whisk continuously for 1-2 minutes, it will be clumpy at first.

Slowly add the milk while whisking, then add the dijon mustard, nutritional yeast, garlic, salt, and pepper. Whisk for another minute or so, until there are no more clumps. Turn the heat down to low and let it simmer for about 5-10 minutes.

Make sure you taste the seasoning at this point. You want it to be pretty salty and cheesy, so if you need more salt or nutritional yeast, add it in. Also, if you want the sauce to be extra thick, leave it as it is. But you can always add more milk if you want to thin it out a bit.

Meanwhile, broil the poblano pepper. Turn your broiler on high, and place the poblano skin side up on a small baking sheet. Drizzle with a small amount of olive oil, and broil on the top rack for 5-8 minutes. Remove when you start to see black char marks on the skin.

Let the poblanos cool enough to handle them, then chop them up and set aside.

Once your pasta is done cooking, and the sauce is done simmering, it is time to assemble.

Drain the pasta and add it to the skillet with the cheese sauce, then add in the chopped poblanos. Use a wooden spoon to stir everything together until the pasta is completely coated in the cheese sauce. Then remove from the heat and spread it out in an even layer.

To make the vegan parmesan, blend (in a blender or food processor) the cashews, nutritional yeast, and salt until it turns into a powder (basically the texture of ground parmesan).

Sprinkle your desired amount of vegan parmesan all over the top of the pasta, and put the skillet under the broiler for 3-5 minutes, until the top is golden brown and crispy.
Did you love this recipe?
Leave a star rating in the comments below!