These Balsamic Roasted Brussels Sprouts with Pecans & Cranberries are the perfect side dish for holidays or Fall-inspired meals!
Brussels sprouts are one of the first veggies that come to mind when I'm planning Fall recipes and holiday meals. I always thought I didn't like them when I younger, but I was wrong. It is just because they weren't cooked correctly.
The old school way of cooking brussels sprouts was to steam them with some butter, but let's all just agree that that way of cooking them is just sad. It does nothing to bring out their flavor.
What you need to do to make brussels really shine is ROAST them. It gets them nice and brown and caramelized, and soft but still with a little texture to them. And then add crunchy pecans and sweet cranberries to the mix, your taste buds will thank you.
Not to mention the amazing health benefits of brussels sprouts ->
rich in vitamin K, which helps with blood clotting
high in vitamin C, which is good for immunity and helps with iron absorption
high in fiber, which is always good for gut health
This is the perfect side dish for any holiday or easy weeknight meal, and it only requires one baking sheet!
Looking for more Fall side dishes?
FOLLOW ALONG! Subscribe to my newsletter and follow along on Facebook, Instagram, and Pinterest for my latest recipes!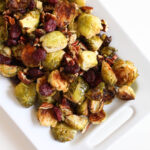 Balsamic Roasted Brussels Sprouts with Pecans & Cranberries
Ingredients
1½

lbs

brussels sprouts

½

cup

raw pecans

(roughly chopped)

⅓

cup

dried cranberries

3

tbsp

balsamic vinegar

2

tbsp

extra virgin olive oil

pinch of salt & black pepper
Instructions
Preheat the oven to 400 degrees. Prep the brussels sprouts by removing the outer leaves, cutting the stem end off, and slicing them lengthwise.

Place all of the brussels sprouts on a large baking sheet, then add the olive oil and balsamic vinegar. Season with a pinch of salt and pepper, then toss everything together to coat.

Roast for 20 minutes, then add the chopped pecans and toss together. Roast for another 5-10 minutes, until the brussles are turning brown, and the pecans are slightly toasted.

When done roasting, remove from the oven and transfer to a serving bowl. Add the cranberries, toss, and serve!