Chipotle Baked Sweet Potato Fries
I love how versatile sweet potatoes are! We constantly have some form of sweet potatoes in our house because you can do so many different things with them –> smashed, mashed, in a hash, in a casserole, baked whole, fries, wedges, in baked goods, and the list goes on and on.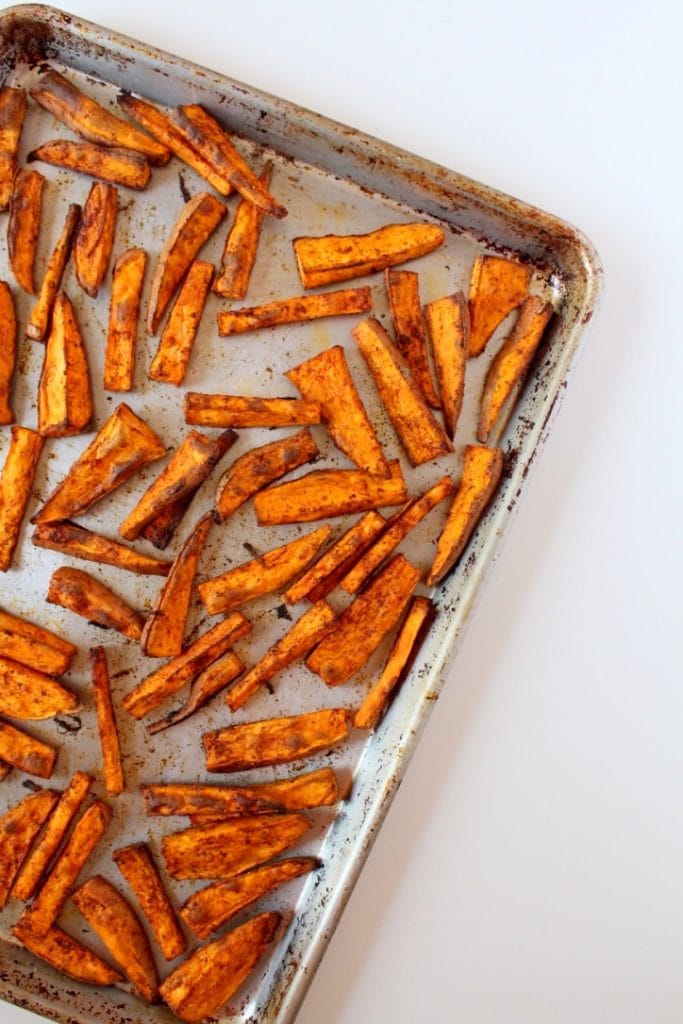 They are also highly nutritious. They are an excellent source of beta-carotene (which your body converts to vitamin A), and also contain good amounts of fiber, potassium, vitamin C, and manganese. Sometimes potatoes (in general) get a bad wrap from people that are scared of carbs, but I promise you that the nutritional value that you get out of sweet potatoes far outweighs the fact that they are a starchy carb.
Don't be afraid of carbs, my friends! Just eat the right kind of carbs, and your body will thank you, trust me!
These baked sweet potato fries have an extra little kick from the chipotle powder. They are not too spicy, but have a nice smoky heat to them. This recipe could not be any easier, all you need are sweet potatoes, olive oil, S&P, and chipotle powder.
Throw them in the oven and BOOM. Baked fries. And then the angels start singing.
Chipotle Baked Sweet Potato Fries
Ingredients
3

large

sweet potatoes

2

tbsp

extra virgin olive oil

2

tsp

chipotle powder

1/2

tsp

salt

1/4

tsp

black pepper
Instructions
Preheat the oven to 400 degrees.


Wash and dry your sweet potatoes. Using a sharp knife, cut the sweet potatoes into the shape of french fries, about 1/2 inch thick.


Transfer the fries to a large baking sheet, and drizzle with the olive oil, then season with the chipotle powder, salt, and pepper. Use your hands to toss the fries until they are all coated with the seasonings.


Spread them out into one even layer on the baking sheet. You don't want them to be stacked on top of each other, or else they will steam rather than roast.


Place the baking sheet in the oven and bake for 35-40 minutes, until the fries are slightly brown and crispy on the outside.


Serve with your favorite dipping sauce and enjoy!