It's October, so its officially pumpkin season! The second October 1st gets here, everyone is completely obsessing over all things pumpkin.
Guilty.
For the past two weeks I've been making pumpkin desserts, pumpkin pie smoothies, pumpkin spice lattes, and now these energy bites. These are the perfect little treat for when you need your pumpkin fix. They are soft, chewy, naturally sweet, contain actual pumpkin puree, and are full of pumpkin pie spices!
And what's even better is that they are packed full of nutrition –>
vitamin A and iron from the pumpkin puree
fiber, carbs, and potassium from the dates
healthy fats and vitamin E from the pecans
healthy fats, potassium, and fiber from the shredded coconut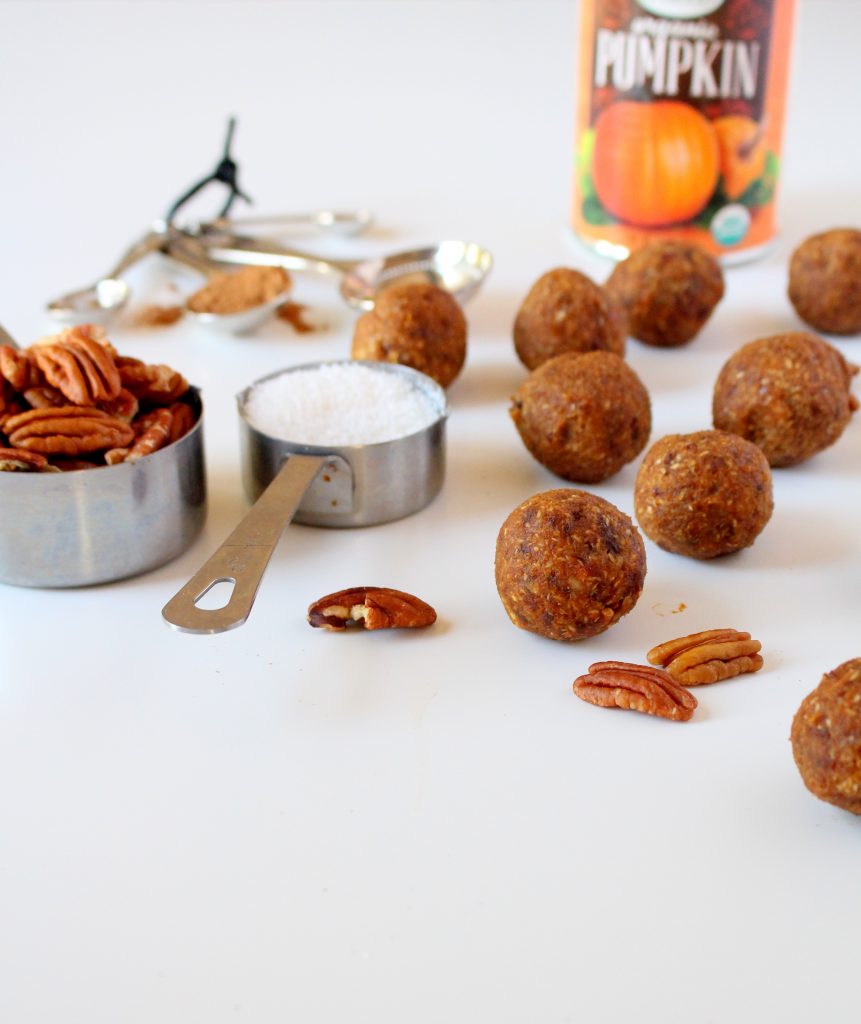 Enjoy these in the morning with a cup of coffee or as an afternoon pick me up! They taste like legit pumpkin pie. Don't say I didn't warn you.
Pumpkin Pie Energy Bites
Ingredients
1

cup

pitted medjool dates

1/2

cup

pecans

1/3

cup

pumpkin puree

(not pumpkin pie filling)

1/4

cup

unsweetened shredded coconut

2

tsp

vanilla extract

1.5

tsp

pumpkin pie spice
Instructions
Soak the pitted dates in warm water for about 10 minutes to soften them.


Add the dates to a food processor and pulse a few times until the dates break up into little pieces.


Add the pecans, coconut, pumpkin puree, vanilla, and pumpkin pie spice. Turn the food processor on and let the mixture come together.


Once all of the ingredients are evenly combined, scoop out 1 tbsp of the dough and roll it into a ball using your hands. Repeat with the rest of the dough.


Let the balls chill in the fridge for a couple of hours. Serve and enjoy!