Vegan Jackfruit Taco Soup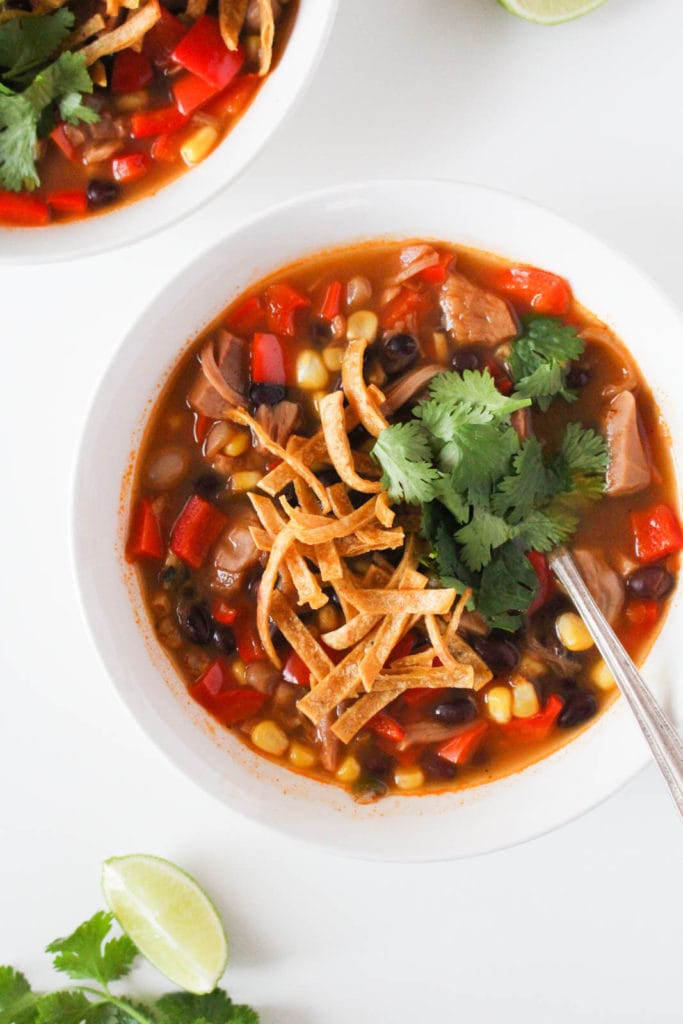 I've been seeing people use jackfruit in recipes for so long now, I've just never given it a try in my own recipes. I was always a little intrigued by the idea of a fruit that is supposed to have a taste and texture that can replace meat in recipes. So when The Jackfruit Company let me try some of their products, I was SOLD!
The Jackfruit Company has so many different types of meals, I was so impressed! They have everything from full meals that you just have to heat up, to marinated jackfruit that you can use in your own recipes. For this taco soup recipe, I used that tex-mex flavor, and it is SUH GOOD.
Before trying it, Kenny was a little skeptical, but he is always up for trying new things. So when he actually tasted the soup, his exact words were "whoa, this is actually good. This is a fruit?!"
Why yes, yes it is. And it actually makes you think that you are eating chicken in this taco soup! Let me tell you a little about jackfruit, it's pretty cool…
it is nutritionally dense and high in fiber
it has a meaty, firm texture that shreds like pulled pork
the jackfruit tree is hardy, easy to grow, and resistant to drought and heat. So it is easily adaptable to changing climates.
the flavor of young jackfruit is subtle, so it absorbs the flavor of spices and seasonings it is cooked with
as a jackfruit matures, it softens, sweetens, and its flavor becomes more distinctly tropical
I have learned so much about jackfruit through this company! I had no idea how versatile it was. I can't wait to try more of their products, but for now I'm loving the tex-mex flavor in this taco soup!
It has all the components of a traditional taco soup, except we subbed chicken for jackfruit! This is the perfect soup to keep you warm throughout the rest of this cold winter.
Vegan Jackfruit Taco Soup
Ingredients
1

(10oz)

package of tex-mex flavored jackfruit

1

(15oz) can

black beans

(rinsed and drained)

1/2

large

yellow onion

(chopped)

1

cup

frozen corn

1/2

cup

chopped roma tomatoes

3

cups

vegetable broth

(or bone broth if you don't need it to be vegan)

1

tsp

chili powder

1

tsp

cumin

1/2

tsp

paprika

1/2

tsp

salt

1/4

tsp

black pepper
Toppings
3-4

corn

tortillas

dollop of vegan sour cream

avocado

cilantro
Instructions
In a large pot, add the jackfruit, onion, black beans, corn, tomatoes, broth, and all spices. Give it a stir to combine.


Cover and cook over medium-high heat until the liquid comes to a boil.


Once boiling, turn the heat down to low and let it simmer for 30 minutes.


While the soup simmers, make the tortilla strips. Cut the corn tortillas into thin strips. Spray some olive oil cooking spray into a skillet, over medium-high heat. Add the tortilla strips and stir frequently. Cook them for 5-10 minutes, or until they are as brown and crispy as you would like.


To serve, spoon the soup into bowls, and top with sour cream, avocado, cilantro, and a handful of the crispy tortilla strips.

*The Jackfuit Company generously sent me free product to try, but all opinions are my own.
They have even offered you guys a coupon to try jackfruit for yourself, just use this link!
Facebook: https://www.facebook.com/thejackfruitco/
Instagram: https://www.instagram.com/thejackfruitco/
Twitter: https://twitter.com/thejackfruitco