You can never go wrong with ice cream, right? I thought so too.
Say it with me now… PEANUT BUTTER CHOCOLATE CHIP COOKIE DOUGH ICE CREAM.
Hallelujah.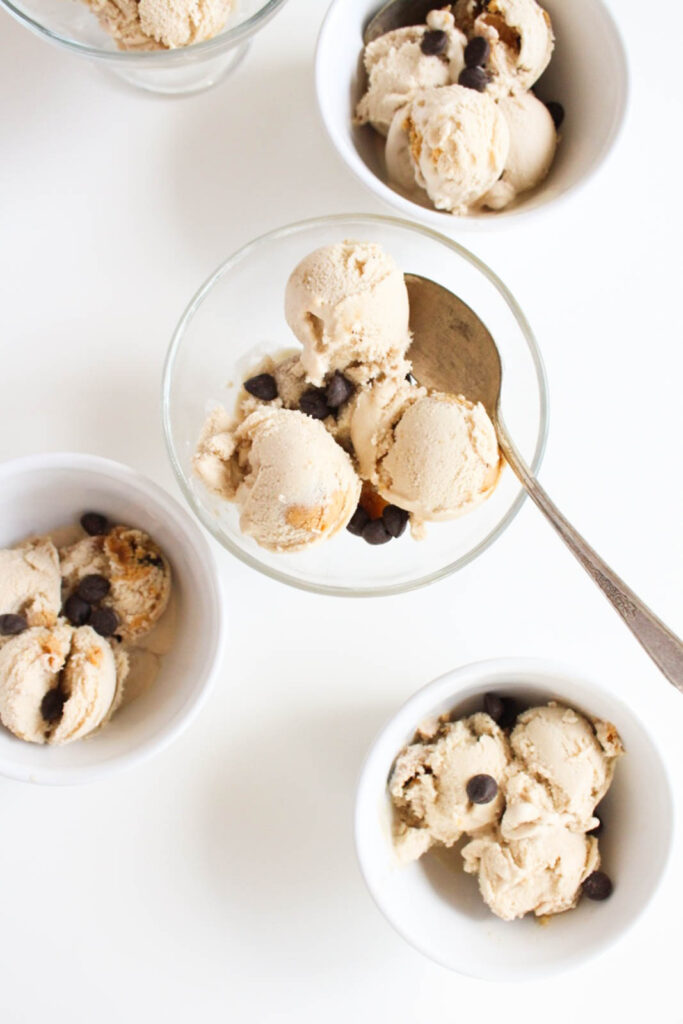 This is probably one of my favorite recipes that has come out of my kitchen. Bold statement, I know. But I mean, who doesn't love cookie dough ice cream?! No one, trust me.
Now let's be honest, cookie dough ice cream is not revolutionary, and actually pretty basic (the BEST kind of basic). But you don't often see gluten-free AND vegan cookie dough ice cream. Well, now you have.
The super creamy ice cream is made with a coconut milk base and is naturally sweetened with coconut sugar. Then the cookie dough is made with only FOUR ingredients! -> almond flour, peanut butter, maple syrup, and chocolate chips
You just mix up the dough, roll it into balls, and then mix them into your ice cream once its nice and thick.
I used an ice cream maker for this recipe, so if you don't have one, you may want to consider investing in one because it is worth its weight in gold if you use it often. There are tons of ice cream makers on Amazon, and you can find some that are pretty inexpensive. I actually have a super inexpensive model like this one that I got years ago, and it works just fine!
Making ice cream can seem intimidating or time consuming, but it really isn't with an ice cream maker. You just throw the ingredients in and let it do its thing!
This ice cream really does have everything you want in the summer.
It's sweet.
It's creamy.
It melts in your mouth.
You've got chunks of cookie dough.
You've got crunch from the choco chips.
And it tastes like a peanut butter cup exploded in your ice cream.
SIGN ME UP.
You have got to make this for your family this summer. You will definitely become their new favorite person, and will be asked to make this 1 million more times.
Don't say I didn't warn you.
[Vegan] Peanut Butter Chocolate Chip Cookie Dough Ice Cream
Ingredients
3

(15oz)

cans full-fat coconut milk

3/4

cup

coconut sugar

1

tbsp

vanilla extract

2/3

cup

almond flour

3/4

cup

natural creamy peanut butter

2

tbsp

maple syrup

1/2

cup

chocolate chips

(I used dairy-free Enjoy Life brand)
Instructions
Shake up your cans of coconut milk before opening them. In a large bowl, combine the coconut milk, coconut sugar, and vanilla extract and whisk until combined.

Add the coconut milk mixture to your ice cream maker, and then follow the instructions for your specific ice cream machine.

While the ice cream is churning, make the cookie dough. In a large mixing bowl, combine the almond flour, peanut butter, maple syrup, and chocolate chips. Use a wooden spoon to mix it all together. This may take a minute because the dough is pretty thick. Once you have it well incorporated, put the bowl in the fridge for about 20 minutes to help it firm up a bit. This will make it easier to roll it into balls.

Once the dough has chilled, it is time to roll it into balls. Just take a teaspoon measurer and scoop the dough into your hand. Gently roll it into a ball with your hands, and set aside. Repeat with the rest of the dough. Remember, you can make the balls as big or small as you want them to be, I just like to make them small so that you have more chunks of it throughout the ice cream.

Once the ice cream is done churning, and is nice and thick, transfer it to a container that you are going to store it in. I used a loaf pan for this, but you can use a casserole dish or large glass container with a lid. Once you transfer the ice cream, start slowly adding the dough balls and mix. Just add a handful at a time, and then mix it a few times, and then just repeat. Be gentle when you mix because you don't want to break up the dough too much.

You can also sprinkle in an extra handful of chocolate chips at this point too (this is not required). This gives a little extra texture throughout that is not just in the cookie dough.

Lastly, put the container into your freezer for a couple of hours before you serve.

When ready to serve, scoop into bowls and enjoy!