Gluten-Free Sugar Cookies
These Gluten-Free Sugar Cookies are soft and fluffy, just like the traditional ones from your childhood! This delicious, easy gluten-free sugar cookie recipe is easily dairy-free and perfect to make during the holiday season. You can even use the cute little cutouts and decorate with a simple frosting.
My husband has always been obsessed with those sugar cookies with the THICK layer of frosting that you can get at the grocery store. I find them to be disgusting, and would choose chocolate chip cookies over those any day.
But, I digress.
I have put off coming up with a gluten-free sugar cookie for the longest time, all because I didn't like the grocery store ones. But after making my own at home, I now love sugar cookies. Who knew?!
The key is to make them with good quality ingredients, they will taste SO much fresher! And the icing that I put on top is made with minimal ingredients, and is just the right ratio for these cookies.
My husband says they're the best cookies I've ever made, and that's a bold statement.
Ingredients for Gluten-Free Sugar Cookies ->
GLUTEN-FREE ALL-PURPOSE FLOUR – my current favorite GF all-purpose flour is the Bob's Red Mill 1-to-1 Baking Flour. I have made several recipes with it (including my cinnamon rolls), and it works like a charm every single time.
BUTTER – I have been dairy-free for as long as I've been GF, so I always use vegan butter in my recipes. You can use regular butter, but vegan butter works beautifully too. I used Miyoko's for this recipe.
ORGANIC CANE SUGAR – You can really use any type of granulated sugar you want, but I love keeping organic cane sugar in my pantry for recipes like this. You NEED sugar for sugar cookies, obviously.
MILK – I used unsweetened soy milk for these, but you can use any type of non-dairy milk you want.
VANILLA EXTRACT – The vanilla sends the flavor over the top. It's essential, in my opinion.
THE STAPLES – egg, salt, and baking powder. These are staples in sugar cookies to hold things together and make the cookies nice and fluffy.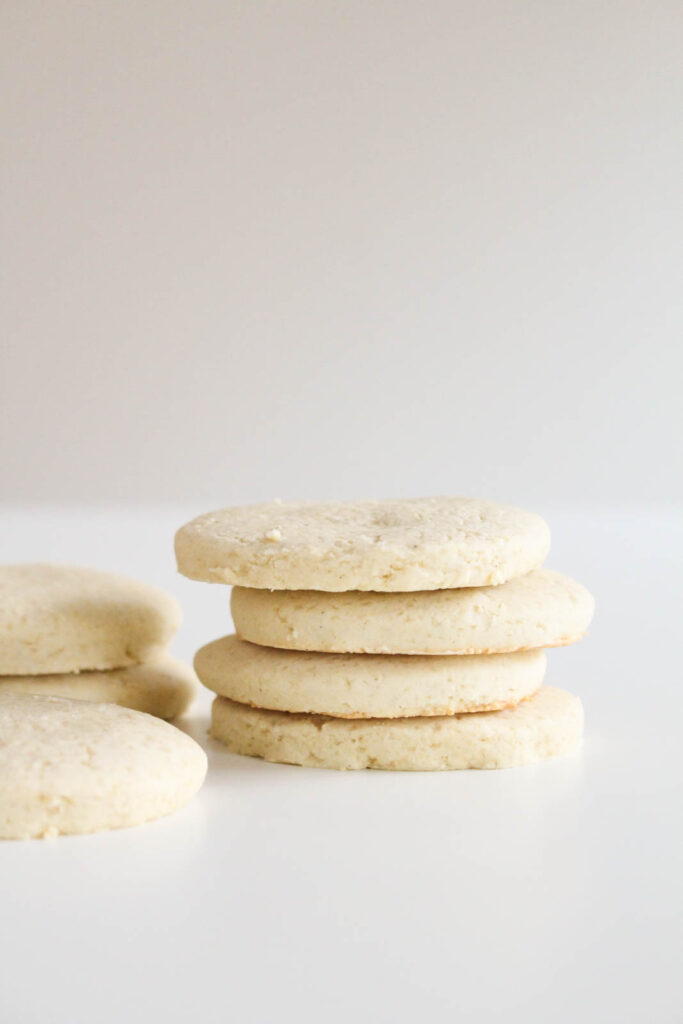 You can make these simple cookies right in one bowl, no need to dirty a bunch of dishes. I recommend using a hand mixer to beat the butter and egg together, but if you don't have a hand mixer, just get your arm workout in for the day by using a good 'ol whisk.
The icing/frosting is so simple too. You only need a couple of simple ingredients like: powdered sugar, butter, milk, and vanilla. Beat it together until it's nice and smooth, and frost those babies!
You definitely have the option to use whatever cute cutouts you want! Make it festive by using cute Christmas trees or gingerbread men, and then of course let your kids get crazy with the sprinkles.
Looking for more cookie recipes?
FOLLOW ALONG! Subscribe to my newsletter and follow along on Facebook, Instagram, and Pinterest for my latest recipes!
Gluten-Free Sugar Cookies
Ingredients
¼

cup

softened butter

(I used vegan butter)

½

cup

organic cane sugar

1

egg

¼

tsp

salt

¼

tsp

baking powder

1

tsp

vanilla extract

¼

cup

unsweetened non-dairy milk

1 ½

cups

GF all-purpose flour

*see notes
Icing
¾

cup

powdered sugar

2

tbsp

butter

(I used vegan butter)

2

tbsp

unsweetened non-dairy milk

¼

tsp

vanilla extract
Instructions
In a large mixing bowl, add the butter and sugar. Use a hand mixer to beat the butter and sugar together until it turns into a slightly creamy texture. This should only take about 30 seconds.

Next, add the egg, salt, baking powder, and vanilla. Beat again until you have a smooth consistency. Then add the flour and milk to the mixture and use a wooden spoon to gently fold the flour into the wet mixture. This will take a couple of minutes to get everything fully incorporated.

Once the dough has come together, you can use your hands to knead it a couple of times to make sure everything is incorporated. Form the dough into a ball and place the bowl with the dough in the fridge for 1 hour to chill.

When you are almost ready to take the dough out of the fridge, preheat the oven to 375 degrees.

Once the dough has chilled, remove it from the fridge and place it on top of a piece of parchment paper or on a floured surface. Make sure you sprinkle a little bit of flour on the surface you are working on to prevent the dough from sticking.

You will need to work fairly quickly because as the dough warms up, it gets harder to work with. Use a rolling pin to gently roll the dough into a flat layer, about 1/2 inch thick, making sure it is an even layer all the way across.

Use cookie cutters or any round glass you have to cut out the shapes of the cookies. Once you have cut out the entire layer of dough, transfer the cookies to a baking sheet. Take the dough scraps and knead them into a ball, and repeat the process of rolling and cutting out the cookies until you have used all of the dough.

Bake for 10-12 minutes. If your cookie shapes are on the smaller side, only bake for 7-10 minutes.

To make the icing, combine the butter, powdered sugar, milk, and vanilla in a small mixing bowl. Use a hand mixer to beat it all together until smooth. Start on a low setting so the powdered sugar doesn't fly everywhere.

Let the cookies cool for a few minutes before you put the icing on them. Then use a butter knife or spatula to smear the icing onto the cookies, and then decorating with sprinkles if desired.
Notes
*I used Bob's Red Mill 1-to-1 Baking Flour for this recipe. It is my favorite GF all-purpose flour.
*The icing for these cookies completely optional, they are also delicious without it.