Spinach & Goat Cheese Stuffed Portobellos
Spinach & Goat Cheese Stuffed Portobellos are a perfect appetizer or side dish. Meaty portobellos are baked and stuffed with creamy goat cheese, spinach, and shallots. This delicious recipe is a reader favorite!
There is definitely a good reason that this is one of the most popular recipes on my site. It is a delicious and healthy dish that makes for an easy appetizer or side dish that everyone loves.
I remember how much I used to LOVE the cheese stuffed portobello mushrooms at Italian restaurants growing up. They were the little baby bellas stuffed with gooey cheese, and I could take those down like it was my job. I wanted these stuffed mushrooms to be reminiscent of those restaurant-style ones, but with a little twist from the goat cheese.
INGREDIENTS FOR SPINACH & GOAT CHEESE STUFFED PORTOBELLOS ->
portobello mushrooms – I used the big portobellos for this because I think it makes for a cool presentation. They are really pretty sitting out on a platter as an appetizer.
creamy goat cheese – I have a sensitivity to cow's milk, so I used goat cheese in these, and it turned out perfectly! It adds a bit of tang, and melts into a nice soft texture.
frozen spinach – I defrosted chopped frozen spinach because it is a lot easier than having to chop and wilt fresh spinach.
shallots – I wanted to give the filling a little more flavor, but I didn't want onion to overpower the other components, so I opted for shallots for a more mild flavor.
chopped garlic – fresh garlic adds tons of flavor to the filling, but you could also use garlic powder if you don't have fresh.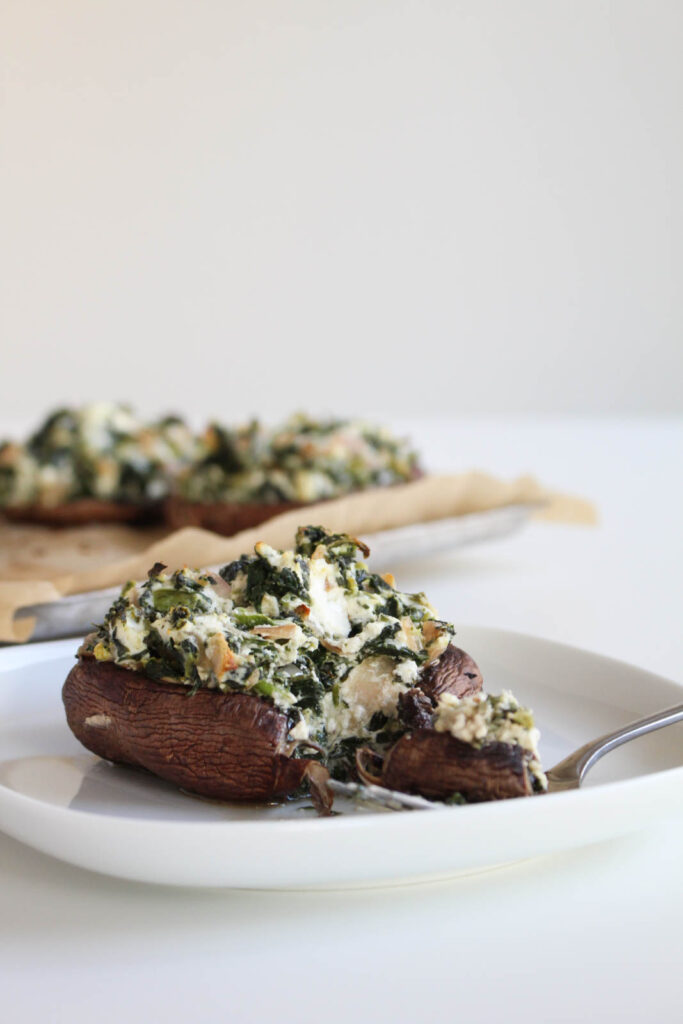 This simple vegetarian recipe only requires a few ingredients, and about 30 minutes. They are loaded with great nutrition, and tons of flavor! Don't forget to grab your favorite crackers so that you can dip them into that creamy filling!
Looking for more easy side dishes?
FOLLOW ALONG! Subscribe to my newsletter and follow along on Facebook, Instagram, and Pinterest for my latest recipes!
Spinach & Goat Cheese Stuffed Portobellos
Ingredients
4

portobello mushrooms

8

oz

goat cheese

3

cups

frozen spinach

1

medium

shallot

, thinly sliced

2

cloves

garlic

, finely chopped

1

tbsp

extra virgin olive oil

pinch of salt and pepper
Instructions
Preheat the oven to 400 degrees.

Remove the stems from the mushrooms, and use a spoon to scrape out the dark brown insides. Then use a damp paper towel to wipe off any excess dirt on the outside.

Place the mushrooms stem side down on a lined baking sheet. Bake for 8-10 minutes, until just slightly soft.

While the mushrooms are pre-baking, prepare the filling. Start by thawing out the spinach in a bowl in the microwave, according to package instructions. Once thawed, place the spinach in a kitchen towel and squeeze out all of the excess water. This is very important, and will help the end result to not be too watered down. 

Preheat a small skillet over medium heat, add the olive oil, shallots, and garlic. Saute for about 2 minutes, stirring frequently, until the shallots are starting to turn slightly brown. 

Transfer the shallots to a mixing bowl, add the spinach, goat cheese, and a pinch of salt and pepper. Stir with a fork to evenly combine. 

Pull the mushrooms out of the oven after they have pre-baked, let them cool for a few minutes so you can handle them. Turn them over and stuff each one with 1/4 of the spinach/goat cheese mixture. Smooth out the top and place them back in the oven. 

Bake for 6-8 minutes, until the mushrooms are soft and the goat cheese is warmed all the way through. Serve and enjoy!