This Coconut Cacao Granola is the perfect sweet breakfast or snack! It is packed with protein from oats, almonds, and hemp seeds, and is naturally sweetened with coconut and maple syrup.
This delicious granola recipe combines two of my favorite things: chocolate + coconut. One of the greatest combos, in my opinion. I've used coconut and cacao together in so many recipes, from energy bites, raw cookies, banana bread, and overnight oats.
I love granola as an easy make ahead weekday breakfast. You can bake up a big batch on the weekend and be able to throw it in a bowl with some fruit and almond milk in less than 5 minutes on a busy morning. And the best part is that you get to have chocolate milk at the end. WINNING.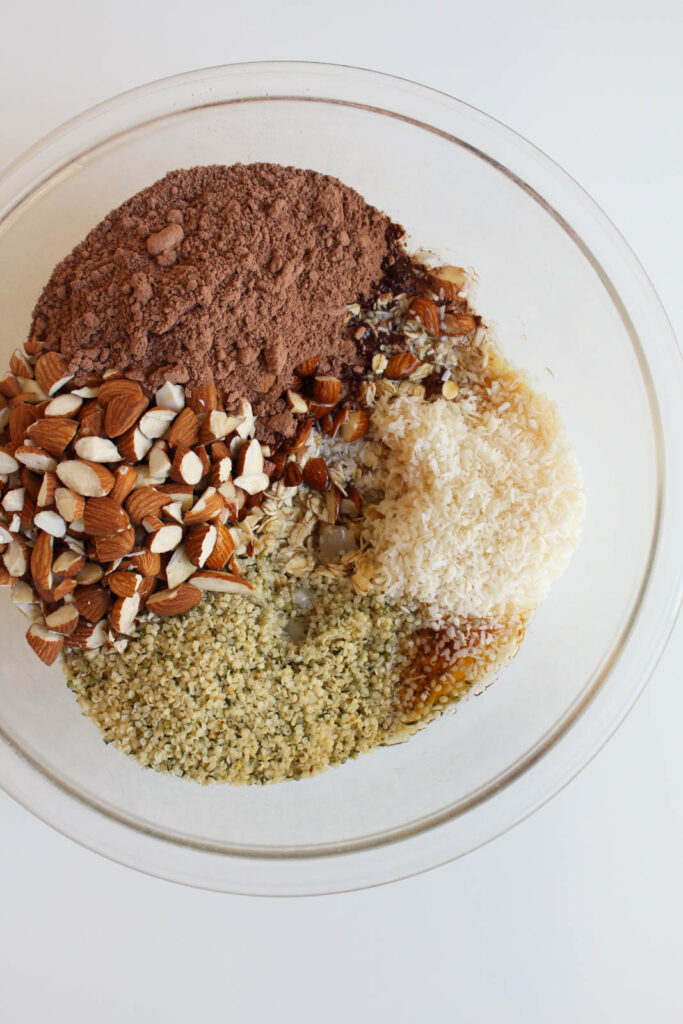 Most of the ingredients that I used in this granola are some of my favorite products from NOW Foods. I always have a variety of different nuts, seeds, and baking products from NOW stocked in my pantry for any time I want to whip up some granola, pancakes, or even brownies.
INGREDIENTS IN COCONUT CACAO GRANOLA ->
GF OATS – if you have celiac disease, always make sure your oats are certified gluten-free to avoid cross contamination. Check out this post for more tips on staying away from hidden gluten sources.
ALMONDS – I almost always have almonds in my pantry for snacking, and they are perfect for adding some extra crunch to granola.
COCONUT FLAKES – I always use unsweetened because I don't want my granola to be overly sweet, and the granola is sweetened with maple syrup anyway.
HEMP SEEDS – I keep a bag of hemp seeds in my fridge because I love adding them to granola and even oatmeal to add in some extra protein and healthy fats.
CACAO POWDER – this gives the best chocolate flavor, and adds tons of antioxidants to your granola.
REAL MAPLE SYRUP – maple is one of my favorite sweeteners to use in pretty much everything because it is a natural sweetener, and the taste is amazing with the cacao.
COCONUT OIL – this just enhances the coconut flavor and adds healthy fats, you normally need some type of oil to make granola.
SEA SALT – I love adding a good pinch of salt to pretty much everything, it just enhances whatever the flavor is. And who doesn't love chocolate and sea salt together?!
The NOW Foods ingredients I used in this recipe are the raw almonds, shredded coconut, cacao powder, hemp seeds, and coconut oil.
It is SO easy to make granola at home, and not to mention, WAY CHEAPER than store-bought. You are able to control the ingredients, and know exactly how much sugar is going into your breakfast. And it really only takes a few minutes to mix up, then you just bake, and done!
TIPS FOR MAKING YOUR OWN GRANOLA ->
You don't want your oven to be too hot, 350 degrees is as hot as I will go for granola. You can run the risk of burning it if you cook it at a hotter temperature.
Spread it out in an even layer on the baking, this will help to create those big chunks after it cools.
When you take it out of the oven, don't stir it immediately. You want to let it cool for a few minutes to let it harden and stick together. This will make for bigger chunks when you break it apart.
It won't be crunchy to the touch when you first take it out of the oven. It gets crunchier as it cools. I have made the mistake of putting it back in the oven thinking it wasn't crunchy enough, but then I just burnt it.
WAYS TO ENJOY GRANOLA ->
Eat it like cereal! Just pour it in a bowl with almond milk and slice some banana on top.
On top of yogurt!
Eat it by the handful, right to the face.
Sprinkle it on top of a smoothie for some extra crunch.
I hope you love this chocolate-y granola as much as I do! This post is sponsored by NOW Foods. I love this company so much, and their products are a staple in my pantry and our household. Thank you for supporting TWK!
Remember to use code 'CANDACE' to get 20% off all NOW Foods products!
FOLLOW ALONG! Subscribe to my newsletter and follow along on Facebook, Instagram, and Pinterest for my latest recipes!
Coconut Cacao Granola
Ingredients
2

cups

GF oats

1

cup

raw almonds

(roughly chopped)

½

cup

hemp seeds

½

cup

unsweetened shredded coconut

⅓

cup

cacao powder

½

cup

maple syrup

⅓

cup

melted coconut oil

¼

tsp

sea salt
Instructions
Preheat oven to 350 degrees. In a large mixing bowl, stir together the oats, almonds, hemp seeds, coconut, and cacao powder.

In a smaller bowl, whisk together the maple syrup, coconut oil, and salt until combined.

Pour the wet ingredients onto the dry ingredients, and use a large spoon to stir everything together. You want to make sure everything is well coated in the oil mixture.

Pour the granola onto a large baking sheet, and spread it out into a thin even layer.

Put the pan into the oven and bake for 15 minutes.

Remove from the oven and use a wooden spoon to stir and make sure its not burning on the bottom. Put it back in the oven for another 5 minutes.

Remove from the oven and let it cool for at least 10 minutes before breaking it up, it hardens as it cools. Store in an airtight container for up to a month.