Superfood Quinoa Breakfast Bowl
This Superfood Quinoa Breakfast Bowl is the perfect way to start your day! It is packed with plant-based protein and nutritious superfoods that will fuel your morning.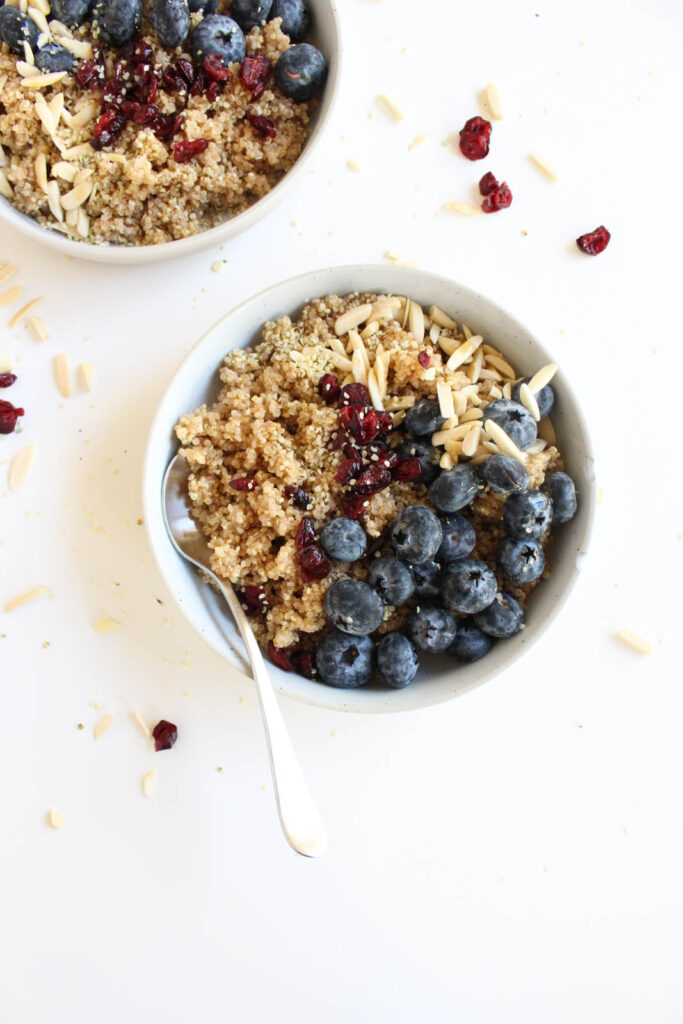 Oatmeal is a staple in most of our mornings, but I think we need to give quinoa a chance to join the breakfast scene. It's light and fluffy texture makes it perfect for a simple breakfast that won't feel heavy, but keeps you full for hours.
Quinoa is packed with protein, and is a little bit lower in carbs than oats are. It also has a really neutral flavor, so that makes it super versatile. You probably eat quinoa in savory dishes, but it works well in sweet ones too. You can jazz it up with warm spices like cinnamon, and sweeten it a bit with delicious maple syrup.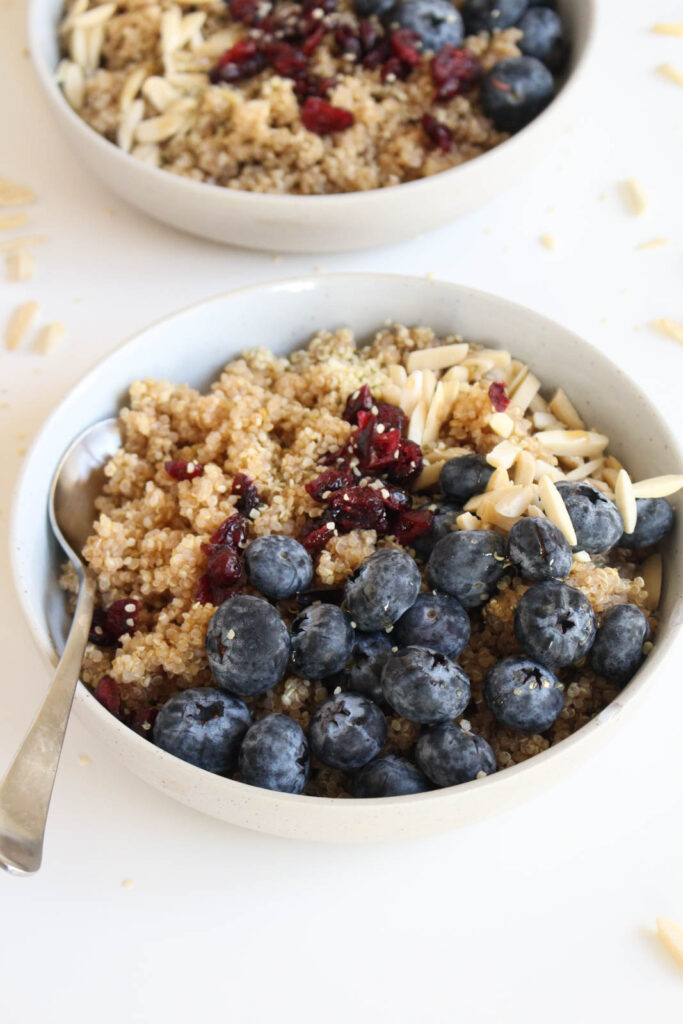 INGREDIENTS FOR A SUPERFOOD QUINOA BREAKFAST BOWL ->
QUINOA – high in protein, this makes for a perfect addition to breakfast because it will keep you full for hours
BLUEBERRIES – this is where some of those superfoods come in. Blueberries are incredibly high in antioxidants and phytonutrients, which are good for everything from heart health, skin health, digestive health, and so much more
DRIED CRANBERRIES – cranberries add a nice little bit of tartness and sweetness
SLIVERED ALMONDS – You can use whole or chopped almonds if that's what you have on hand, but I like the texture that the slivered ones give to the dish. Almonds contain healthy fats, fiber, and protein.
HEMP SEEDS – I love adding hemp seeds to everything from oatmeal, breakfast bowls, smoothies, and even salads. They are a great source of essential fatty acids, protein, and vitamin E.
CINNAMON – I love the warmth that cinnamon gives this dish. I don't think I've ever made a bowl of oatmeal or breakfast quinoa without cinnamon.
MAPLE SYRUP – Maple is by far my favorite sweetener to use in pretty much anything. It gives an amazing flavor to the dish, but you could also sub honey if you don't have maple on hand.
This is really the perfect quick and easy breakfast bowl to throw together on busy mornings. Just cook the quinoa ahead of time, keep it in the fridge, and add your toppings in the morning. The plant-based protein and healthy fats will keep you fueled until lunch time!
Looking for more easy breakfast ideas?
FOLLOW ALONG! Subscribe to my newsletter and follow along on Facebook, Instagram, and Pinterest for my latest recipes!
Superfood Quinoa Breakfast Bowl
Ingredients
¾

cup

uncooked quinoa

1¼

cup

water

½

tsp

cinnamon

1

cup

blueberries

¼

cup

dried cranberries

¼

cup

slivered almonds

2

tbsp

hemp seeds

2

tbsp

real maple syrup
Instructions
Combine the quinoa, water, and cinnamon in a small pot. Cover with a lid, and bring it to a boil. Once boiling, turn the heat down to low and let it simmer for 15-20 minutes, until the liquid is absorbed.

Fluff the quinoa with a fork and divide it between two bowls. Top the bowls with the blueberries, cranberries, almonds, hemp seeds, and a drizzle of maple syrup.

(If you want to eat the bowl cold, just cook the quinoa ahead of time and store it in the fridge until you're ready to add the toppings.)