This Raw Vegan Banana Pudding is a quick and healthy dessert that only requires a few simple ingredients! It has fresh bananas, cashews, and is naturally sweetened with maple syrup.
This is not your grandma's traditional banana pudding, but I promise it tastes just as amazing. Did you know that in a lot of traditional banana pudding recipes, there aren't actually bananas in the pudding itself?! What?! They use a vanilla pudding and just add the bananas and vanilla wafers on top or in layers. But I decided to change it up a bit and put actual bananas inside the pudding, and I'm never going back.
Raw Vegan Banana Pudding
This is such a quick and easy dessert or snack, and it only requires a few simple ingredients. Of course you have the bananas, but then you soak some cashews to add in there for extra creaminess. This gives the pudding that amazing thick texture. It is sweetened with pure maple syrup, which just adds the BEST flavor, in my opinion. I think the maple goes really well with the bananas, and gives it a unique flavor.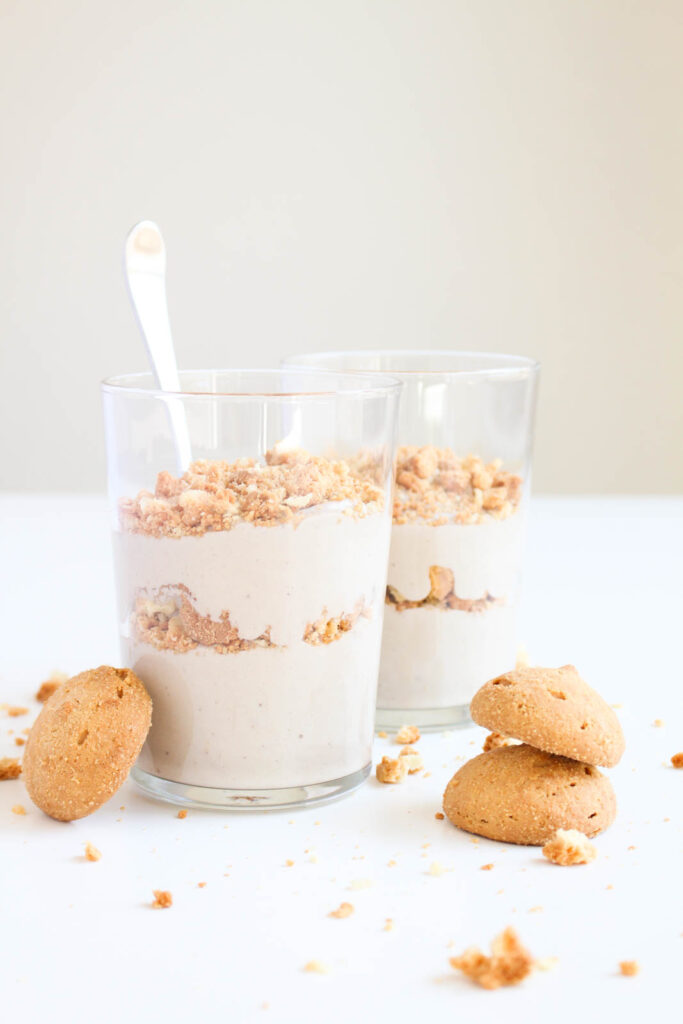 And let's not forget the shortbread cookies that you can crumble on top for lots of crunch. This is not a step to be missed! Those cookies are crucial, and I think every single grandma in the world will tell you that you NEED vanilla wafers with your banana pudding. I have done both homemade as well as a store-bought option for this, it just depends on how ambitious I'm feeling. You can usually find gluten-free vanilla wafers in grocery stores these days, but if you are feeling fancy and want to make your own, might I suggest these grain-free shortbread cookies?! They go perfectly with it.
This is such a nostalgic dessert from my husband's childhood. It was always his favorite thing that his grandma made when he was growing up. I hope I did her recipe some justice!
Looking for more vegan desserts?
FOLLOW ALONG! Subscribe to my newsletter and follow along on Facebook, Instagram, and Pinterest for my latest recipes!
Raw Vegan Banana Pudding
Ingredients
1 ¼

cup

raw cashews

(soaked overnight, or at least 4 hours)

3

ripe bananas

⅓-½

cup

unsweetened almond milk

(or any non-dairy milk of choice)

2

tbsp

pure maple syrup

1

tbsp

coconut oil

1

tsp

vanilla extract

1

batch GF shortbread cookies

*see notes
Instructions
After the cashews have soaked, drain the water and transfer them to a blender. Add the bananas, milk, maple syrup, coconut oil and vanilla extract. Blend on high for about 30 seconds, until it is smooth and there are no clumps. You may have to scrape the sides with a spoon if it doesn't come together on its own. 

Transfer the banana pudding to a container and place it in the fridge to chill for at least an hour, preferably several hours. It thickens a bit as it cools. Note: because there are fresh bananas in the pudding, the top layer of the pudding may turn brown while it is in the fridge. When you are ready to serve, just scrape off the top thin layer of brown and discard.

When you are ready to serve, put about 8 of the shortbread cookies in a ziploc bag. Seal it and then crush the cookies by hitting them with a wooden spoon, until you have crumbles. 

To assemble the pudding, take a small spoonful of the crumbs and layer it in the bottom of a jar or glass. Next, layer a few tablespoons of the banana pudding, and continue for 2-3 more layers. Garnish with a cookie and some banana slices. 
Notes
you can usually find gluten-free vanilla wafer cookies in grocery stores, but if you are wanting to make homemade shortbread cookies for this, I have a grain-free recipe for you right here