What To Serve With French Toast (Gluten-Free Side Dishes)
There are SO many fantastic gluten-free side dishes that compliment French toast! This list has everything you need to plan an EPIC gluten-free brunch menu. We have everything from egg dishes, breakfast sausage, baked and fresh fruit, lots of fun beverages, and more! French toast is so versatile, you can serve lots of different options to please everyone in the family.
My personal favorite is this Apple Chai Spiced Baked French Toast, but you can use your favorite recipe to be the star of your brunch menu. This recipe is fantastic if you want to feed a crowd, and don't want to be flipping individual pieces of French toast for hours! And the apple and chai spices are the MOST amazing combination.
I like to pair my french toast with savory dishes to balance it out, with maybe a couple of sweet things thrown in. Let's get to the menu…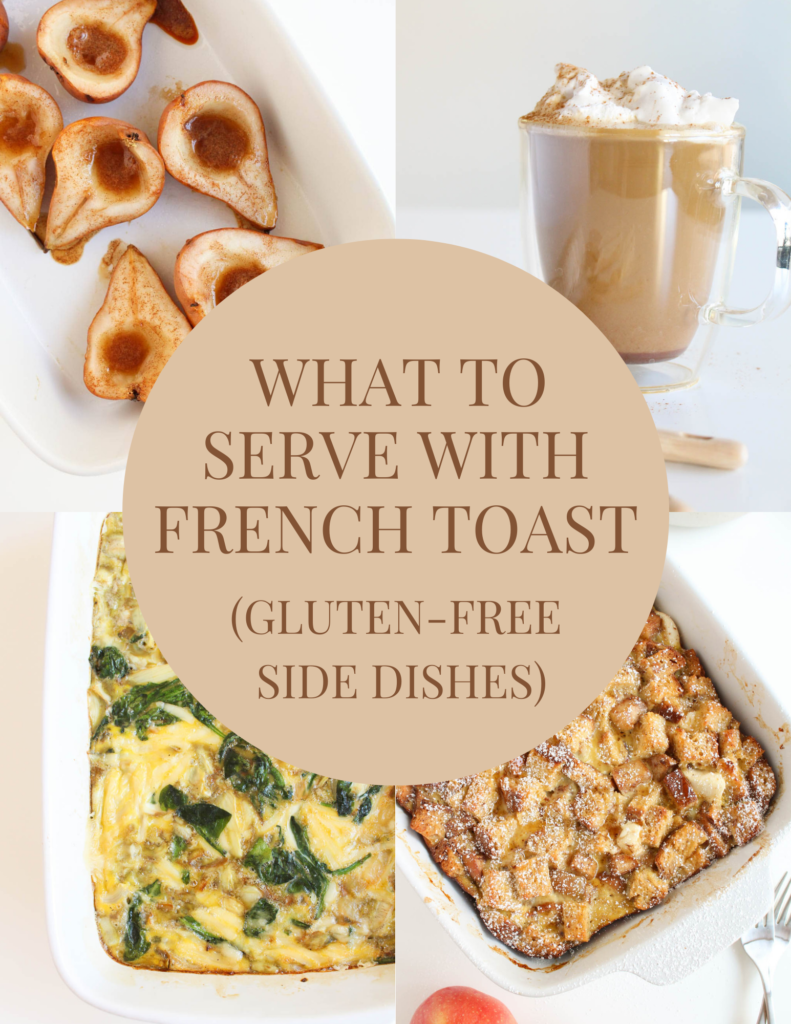 Eggs + Protein
Scrambled or fried eggs – Keeping it simple with eggs is always a hit, but if you want to kick it up a notch, add a little cheese in that scramble.
Breakfast sausage – It is easy to throw a bunch of sausage links into the oven or a skillet to serve alongside.
Good quality bacon – I'm not a huge bacon fan, but most people love it on a brunch menu.
Smoked Salmon – If you're wanting to give your brunch menu a little fancy touch, set out slices of smoked salmon.
Jam + Spreads
Classic Maple Syrup – a french toast breakfast staple!
Peanut butter – or any other type of fun nut butter you may have!
FRUIT
Fruit salad – you can never to wrong with a mixed fresh fruit salad! It is easy to include lots of different kinds of fruit to please everyone.
Cold Side Dishes
Coffee + Smoothies
FOLLOW ALONG! Subscribe to my newsletter and follow along on Facebook, Instagram, and Pinterest for my latest recipes!