[Dairy-Free] Iced Green Tea Latte
This quick and easy [Dairy-Free] Iced Green Tea Latte is a perfect afternoon pick-me-up! It is loaded with antioxidants, low in sugar, and delicious!
I have never really loved the coffee at Starbucks, it was always too strong and bitter for me (probably because it's not great quality). So I would order their iced green tea latte pretty often. Until I found out that it contains upwards of 50g of sugar, that is.
I couldn't believe it, that much sugar in a matcha latte?! Insane. That is completely unnecessary, and will absolutely send you on a blood sugar roller coaster. So I decided to start making my own at home. It is way easier than you think, and literally takes about 2 minutes to throw together.
There are a million recipes for matcha lattes on the internet, but I wanted a place for mine on here, because it's so simple.
WHAT IS MATCHA? ->
Matcha is a Japanese green tea powder made from finely powdered dry tea leaves. The leaves have a very high chlorophyll level, so this gives it that beautiful vibrant green color. It has recently become popular in the US because of its health benefits, but it has been a traditional Japanese ritual for centuries.
Matcha basically has supercharged health benefits compared to regular green tea that you brew. This is because the leaves are ground into a fine powder, thus giving us extra antioxidants, as well as caffeine.
If you're the type of person that gets jittery from coffee, then matcha may be right for you. Your body processes it differently, so it could actually help you be more energized and focused.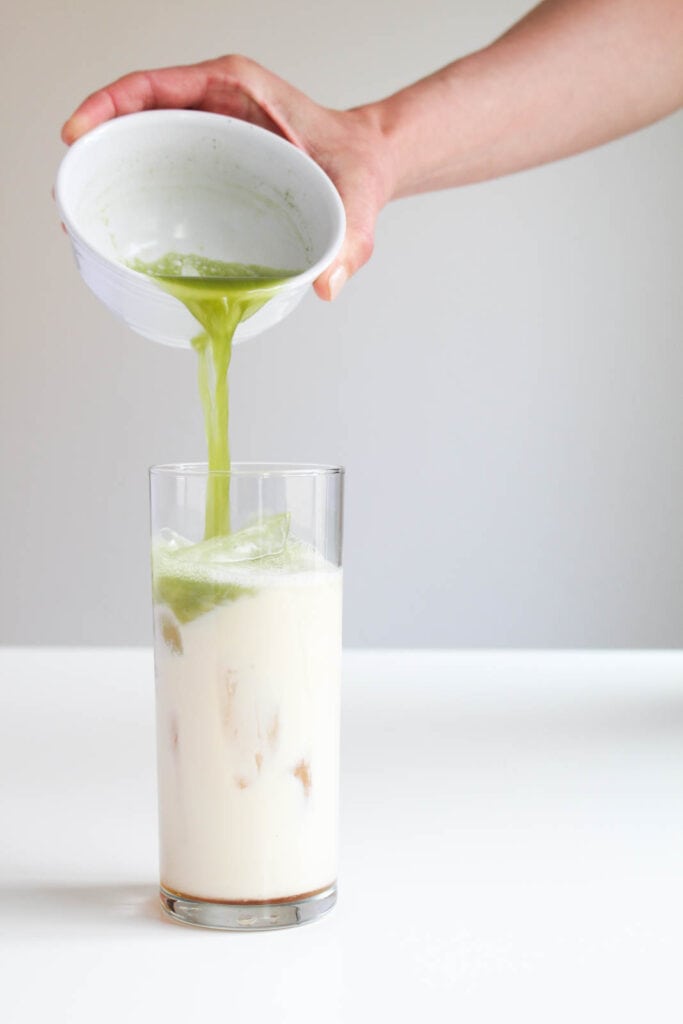 TIPS FOR A PERFECT MATCHA LATTE ->
USE A HIGH QUALITY MATCHA POWDER – you want to look for ceremonial grade matcha rather than culinary grade. It will have a much better flavor.
MIX WELL – The traditional way to make matcha is to whisk it with a special matcha whisk. But if you don't have one of those, make sure you really blend it well using a milk frother, metal whisk, or even in your blender.
To make it even easier, you can just add all of the ingredients to a blender and blend it all up together.
You are going to save your blood sugar and you wallet by making your own matcha lattes at home! Skip the Starbucks line, because you can make it in a matter of minutes.
Looking for more latte recipes?
FOLLOW ALONG! Subscribe to my newsletter and follow along on Facebook, Instagram, and Pinterest for my latest recipes!
[Dairy-Free] Iced Green Tea Latte
Ingredients
1

tsp

matcha powder

1/4

cup

hot water

1

cup

unsweetened almond milk

(or any non-dairy milk)

2

tsp

maple syrup
Instructions
Pour the hot water into a small bowl, add the matcha powder, and whisk until there are no clumps.

Pour the almond milk into a glass over ice, and add the maple syrup. Then add the matcha mixture to the milk, and stir to combine.