This Chocolate Protein Coffee is the perfect way to add protein to your morning beverage! It works as a hot or cold recipe, you can even enjoy it as a coffee protein smoothie for breakfast.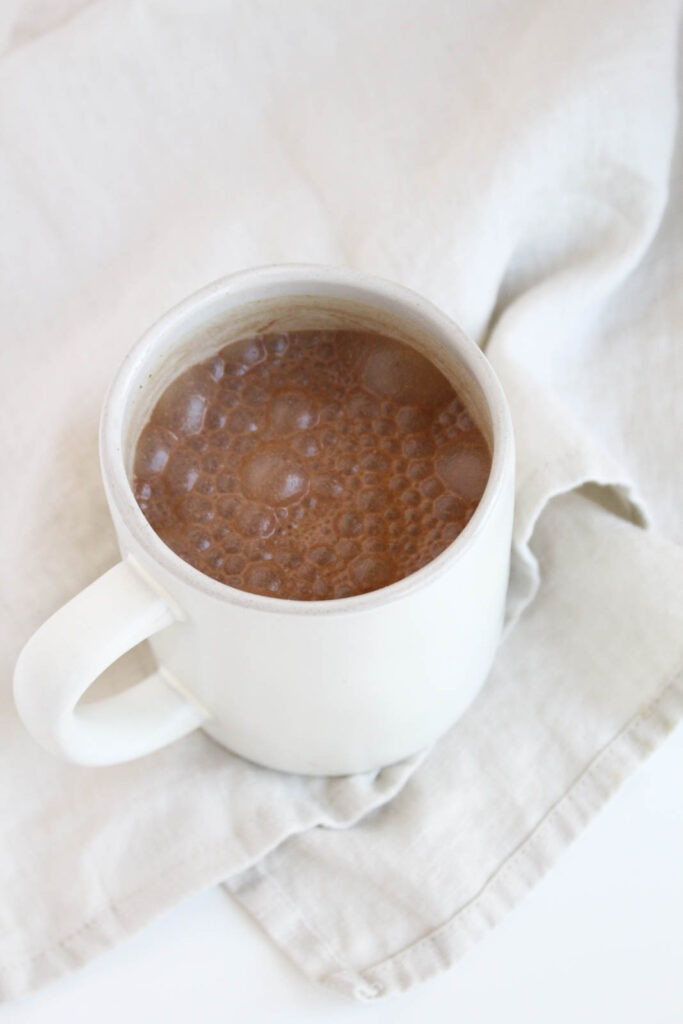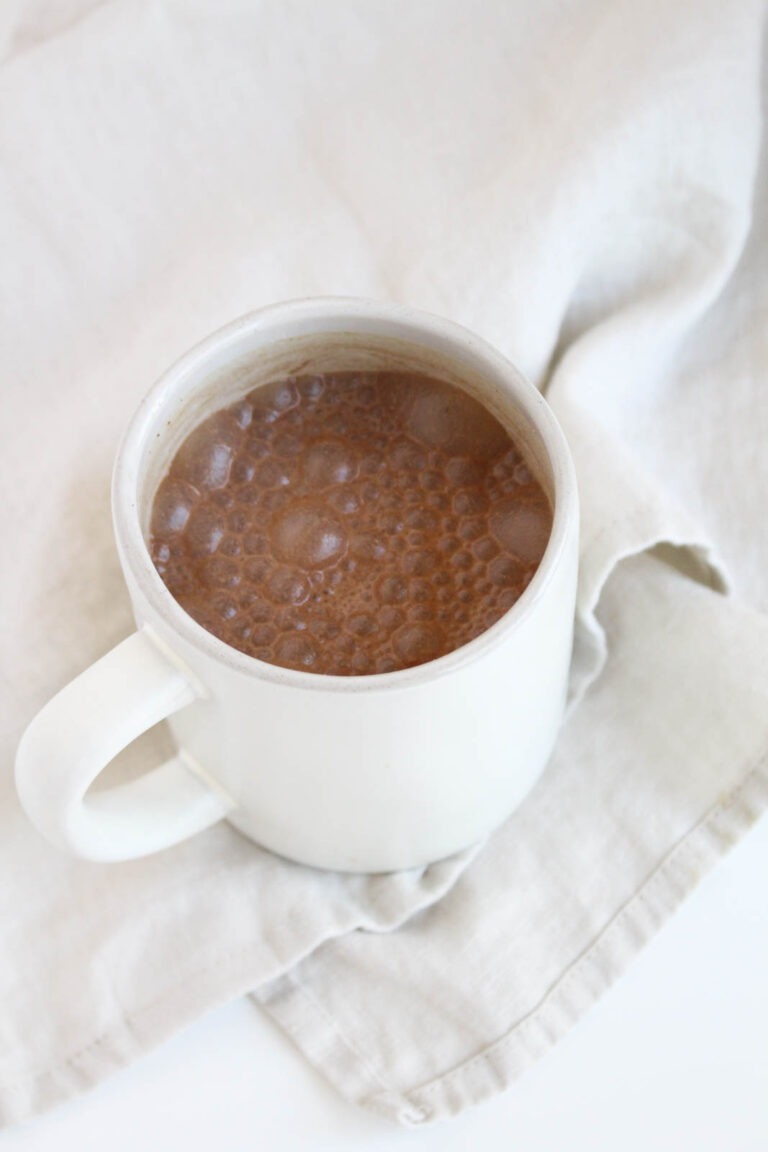 Table of Contents
What is Protein Coffee?
Protein coffee is exactly what it sounds like, it is essentially just coffee (hot or iced) and your favorite protein powder! It is an easy way to combine your two favorite beverages to get your caffeine fix and some extra protein at the same time. For this recipe, we are adding non-dairy milk and using chocolate flavored protein powder to give it a mocha latte vibe.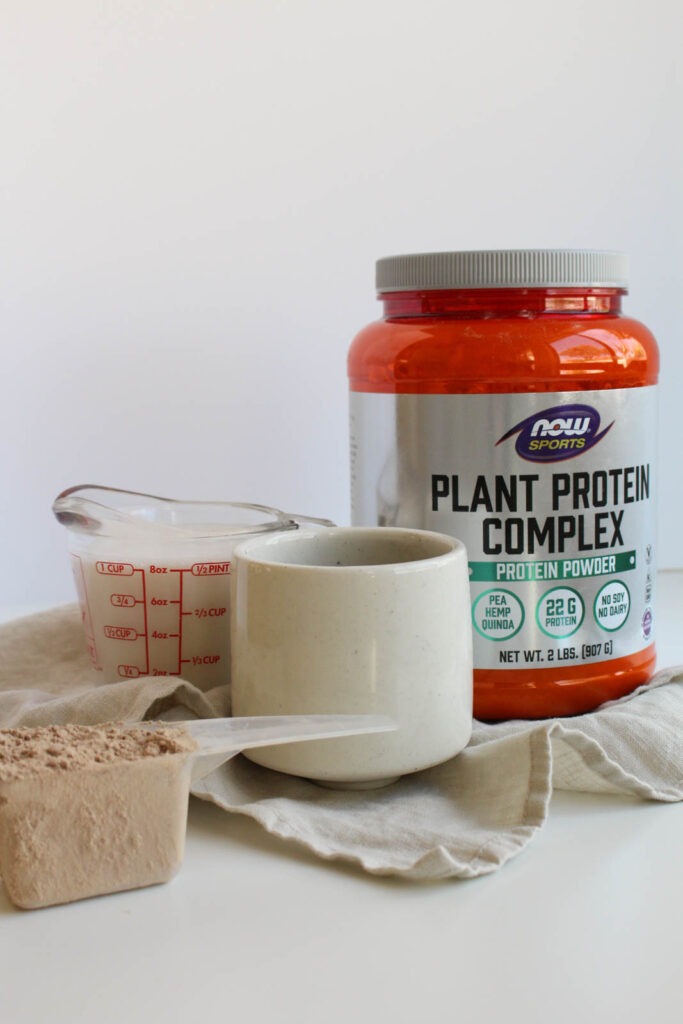 Ingredients for Chocolate Protein Coffee
You only need 3 ingredients for this simple recipe!
COFFEE – you can use a strongly brewed hot cup of coffee, a shot of espresso, or your favorite cold brew if you want it iced.
PROTEIN POWDER – You can use any flavor you want, but we went with a chocolate flavor today. You can make it a vanilla latte if you didn't want chocolate.
NON-DAIRY MILK – You can use any type of milk you want in this, my personal favorite is either an unsweetened soy milk or almond milk.
How To Make Protein Coffee (HOT or ICED!)
It is so simple to make this recipe, and totally customizable!
HOT VERSION – If you are making a hot protein latte, heat the milk in a small saucepan over medium heat until just warm, you don't want it to come all the way to a boil. Then you will brew a strong cup of coffee (or two espresso shots), and add those ingredients along with the protein powder to a blender. Pour into a mug and enjoy!
ICED VERSION – Just pour your cold brew, milk, and protein powder right into the blender. Fill a glass with ice, pour the mixture over ice, and enjoy!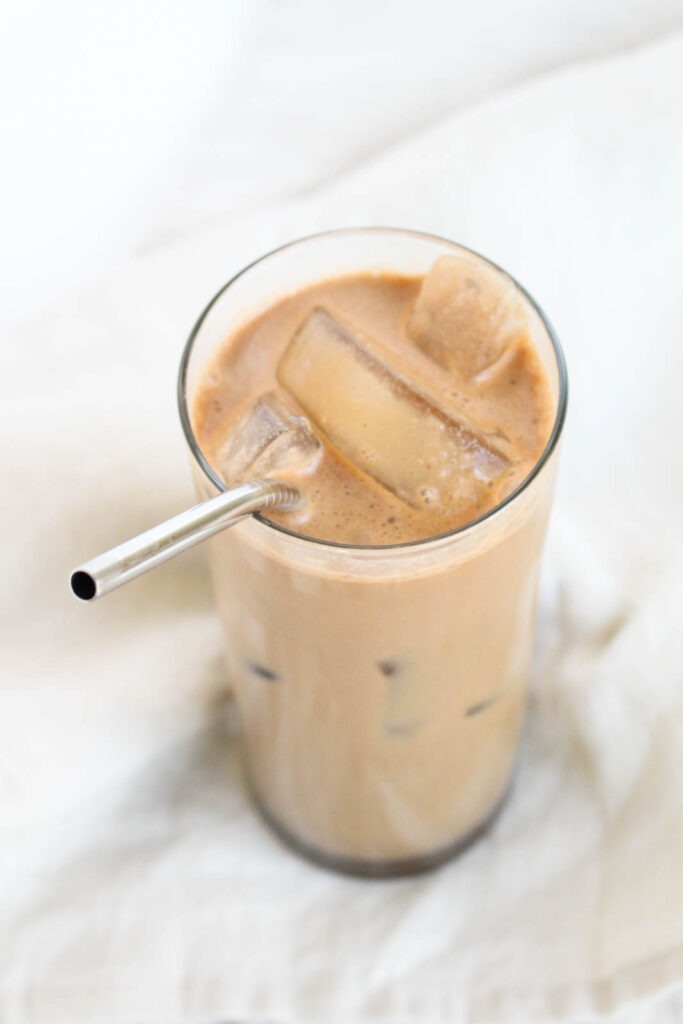 Protein Powder Options
One of my favorite plant-based proteins is from NOW Foods, which is what we are using in this recipe. The Mocha flavor is amazing, and really gives the best mocha latte flavor to smoothies and coffee drinks. I always stick with plant-based proteins because they are easier on my stomach than whey, and this one is a winner!
Whey Protein
Pea Protein
Plant-Based Protein Complex
Egg White Protein
Collagen Protein
Pumpkin Seed Protein
Brown Rice Protein
and more!
Use code CANDACE to get 20% off NOW products!
Variations (Other Serving Ideas!)
TO MAKE A CHOCOLATE PROTEIN FRAPPE – Blend the cold brew, milk, and protein powder in a blender, add a large handful of ice and blend again, adding ice as needed until you reach a thick frappe consistency.
TO MAKE A COFFEE PROTEIN SMOOTHIE – You can use the three main ingredients, and add a frozen banana, a spoonful of peanut butter, and a tbsp of chia seeds to make it a balanced meal that will keep you full.
Tips to Make The Best Protein Coffee
Use a protein powder that you love! The flavor and texture of the protein powder is important here because it is only blended into liquid. So don't use a protein powder that is chalky.
Use a high-powered blender! This will ensure that the protein powder really gets blended well, resulting in a better texture for your drink.
Use hot coffee if you are wanting a hot latte. And use cold brew (or completely cooled coffee) if you are drinking it iced. This is important to prevent the ice from melting.
Use a milk option that you love. I prefer unsweetened soy or almond milk for this because I want the coffee and chocolate flavors to stand out more than the milk.
Looking for more coffee recipes?
Chocolate Protein Latte Recipe
Ingredients
1

cup

strongly brewed coffee

(or 2 espresso shots)

3/4

cup

unsweetened non-dairy milk

1

serving

chocolate protein powder

(I used NOW Foods mocha flavor)
Instructions
Use your preferred method to brew a strong cup of coffee.

While the coffee is brewing, heat the milk in a small saucepan over medium heat until just warm, you don't want it to come all the way to a boil.

Add the hot coffee, warm milk, and protein powder to a high-powered blender. Blend for about 30 seconds, until it is well incorporated and slightly frothy.

Pour into your favorite mug and enjoy!

To make an iced version: Pour your favorite cold brew, cold milk, and protein powder into a blender until smooth. Fill a glass with ice and pour coffee mixture over ice.
Thank you to NOW Foods for sponsoring this post! All opinions are my own, I love their products and have been using them for years. Thank you for supporting the brands that support The Wheatless Kitchen.