I love a good cucumber salad in the summer. Sometimes, the most simple salads are the best kind.
I always seem to eat cucumber like it's going out of style in the summer because it's just so refreshing. It helps keep you hydrated, and satisfies that crunchy texture that we all crave. And then add some bell peppers and herbs in there?! Yes.
I've been making different versions of this salad almost every week for the past month. I'll just make a big batch of it and snack on it throughout the rest of the week. It's perfect for a quick snack with a few crackers on the side, or even as a side salad with lunch or dinner. I know it would be delicious served alongside this sheet pan dinner or these stuffed red potatoes.
You can easily get creative with this and use whatever vegetables, nuts/seeds and dressing you want, but I decided to keep it simple with this delicious red wine vinaigrette.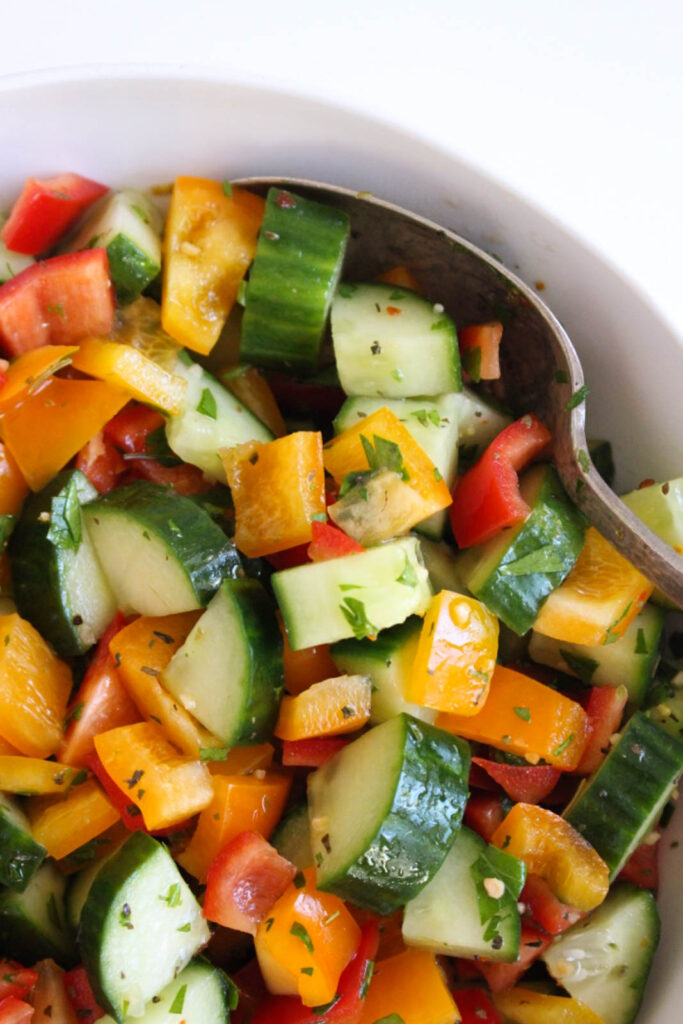 Summer Cucumber Salad
Ingredients
2

english cucumbers

, chopped

1

red bell pepper

, chopped

1

orange bell pepper

, chopped

1/4

cup

flat leaf parsley

, finely chopped

1/4

cup

extra virgin olive oil

3

tbsp

red wine vinegar

1

tsp

dried basil

pinch of salt and black pepper
Instructions
In a large mixing bowl, add the chopped cucumbers, bell peppers, and parsley. Stir to combine.

In a medium sized jar, combine the olive oil, vinegar, basil, salt, and pepper. Tighten the lid on the jar and shake vigorously for about 30 seconds, until the vinaigrette is well incorporated.

Spoon the vinaigrette over the salad until you reach your desired amount. If you have leftover vinaigrette, just store it in the pantry to use later.

Use a large spoon to stir the salad together until all of the vegetables are coated. You can eat it immediately, or let it sit in the fridge until ready to serve.