Gluten-Free Almond Breakfast Cake
Raise your hand if you like pancakes! Now raise your other hand if you like cake! Now, since your hands are already raised… wave 'em around like you just don't care.
Okay, now tell me to stop being so lame.
I made you a pancake. Well sort of, it's kind of like a cake. A pancake-cake-breakfasty type of thing. And IT IS GOOD, my friends. But I have to admit, this was not what I was originally going for. I set out to make a dutch baby pancake, you know, those awesome looking pancakes that are baked and puff up like a cloud and make you just want to lay on them like they're a pillow. Yeah, that's what I wanted this to be. But somehow I ended up with this flatter version. At first I thought it was going to be a recipe fail, but then I tasted it. I decided that it was so good that I had to put it on the blog, but just call it a breakfast cake. Because that's pretty much what it is. Just a giant baked pancake-cake.
It is as simple as whisking together your average GF pancake batter, but even better because you don't have to stand over the stove and flip pancakes for 30 minutes. You just throw it into a big skillet and put that baby in the oven. And the best part is that it only includes two flours. Oat flour (which I grind up myself) and almond flour, which I'm willing to bet that anyone that cooks gluten-free things on a regular basis already has these in their pantry. Then in the mix goes all of the other usual pancake ingredients. Then whisk, pour, bake. Done.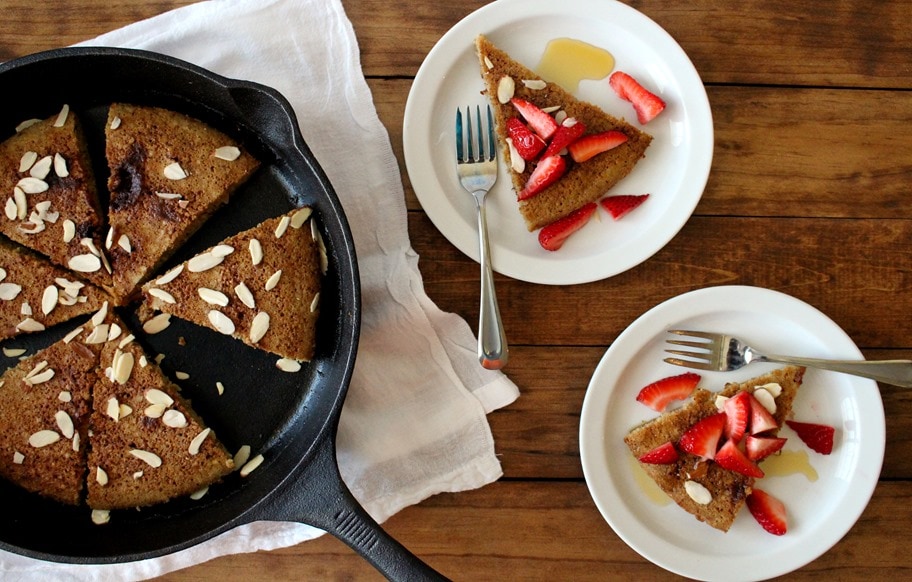 It doesn't have anything in it that you shouldn't be starting your day with. No refined sugars or any other processed things, just nourishing ingredients. I served mine with some super ripe strawberries and a little maple syrup, but you can get crazy with the toppings. Use any fruit you like, a little maple syrup, maybe some of your favorite jam or jelly. Oh oh oh! May I also suggest a little coconut whipped cream?! Oh man.
Heaven in my mouth.
Gluten-Free Almond Breakfast Cake
Ingredients
1/2 cup gluten-free oat flour (I grind up my oats in the food processor)
1/2 cup almond flour
1/4 cup slivered almonds
1/2 tsp baking powder
1/4 tsp cinnamon
1/4 tsp salt
4 large eggs
1/4 cup unsweetened vanilla almond milk (or your milk of choice)
2 tbsp coconut oil (or butter), melted and cooled
2 tsp vanilla extract
1 tsp coconut sugar (for sprinkling)
Instructions
Preheat the oven to 425 degrees. Also preheat a large skillet (I used cast iron) over medium heat while you make the batter.
In a mixing bowl, whisk together the flours, almonds, baking powder, cinnamon and salt. In a separate bowl, whisk together the eggs, milk, oil and vanilla until combined.
Pour the wet ingredients into the dry and whisk until evenly combined.
Melt a little bit of coconut oil or butter into the skillet, then carefully pour the batter into the pan. Sprinkle the teaspoon of coconut sugar all over the top of the cake, evenly distributing it.
Using oven mitts, because the skillet will be hot, carefully put the skillet into the oven and bake for 15 minutes, until the top is golden brown and it is cooked all the way through.
Remove the pan from the oven and slice into 8 wedges.
Top with your favorite fruits and enjoy!
https://www.thewheatlesskitchen.com/gluten-free-almond-breakfast-cake/