Raw Raspberry Tart with Coconut Cream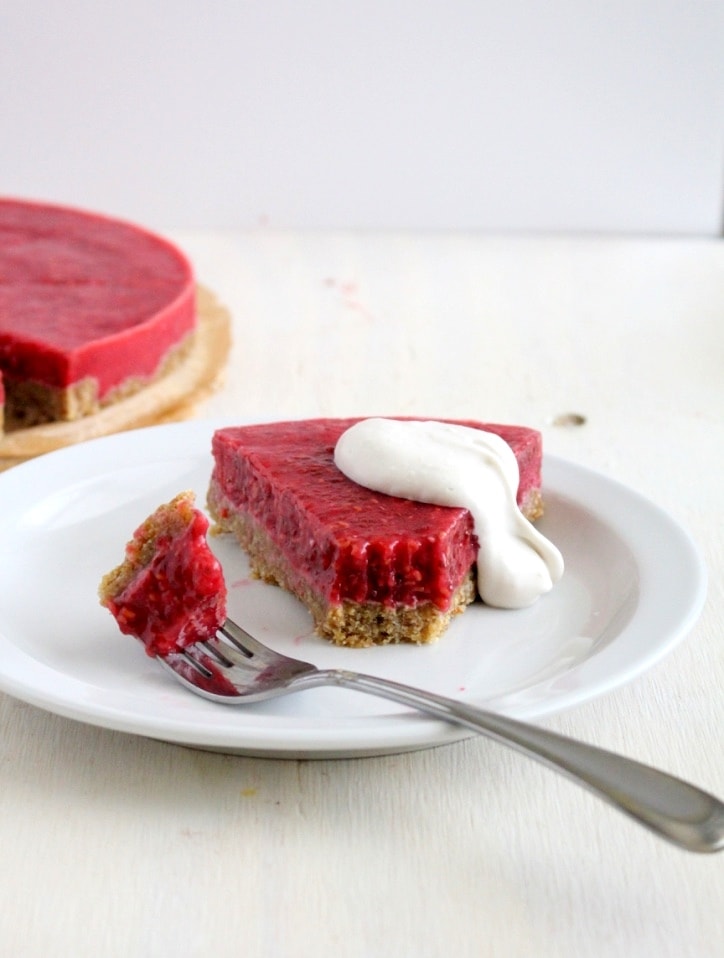 This post is going to be short and sweet because I'm coming to you amongst a pile of boxes, paint, tape, paintbrushes and lots and lots of coffee. We are in the process of moving into our new house (eeek!) and everything is in shambles. I hope this is a normal thing, because I think I might lose it soon. I can't wait to show you guys some before and after pictures of all of the painting we did! It's pretty crazy.
Even though everything is a little nuts right now, I couldn't NOT give you some posts along the way. And this raw raspberry tart is just too good to keep to myself. I think I've found a new go-to healthy dessert to bring to all future brunches. It is a perfect, light, sweet dessert that won't weigh you down. If you are looking for something other than chocolate (but why??), this is the answer.
It is SO simple, only has a few ingredients, and comes together so fast! Everything can be made in a food processor, so less dishes! YES!
Sweet, tart, super healthy and so satisfying. You guys are going to LOVE this one!
Raw Raspberry Tart with Coconut Cream
Ingredients
Crust

2 cups raw cashews (you could also use almonds)
1 1/2 cups pitted dates
pinch of salt

Raspberry Layer

4 cups fresh raspberries
2 tbsp honey
3 tbsp chia seeds
Coconut Whipped Cream (optional)
Instructions
To make the raspberry layer, add the raspberries, honey and chia seeds to a food processor. Pulse until the raspberries break up and the mixture becomes smooth. It should only take a few seconds.
Pour raspberry mixture into a large bowl and let it sit in the fridge for at least 30 minutes to thicken.
While the raspberry layer is chilling, make the crust layer. Rinse out the food processor and add the cashews, dates and salt.
Pulse until the dates and cashews break up and become a consistent doughy mixture. You should be able to squeeze it with your fingers and it stick together.
Add the crust mixture to the bottom of an 8-9 inch springform pan lined with parchment paper. Press down with your fingers to flatten and make even layer all the way to the edges.
Pour the raspberry mixture over the crust and spread it out with a spatula or spoon. Place the tart in the freezer for at least 30 minutes (preferably and hour) before you serve.
When the top layer of the tart is set, remove from the pan, cut and serve! Top with coconut whipped cream if desired.
https://www.thewheatlesskitchen.com/raw-raspberry-tart-coconut-cream/