Strawberry, Quinoa & Arugula Salad
I've decided that I'm holding all of the summer berries hostage for as long as I can. I've been eating them as a topping on oatmeal, yogurt, in smoothies, muffins, desserts, and by themselves, just straight into my face.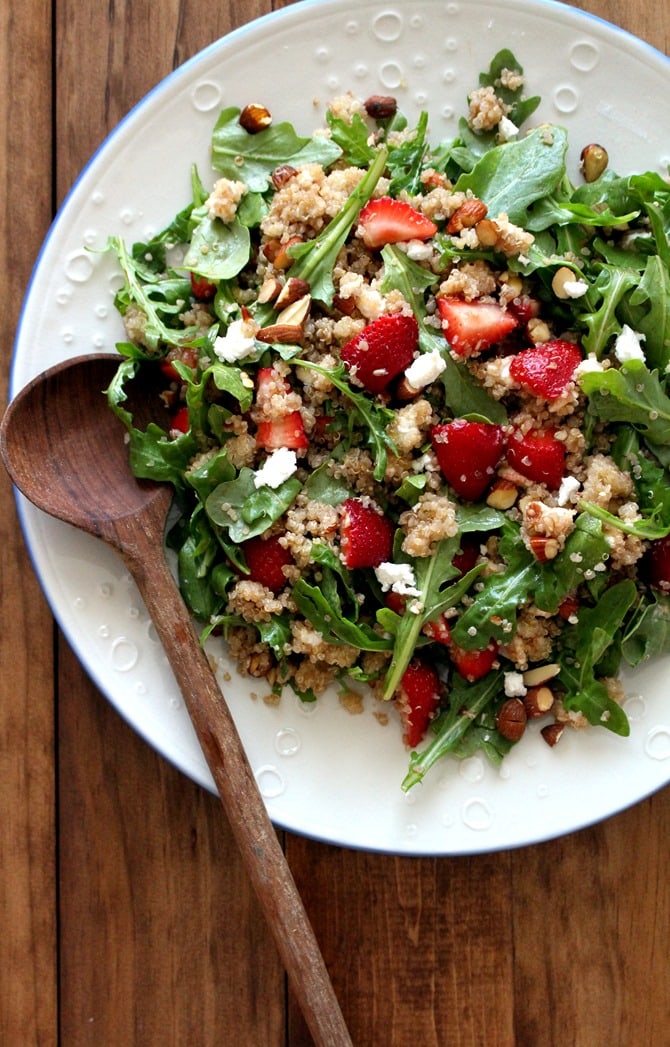 One of my favorite things about a salad is that it is basically a blank canvas. There are infinite possibilities when it comes to salad components. You can get crazy with all the greens, fruit, veggies, grains, nuts, seeds, cheeses, or whatever else your little heart desires.
With this salad, there is a little bit of everything. You have the sweet strawberries, crunchy almonds, tangy goat cheese and the peppery punch from the arugula. Sweet + savory is my jam, as you can see here, here, and here. It's the best of both worlds.
If you haven't already jumped on the fruit-in-your-salad bandwagon, get on quick. Summertime is THE best time.
Strawberry, Quinoa & Arugula Salad
Ingredients
1 cup strawberries, halved or quartered
1 1/2 cups cooked quinoa (cold)
3-4 cups arugula
1/2 cup almonds, roughly chopped
1/4 cup goat cheese

Balsamic Dressing

2 tbsp balsamic vinegar
1 tbsp extra virgin olive oil
1 tbsp honey
pinch of salt
Instructions
In a large mixing bowl, combine the strawberries, quinoa, arugula and almonds. Toss to combine.
In a small bowl, whisk together all of the dressing ingredients until smooth and combined.
Pour the dressing over the salad and gently toss until evenly coated.
Crumble the goat cheese over the top and serve!
Notes
*to make the quinoa, combine 3/4 cup cup dry quinoa with 1 1/2 cups water. Bring to a boil, then simmer for 15 minutes. Let cool.
https://www.thewheatlesskitchen.com/strawberry-quinoa-arugula-salad/