Okay, so today we're stepping back (just a little) from the carb-heavy meals. I mean, the past two days I've given you lasagna and loaded twice baked sweet potatoes. It's time to feel a little lighter. But only for a minute, we're talking Pad Thai tomorrow.
Lately I feel like I want all the carbs. All the time, right now. This always happens to the best of us during the winter. So I'm telling myself that I need to chill out a little bit, and eat a giant salad as big as my head. Exhibit A…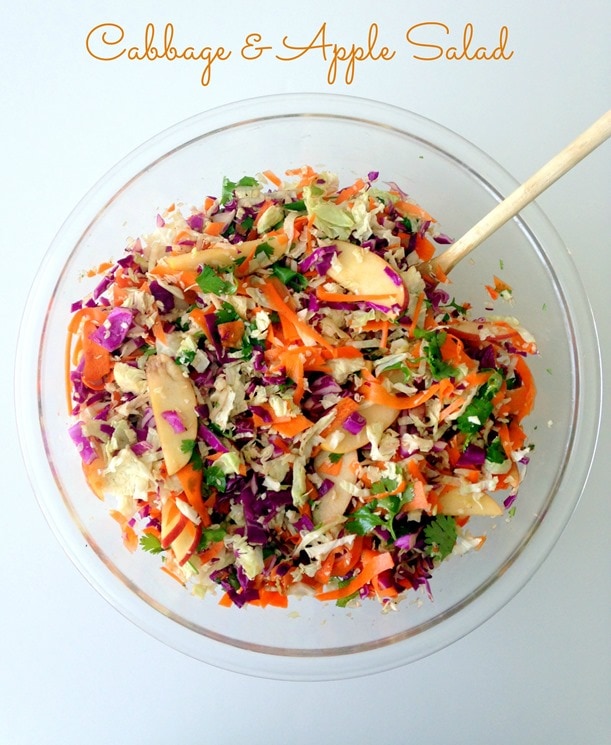 This salad really shows off in the detox department. It contains tons of cabbage, apples, carrots and cilantro. Not only is it satisfying and slightly sweet, it is also  really refreshing and light. Normally this kind of salad is perfect during the summer, but I find it to be a really nice change up during the colder months of the year too. It has tons of fiber and vitamin c, which is always good during cold and flu season.
So, let's enjoy this salad together, and then eat all the carbs.
Ingredients
1/2 head purple cabbage, thinly sliced
1/2 head savoy cabbage, thinly sliced
1 large red apple, cored and thinly sliced
2-3 carrots, grated
1/2 cup cilantro

Soy Lime Vinaigrette

3 tbsp extra-virgin olive oil
3 tbsp gluten-free soy sauce
2 tbsp lime juice
1.5 tbsp balsamic vinegar
Instructions
In a small bowl, whisk together all of the vinaigrette ingredients and set aside.
In a large bowl, add all of the salad ingredients. Stir until combined.
Pour the vinaigrette over the salad and stir until everything is evenly coated with the dressing.
https://www.thewheatlesskitchen.com/cabbage-apple-salad/