I am so into salads right now. The warm weather is making me want ALL the vegetables.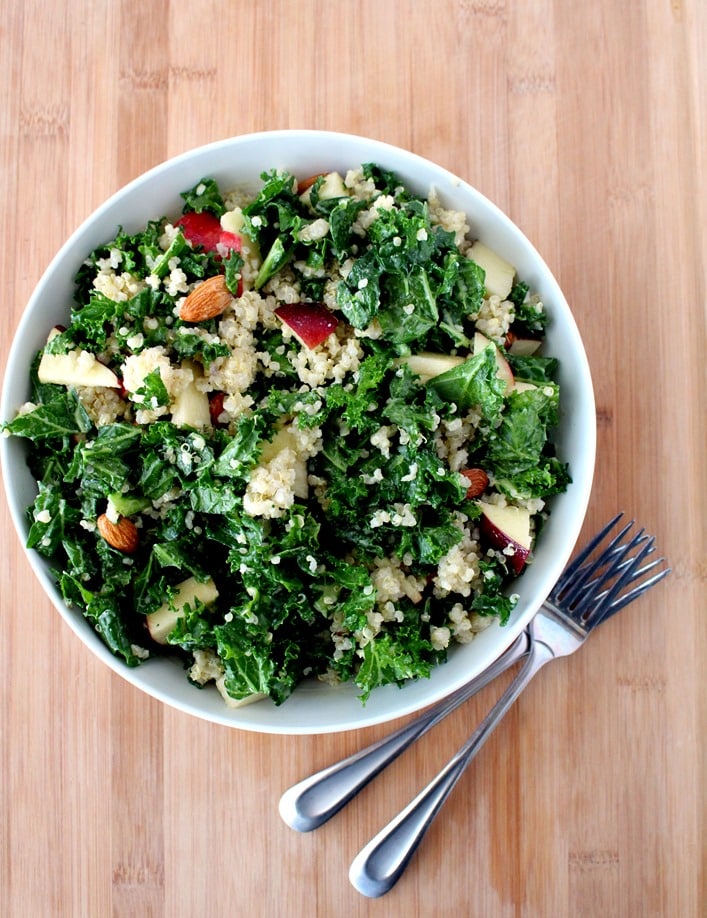 I have a deep affection for kale. I eat it raw in salads, sauteed with veggies, in smoothies, alongside wild rice, when I'm sick, when my jeans are too tight, when it's hot outside, and basically all other situations in life. I love me some kale. And with the warmer weather lately, I have been really into the combination of kale and apple. There is just something about having that little bit of sweetness alongside the earthy greens.
This is seriously a perfect summer salad. You have crisp greens, sweet apples, crunchy almonds, protein from quinoa, and the nice little tanginess from the honey mustard vinaigrette. It works for just about any meal of the day, and is super light and refreshing. You really need to get on this one.
This is probably the 10836548 recipe that involves kale on my blog, and it certainly won't be the last. Kale is here to stay, folks.
Kale and Apple Salad with Quinoa & Honey Mustard Vinaigrette
Ingredients
1/2 bunch kale, chopped
1 large apple, diced
1/3 cup dry quinoa
1/2 cup chopped almonds

Vinaigrette

2 tbsp dijon mustard
1 tbsp honey
1/4 cup extra virgin olive oil
pinch of salt and pepper
Instructions
First, cook the quinoa. In a medium saucepan, bring the quinoa and 2/3 cup of water to a boil. Once boiling, reduced heat, cover and let simmer for 15 minutes. It is done when there is no water left. Fluff the quinoa with a fork and let cool completely.
Make the dressing by whisking all of the dressing ingredients together in a small bowl. Taste it to make sure you don't need to add more honey or mustard.
When quinoa has cooled, add the kale, apples, quinoa and almonds to a large mixing bowl. Pour the dressing over the top and mix until the salad is completely coated with the dressing.
Serve and enjoy!
https://www.thewheatlesskitchen.com/kale-apple-salad-quinoa-honey-mustard-vinaigrette/