Okay, you guys are probably wondering WHAT THE HECK a lamington is. Or at least all of my non-Australian readers are. My friends over in Australia know exactly what this is, because it is a very traditional dessert in their country.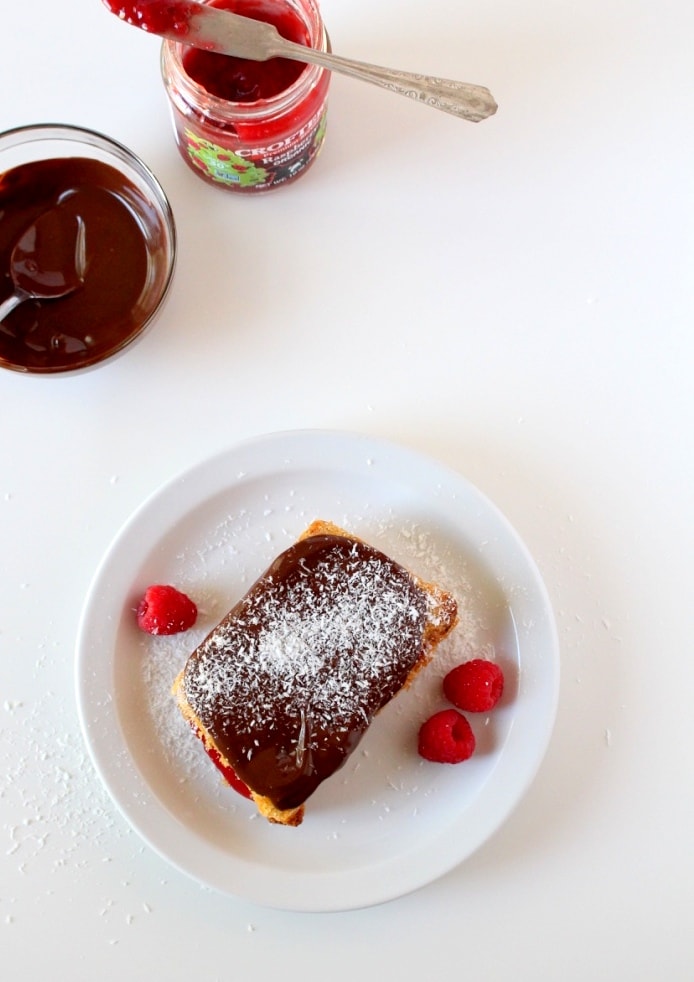 My husband has a good friend who happens to be from Australia, and I recently had the pleasure of meeting him for the first time. We got on the subject of different traditions around the world, everything from food, to languages, to everyday cultural differences. And of course I was intrigued by some of the things that they eat over there (ex: Vegemite).
Seriously, google that. You will freak out when you find out what Vegemite is made of.
Anyway, we were having him over for dinner the following night, so I decided I wanted to make him a traditional Australian dessert, and that is when he told me about this amaaaaazing dessert called a lamington.
It is actually pretty similar to some desserts that we have here in the states. It is basically just a simple pound cake dessert with a little jam, chocolate frosting, and coconut. It just so happens that Kenny had brought home a pound cake mix from a gluten-free bakery that he came across on a trip, so this was perfect! I looked up the lamington, and then of course put my own spin on it. Duh. (it calls for chocolate frosting, but I just used melted chocolate. More concentrated chocolate flavor!)
I got the seal of approval, so it was a victory!
note: this is sort of a non-recipe type of recipe. I am not going to put the recipe for the pound cake because I used a mix and just added eggs and milk. So this is just to show the general idea of the lamington, because it is delicious!
Ingredients
1 loaf of cooled pound cake
about 1/2 cup raspberry jam
about 1/2 cup melted chocolate (I used Enjoy Life)
about 6 tbsp unsweetened shredded coconut
Instructions
Using a bread knife, cut the pound cake into 1/2 inch thick slices.
Place one piece of cake on a plate, smear about 1-2 tbsp of the raspberry jam all over the top, then place another piece of cake on top to sandwich the jam.
Drizzle about 1-2 tbsp of the melted chocolate all over the top, and then sprinkle the coconut to finish it off.
https://www.thewheatlesskitchen.com/the-lamington/