Deconstructed Vegetarian Sushi Bowl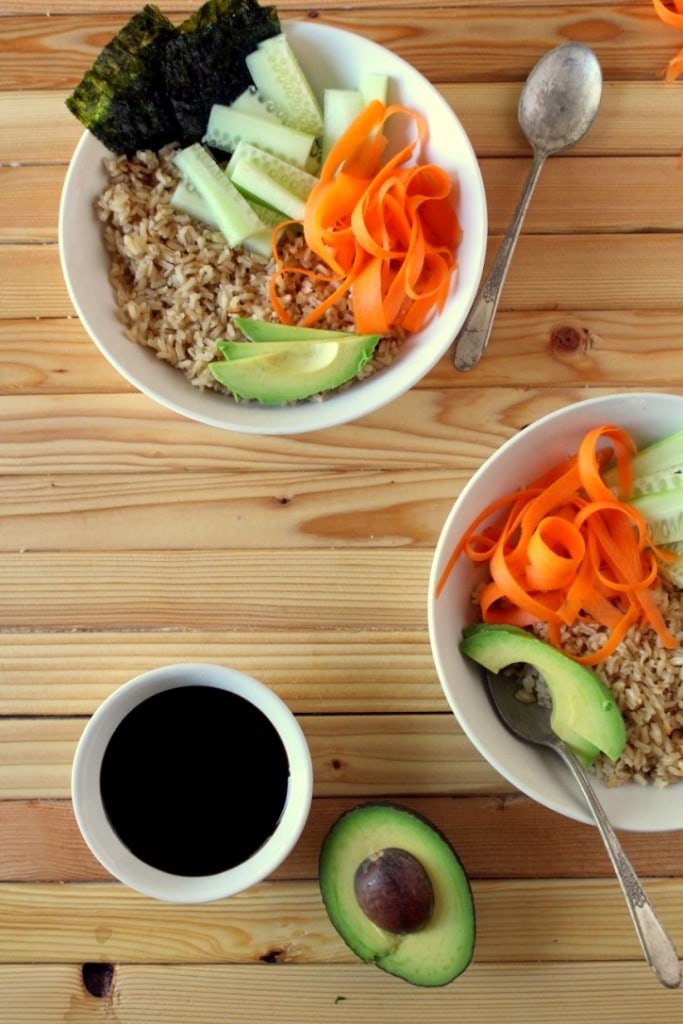 Did you guys know that you can have sushi at home without actually having to learn to become a sushi rolling ninja? That's right, no special sushi rolling kit, all you need is a bowl.
But for real though, this bowl of sushi ingredients tastes like you are eating an actual roll at a legit Japanese restaurant. I just thought that it would be SO much easier to throw everything into a bowl, rather than go to the trouble of rolling it up (because I'm NOT confident in my sushi rolling skills). And you guys know how much of my diet consists of things in bowls.
It couldn't be easier, all you need are a few simple ingredients –> brown rice, seaweed sheets (these are the ones I used), carrots, cucumber, avocado, and GF soy sauce.
Now, don't give me the stink eye when you hear seaweed sheets, you eat them in your sushi all the time, trust me. And in my opinion, they are pretty essential in this recipe because they are the ingredient that makes the bowl actually taste like sushi, and not just a bowl of rice and vegetables. And plus, seaweed is loaded with nutrients, it actually has the highest density of vitamins and minerals of any vegetable on the planet. It's legit.
Oh, and sidenote: you can totally use nori sheets if you have those, but since we weren't making actually sushi rolls, I just went ahead and used the smaller snack sized ones. It doesn't matter either way, they are the same thing.
When Kenny took his first bite of this, he looked up at me and said "whoa, it's like I'm eating a sushi roll." Husband approved, my friends. You guys are going to love this one!
Deconstructed Vegetarian Sushi Bowl
Ingredients
1 cup cooked brown rice, cold
2-3 carrots
1 cucumber
1/2 large avocado, thinly sliced
8-10 (2 in.) squares seaweed sheets
2-3 tbsp GF soy sauce
Instructions
Using a vegetable peeler to peel the carrots into long ribbons. Next, peel the cucumber (if it is a seedless cucumber, you can leave the skin on) and cut into matchsticks or half moon pieces.
To assemble the bowls, divide the cooked rice between the two, top it with the carrot ribbons, cucumber, and avocado.
Add a few of the seaweed sheets, drizzle soy sauce over the top and enjoy!
https://www.thewheatlesskitchen.com/deconstructed-vegetarian-sushi-bowl/