Sweet Potato Puree with Sauteed Shrimp & Brussels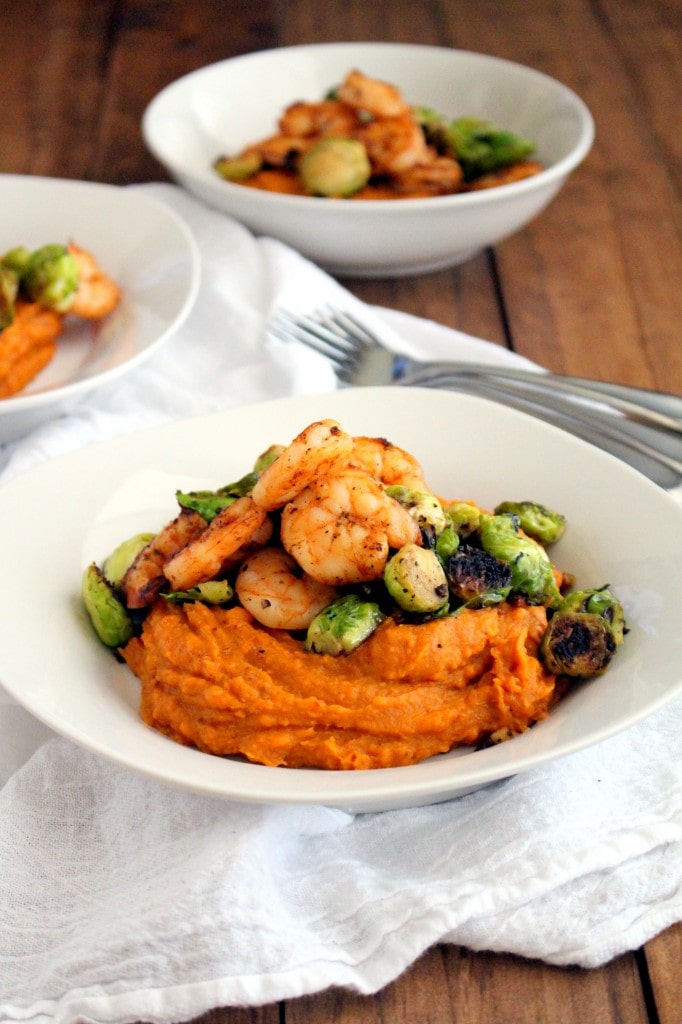 My husband is becoming quite the recipe developer. He helped me come up with this one today, and it's basically our take on shrimp and grits. I've been wanting to do some variation of shrimp and grits for quite a while now, but since corn gives me a super annoying stomach ache, I don't really ever partake in the corn dishes anymore. When Kenny and I were brainstorming recipe ideas one night, we were talking about shrimp and grits, and he had the idea to replace the corn with sweet potatoes. That guy is a sweet potato fiend. He could probably live off of sweet potatoes and chicken and be perfectly happy. For real.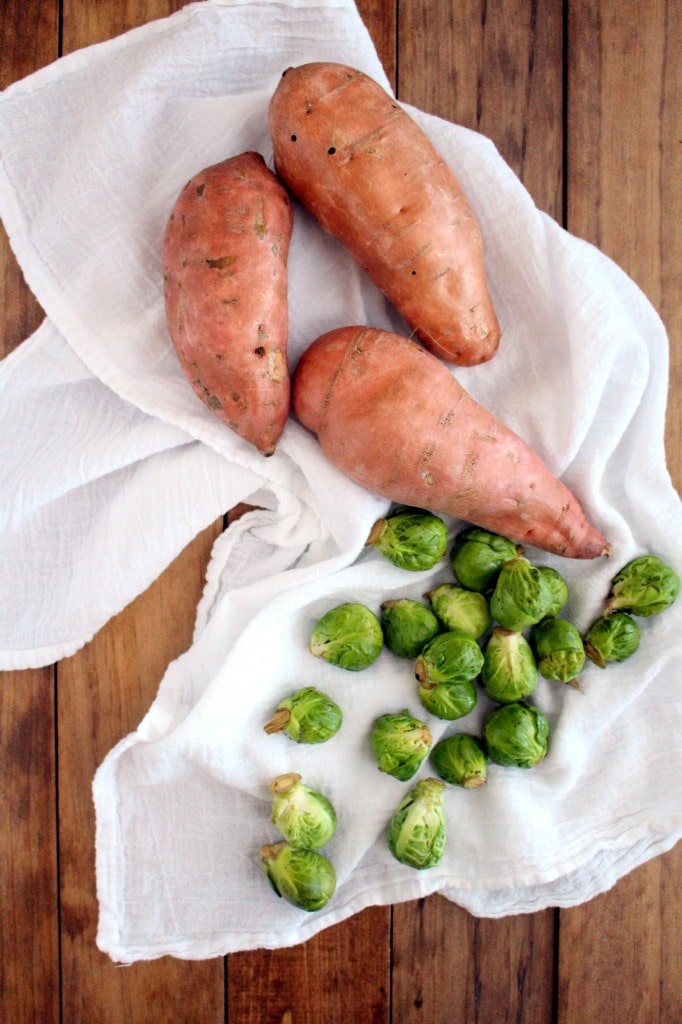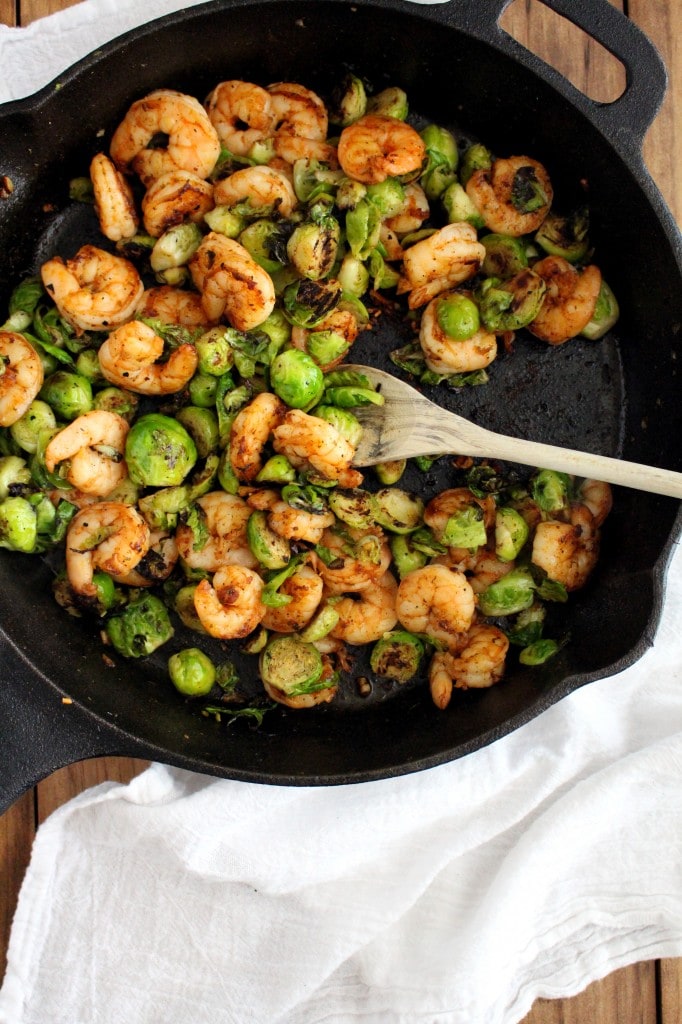 So I made the creamiest, dreamiest sweet potato puree by roasting them first to deepen the flavor, then I pureed them with a little bit of vegan butter. If you wanted to get crazy, you could always replace that with a little bit of coconut oil, or even goat cheese. Yes, definitely do the goat cheese. And let me know how it goes!
The brussels sprouts got a good sear in my favorite cast iron pan. Make sure you let them get nice and brown, almost burnt brussels are THE best.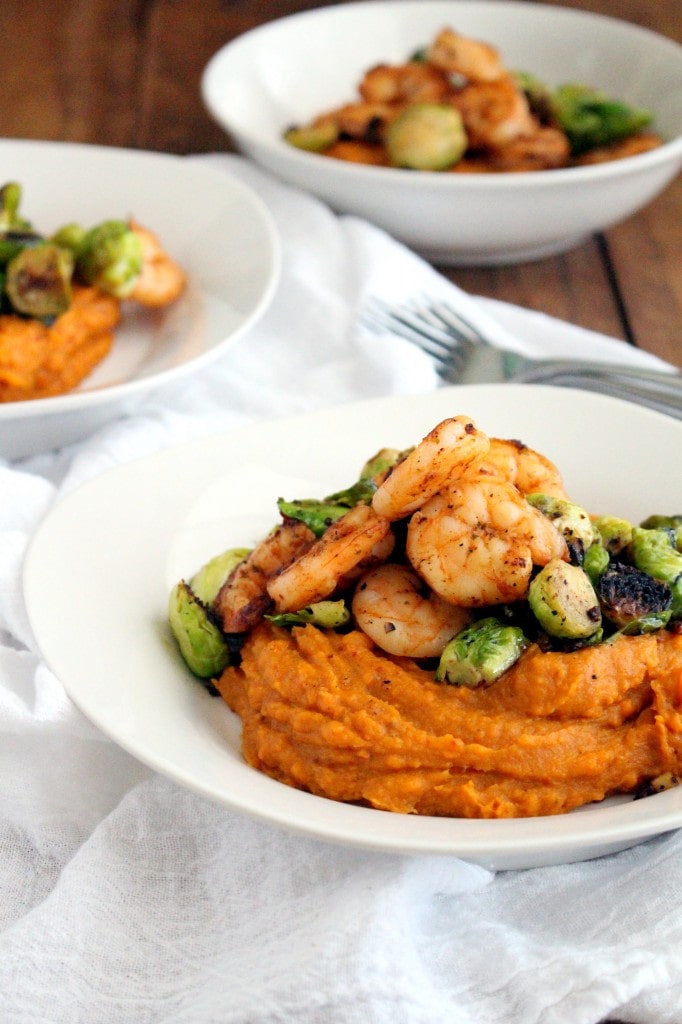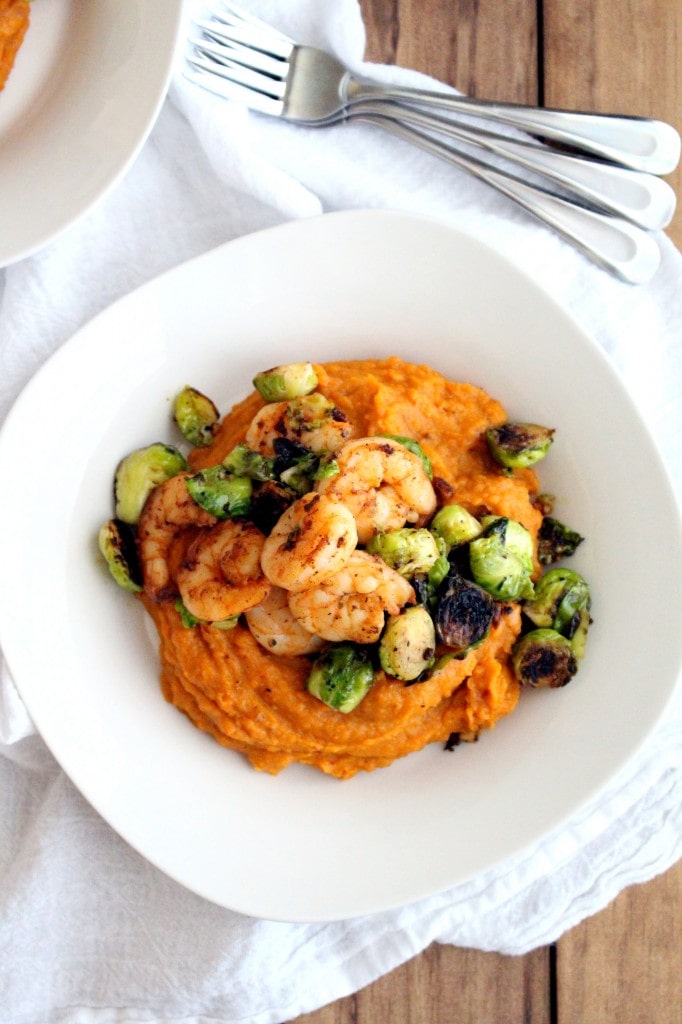 A little bit of advice for this dish: use good quality, fresh seafood. Living in Lubbock makes it a tad bit difficult to get super fresh shrimp, but splurge on the good stuff. The shrimp is a prominent ingredient in this dish, so you want it to be as fresh as possible. If your shrimp is nice and juicy and fresh, it will add lots of niiiiice flavor to your brussels sprouts.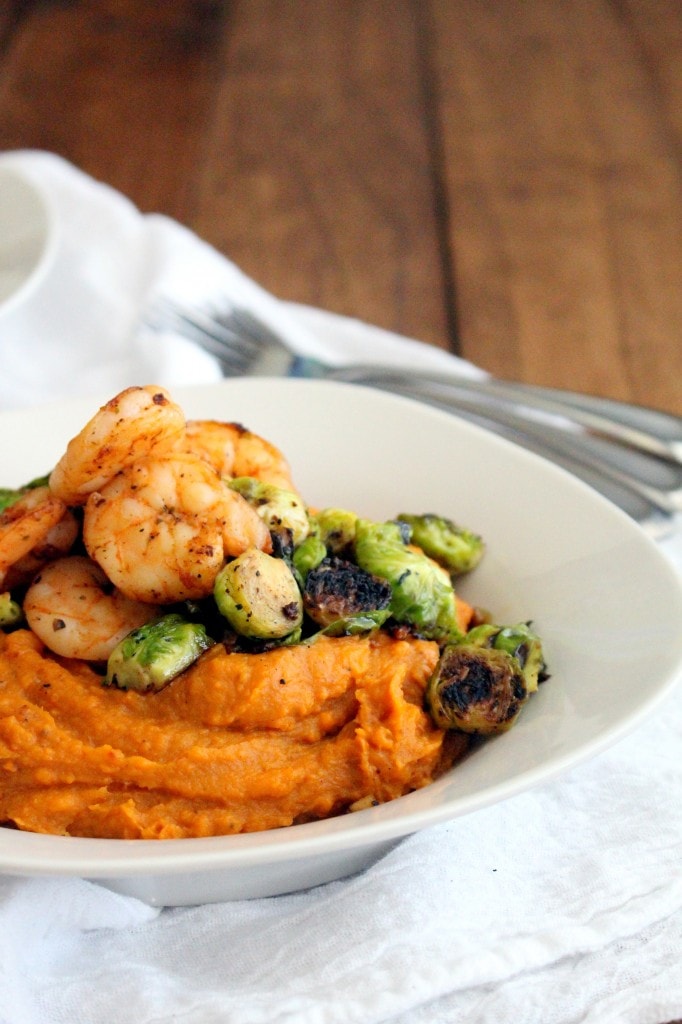 Top those creamy sweet potatoes with the brown brussles and juicy shrimp, and you have yourself a winning variation of shrimp and grits. Just let your taste buds sing, my friends.
Sweet Potato Puree with Sauteed Shrimp & Brussels
Ingredients
3 large sweet potatoes
1 lb shrimp, tails removes and deveined
1 lb brussels sprouts
2 cloves garlic, finely diced
2 tbsp butter (I used Earth Balance vegan butter)
3 tbsp extra virgin olive oil, divided
1/4-1/2 cup non-dairy milk (I used unsweetened almond milk)
pinch of salt and black pepper
1 tsp paprika
Instructions
Preheat the oven to 400 degrees. Chop the sweet potatoes into small cubes and place them on a lined baking sheet. Drizzle 1 tbsp of the oil over them, season with a pinch of salt and pepper, and roast for about 30 minutes. They should be soft enough to easily stick a fork through when they are done. Spoon the potatoes into a food processor, add 1 tbsp of the butter, and about 1/4 cup of the milk. Turn on the food processor and puree until the mixture becomes smooth and creamy. You can add a little bit more milk if it is too thick, but that depends on how you want the texture to be.
Preheat a large skillet (I used cast iron) over medium-high heat. Prepare the brussels by removing the outer leaves, chopping off the ends, and then cut them in half. Add 2 tbsp of olive oil and 1 tbsp of the butter to the skillet, then add in the brussels sprouts. Season with a small pinch of salt and pepper, toss to coat, and let them cook for about 4-5 minutes, only stirring occasionally to make sure they brown.
Once they are starting to turn brown and char a little bit on the outside, add the shrimp to the skillet. Season with the paprika, another small pinch of salt and pepper, and add the garlic. Toss to coat, and let the shrimp cook for 3-4 minutes, until the shrimp turn opaque and start to get little char marks on them.
To assemble the dish, spoon some of the potato puree onto a plate, and then top it with the shrimp and brussels mixture.
https://www.thewheatlesskitchen.com/sweet-potato-puree-with-sauteed-shrimp-brussels/