Soba Noodle Soup with Baked Tofu & Mushrooms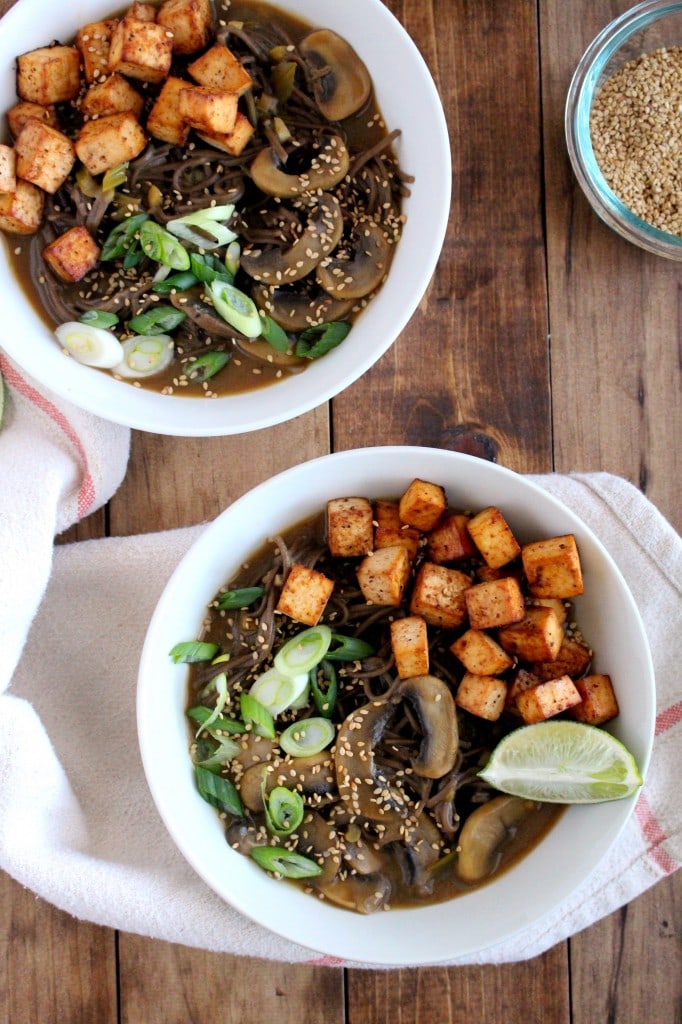 To all those who are snowed in, I'm sending you a bowl of warm soup and a big warm hug right through your screen today. Our weather has been a little crazy in Lubbock lately, 60 degrees one day, 14 degrees the next, and then a sudden snow storm yesterday. It's getting a little ridiculous, and I'm just ready for some consistent warmth, but until then, we eat soup.
I could eat some type of Asian inspired dish pretty much every day if I could. This soba noodle soup with crispy baked tofu and mushrooms really hits the spot and warms me up in this freezing weather. It comes together pretty quickly, so you will be in your sweatpants with a bowl of soup in hand in no time.
Soba noodles are one of my favorite kind of noodles. You have to be careful if you have a gluten allergy though, sometimes they can be made of a buckwheat/wheat blend. Make sure you read the label and get the ones that are made of ONLY buckwheat flour. Buckwheat is a super healthy gluten-free grain (technically a seed) that is full of protein and healthy fiber, so it won't make your waistline cry.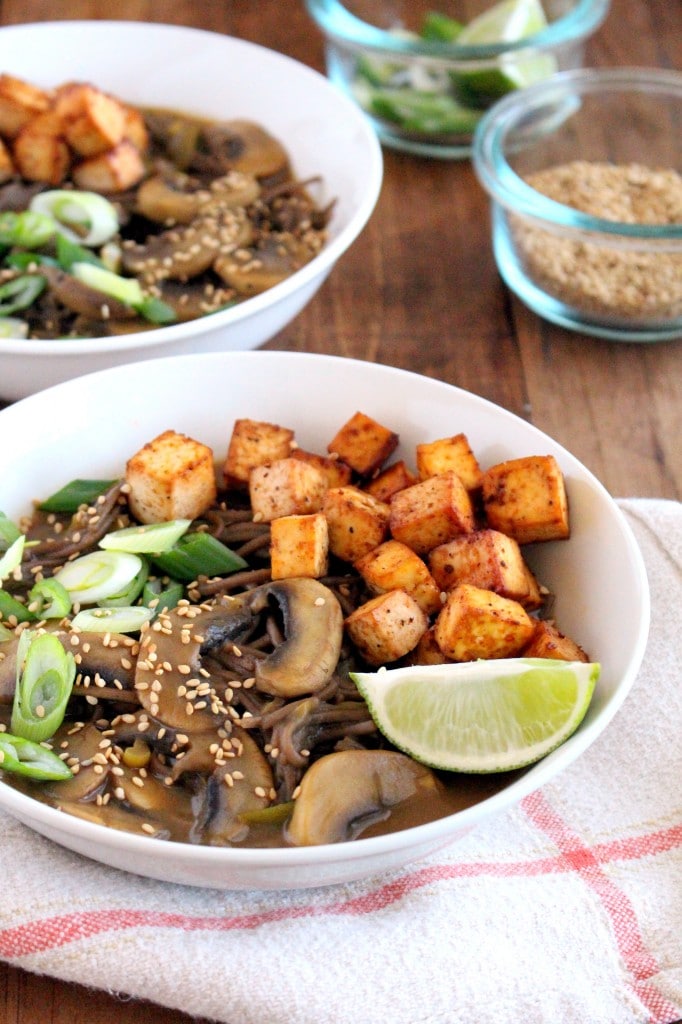 This broth is a simple one, but has SO much flavor. It just has your usual suspects of vegetable stock, GF soy sauce, ginger and garlic. You could certainly add in some miso if you're feeling sassy. It's salty, earthy, and has a little kick from the ginger.
I decided to bake the tofu until it had some texture because I wanted it to be able to stand up against the rest of the noodles and broth. I marinated the tofu in a mix of sesame oil, soy sauce, pepper and sriracha. That sriracha is a must, you guys. It just brings an extra little something to the soup, you need that kick.
Once you bring all of the components together and let them all become friends, it's like a party. A wild party for your taste buds. You really need to get in on that action.
Soba Noodle Soup with Baked Tofu & Mushrooms
Ingredients
8 oz package soba noodles
14 oz package extra firm tofu
1 bunch of scallions, thinly sliced
8 oz mushrooms, thinly sliced
1/2 in piece of ginger, skin removed and finely chopped
2 cloves garlic, finely chopped
3 tbsp gluten-free soy sauce
4 cups vegetable broth
pinch of black pepper
optional toppings --> avocado, sesame seeds, chopped scallions, lime juice

Tofu Marinade

2 tsp sesame oil
2 tsp sriracha
3 tbsp gluten-free soy sauce
pinch of black pepper
Instructions
Preheat the oven to 400 degrees. Press as much water out of the tofu as you can without breaking it up. In a medium sized bowl, whisk together all of the marinade ingredients. Cut the tofu into small cubes and add to the marinade. Toss until all of the tofu is coated, and let sit for about 15 minutes.
After marinading, lay the tofu out in a single layer on a lined baking sheet and bake for 15-20 minutes, until golden brown.
While the tofu is baking, make the broth. In a large saucepan, combine the vegetable stock, ginger, garlic, soy sauce, pepper, mushrooms and half of the scallions. Bring to a low simmer and let it cook for 15 minutes.
In the meantime, cook the noodles. In a large pot, bring about 6 cups of water to a boil. Add the noodles and cook for 6-8 minutes, until the noodles are cooked but still have some texture. When done, strain the noodles and add them to the mushroom broth.
To serve, ladle the soup mixture into bowls, top with a handful of tofu, and garnish with more chopped scallions, sesame seeds, avocado and a squeeze of lime.
https://www.thewheatlesskitchen.com/soba-noodle-soup-with-baked-tofu-mushrooms/