Pineapple Peach Mint Kombucha Mocktail
Warm summer days are going to be slowly coming to an end soon, so I'm eating all the summer fruit and drinking all the kombucha mocktails that I can in the meantime. Who else can eat their weight in watermelon right now? Just me? Okay fine.
Now on to this AMAZING mocktail that I created for you guys.
It is made with kombucha and sparkling water, so you get a nice little refreshing fizz. It is slightly sweet, low in sugar, and packed full of good-for-the-gut probiotics. This is the perfect drink to serve at your summer backyard barbecue, for a healthy happy hour, or for a fun girls' night!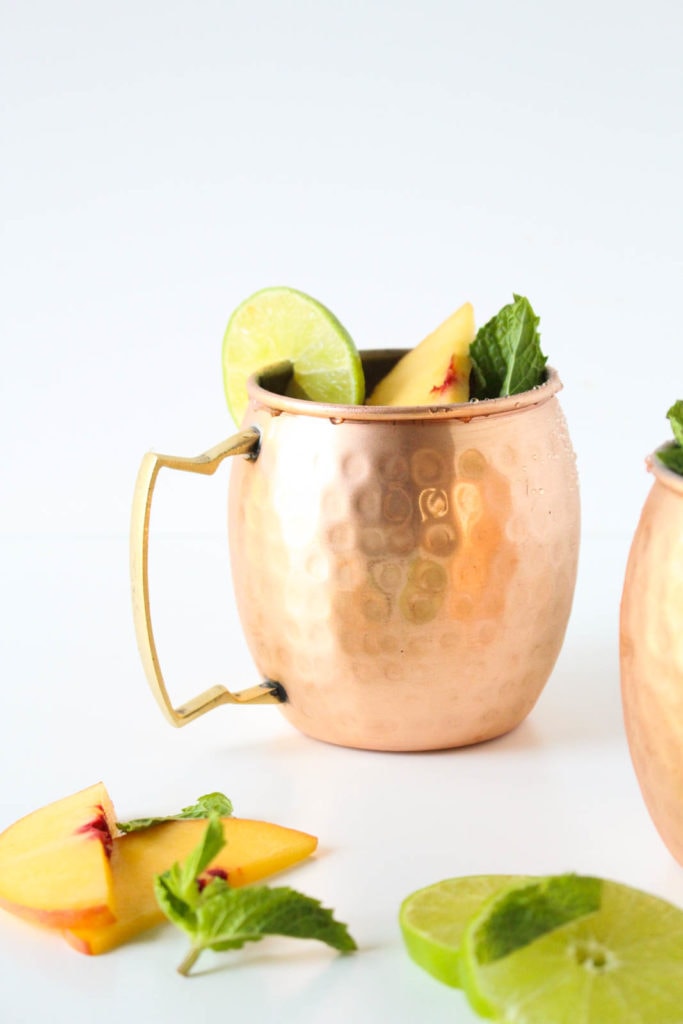 I found the pineapple peach flavored kombucha from Kevita, and just knew that I HAD to use it for this recipe. I mean, you can't really get more summery than pineapple peach flavored anything, am I right?! Then of course add some lime flavored sparkling water, fresh lime juice, crushed mint, and you have yourself a party.
And I think the best part of these drinks is that you can make them extra special by serving them in these gorgeous copper mugs. I am in love with these from Moscow Muled, and I have been drinking any and all beverages out of these mugs lately, because I'm fancy like that.
They are made out of 100% pure high-grade food safe copper, and are lined with high-grade nickel. They are handcrafted and each one is hand-hammered to give them that special, personal touch. They are so perfect for icy drinks (think mocktails, cocktails, teas, iced coffees, etc.) because they lock in the drink's coolness and help keep ice frozen for longer. I have been drinking my iced teas and kombuchas from the mugs lately, and can definitely confirm that they really do keep your drinks colder longer.
Get yourself some fancy copper mugs from Moscow Muled, then go make some super fun and refreshing mocktails for all of your friends. You better hurry though, summer will be over before we know it!
I was not compensated for this post, but Moscow Muled generously sent me their beautiful copper mugs to try.
Pineapple Peach Mint Kombucha Mocktail
Ingredients
2

cups

pineapple peach kombucha

(I used Kevita)

2

cups

lime flavored sparkling water

juice of 1/2 a lime

more for garnish

3

tbsp

fresh mint leaves

more for garnish

~2

cups

crushed ice

1/2

cup

sliced peaches

for garnish
Instructions
In a small pitcher or jar, combine the kombucha, sparkling water, lime juice, and torn mint leaves. Stir to combine.


Fill four glasses (or copper mugs) with crushed ice, then pour the kombucha mixture over the top.


Garnish with sliced peaches, sliced limes, and fresh mint leaves. Serve and enjoy!