[Grain-Free] No Bake Peanut Butter Pretzel Bars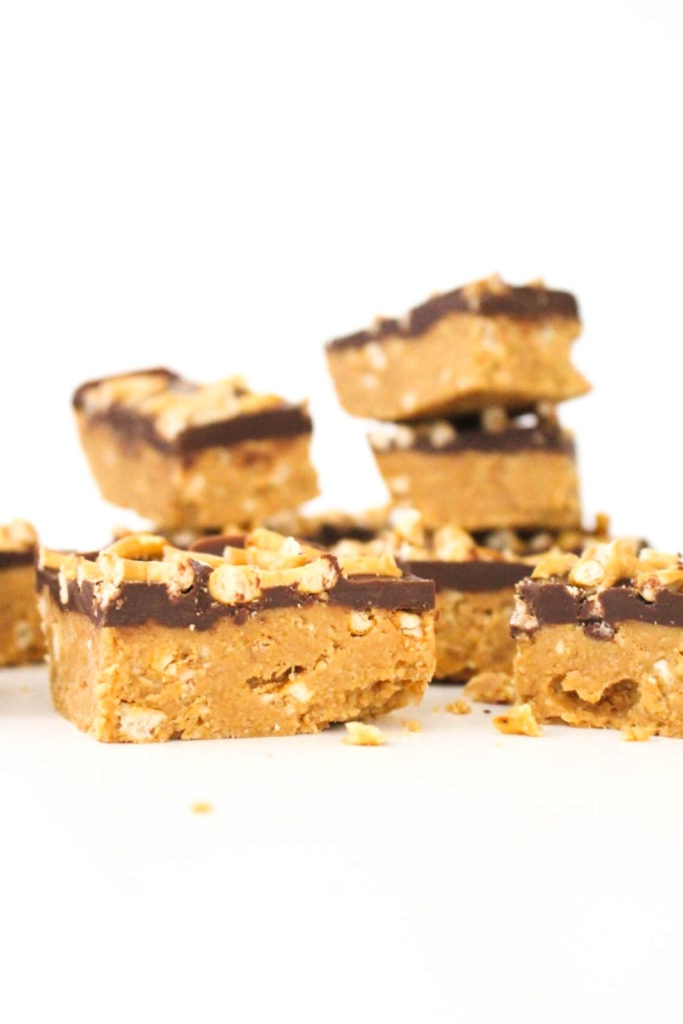 I'm a salty & sweet dessert person. My favorite kind of chocolate bars are the sea salt and almond ones, and I LOVE anything salted caramel. So when I was trying to come up with a recipe using these grain-free pretzels from FitJoy, you know I had to pair them with something sweet.
I bet you've never made GRAIN-FREE peanut butter pretzel bars before. That's because these pretzels from FitJoy are the first grain-free pretzels on the market! They are made with cassava flour and chickpea flour, and are just as good (if not better) than any other gluten-free pretzel I've had. Also, they are super crunchy, and nice and salty from the Himalayan pink salt that they sprinkle on them, and don't have any weird ingredients.
They make the perfect combination of salty and sweet when paired with peanut butter and chocolate. And the best part about these bars (besides the fact that they are delicious!) is that they only require SIX ingredients, most of which I bet you already have in your pantry right now.
It's really just two layers. You have your peanut butter pretzel layer, and then the chocolate layer. And then of course we have to crush up some more pretzels for the top, DUH.
They come together quickly, and are seriously the best summer dessert to take to a fun get together with friends. They look kind of fancy, but only you will know how easy (and healthy!) they are.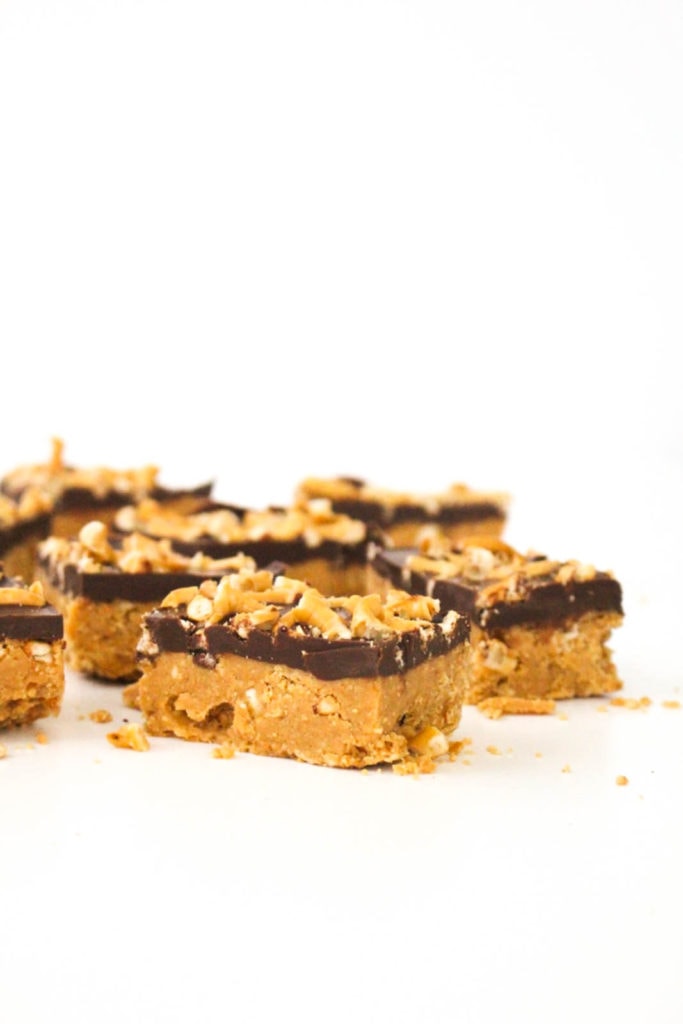 If you are looking for a delicious grain-free protein bar option, FitJoy has DELICIOUS bars too!
[Grain-Free] No Bake Peanut Butter Pretzel Bars
Ingredients
1 1/2

cups

crunchy peanut butter

(all-natural, no added sugars or oil)

1/2

cup

almond flour

2

cups

pretzels

(I used FitJoy grain-free pretzels)

1/3

cup

real maple syrup

1

cup

chocolate chips

(I used dairy-free Enjoy Life)

1

tbsp

coconut oil
Instructions
In a food processor, add the peanut butter and maple syrup. Pulse a few times to incorporate, then add the almond flour, then pulse again.

Next, add the pretzels and pulse a few times to break them up into the peanut butter mixture. Don't completely grind them up, you want to have some chunks of pretzel in the dough. If the ingredients didn't mix up very well in the food processor, then just transfer it to a large mixing bowl and stir it with a wooden spoon.

Transfer the dough to an 8×8 glass baking dish, and use your hands to press it out into an even layer. Make sure to pack it down really well with your fingers.

Next, combine the chocolate chips and coconut oil in a small mixing bowl. Microwave for about 1-2 minutes, stirring every 30 seconds, until completely melted. Pour the chocolate over the top of the peanut butter dough, and use a spoon to smooth it out.

Crush up a handful of pretzels and sprinkle them over the top. Place the dish in the fridge to chill for at least an hour before cutting into it. Cut into 12 pieces, and enjoy!
this post is sponsored by FitJoy Foods, all opinions are my own, and their pretzels made this recipe taste amazing.