Creamy Carrot Cake Oatmeal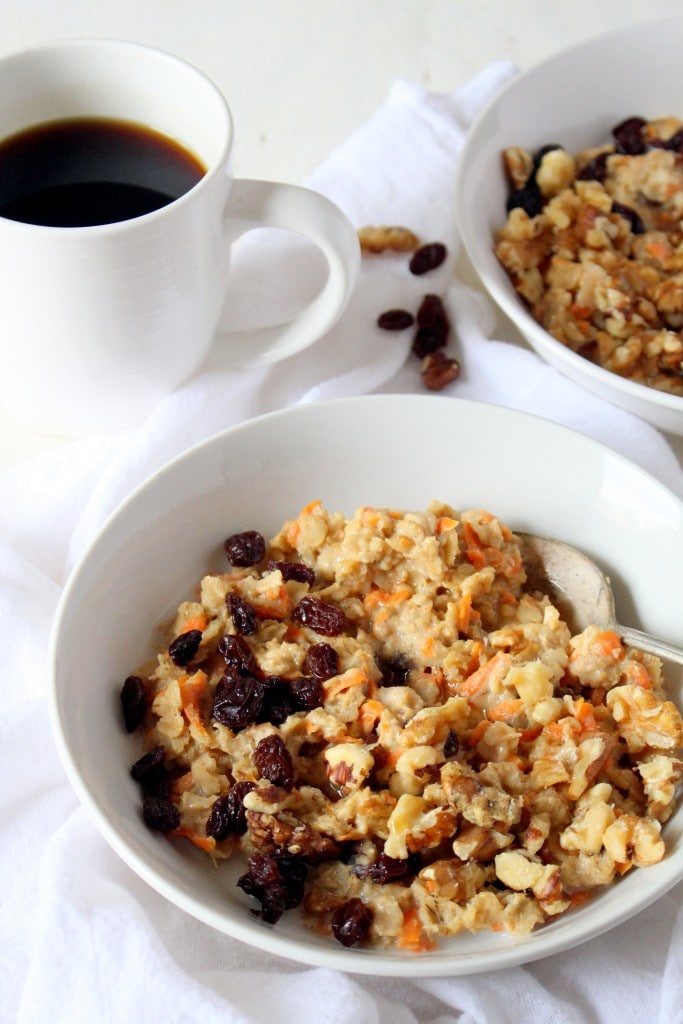 It's actually (very slowly) starting to feel like Fall in West Texas! Whaaaa! Can I get a high-five!? This chillier weather of course calls for a warm and cozy breakfast. Enter, oatmeal.
Carrot cake is definitely toward the top of the list for my favorite kinds of cake, so why not have it for breakfast too?! Well sort of, today we're making the creamiest carrot cake oatmeal for breakfast! You can pretend that you're actually eating the real thing. If you're a lover of all things carrot cake like I am, you are going to LOVe these carrot cake cupcakes.
This sweet carrot and raisin-filled oatmeal has quickly become my go-to breakfast since the mornings have been a bit chillier lately. It comes together quickly and has all of the perfect carrot cake flavors that we all love and adore. Carrot, raisin, walnuts, maple, coconut –> the whole gang.
It is cooked in almond milk for added creaminess, with an extra splash at the end, because duh. This is essential to make it all porridge-y, because creamy porridge is what Fall dreams are made of. Are you coming over for breakfast? You totally should, you're always welcome. But you're going to have to make your own carrot cake oatmeal because I'm not sharing. Don't worry, I have all the ingredients, so just bring yourself and your favorite PJ's.
Creamy Carrot Cake Oatmeal
Ingredients
1 cup GF whole oats
2 cups unsweetened almond milk
1/2 cup grated carrot
1 tsp vanilla extract
1 tsp cinnamon
2 tbsp raisins
2 tbsp unsweetened shredded coconut

Toppings

2 tbsp raisins
1/4 cup chopped walnuts
1-2 tbsp real maple syrup (optional)
Instructions
In a medium saucepan, combine the oats, milk, carrot, raisins, coconut, vanilla and cinnamon. Use a wooden spoon and stir to combine. Turn the heat to medium-low, and bring the mixture to a simmer. Let it simmer for about 7-10 minutes, until the oats are cooked and creamy, stir occasionally.
Divide the cooked oats between 2 bowls and sprinkle on the desired toppings between the 2 servings.
Add a splash of almond milk at the end if you want a little extra creaminess.
https://www.thewheatlesskitchen.com/creamy-carrot-cake-oatmeal/