Chocolate Banana Protein Breakfast Cake
Who wants cake for breakfast?!
I knew you would, and I'm with you on this one. I made us cake for breakfast, and we don't have to worry about crashing from a massive sugar high before we even make it to lunch time. This is because it is made of mostly chocolate protein powder, banana, and oats. Go ahead, you can rejoice in the healthy chocolate cake that you are about to face plant in to right after you roll out of bed.
I teamed up with Sunwarrior to come up with a fun, less traditional way to use their protein powder. I could have easily made a chocolate smoothie and called it a day, but I wanted to do something a little different. So after doing some brainstorming, I knew I had to make a cake. But of course, because breakfast is my favorite, I just knew I HAD to do a breakfast cake. And what goes better with chocolate than banana in the morning?! Well, I mean other that peanut or almond butter, but you get what I'm saying. And you should totally slather a giant spoonful of nut butter all over your piece of cake. I know I did.
I had tried the Sunwarrior vanilla protein in the past (which is ah-mazing in smoothies, btw), so when they told me that they were going to send me the chocolate flavor, I was way too excited about the possibilities! I love what the company stands for, and they have lots of different products so that you can tailor them to your lifestyle needs. This protein tastes amazing (super chocolatey but not too rich), is plant-based, and has 17g of protein per serving. Oh, and did I mention that it is gluten-free, vegan, soy free, raw, and dairy-free? Because it is.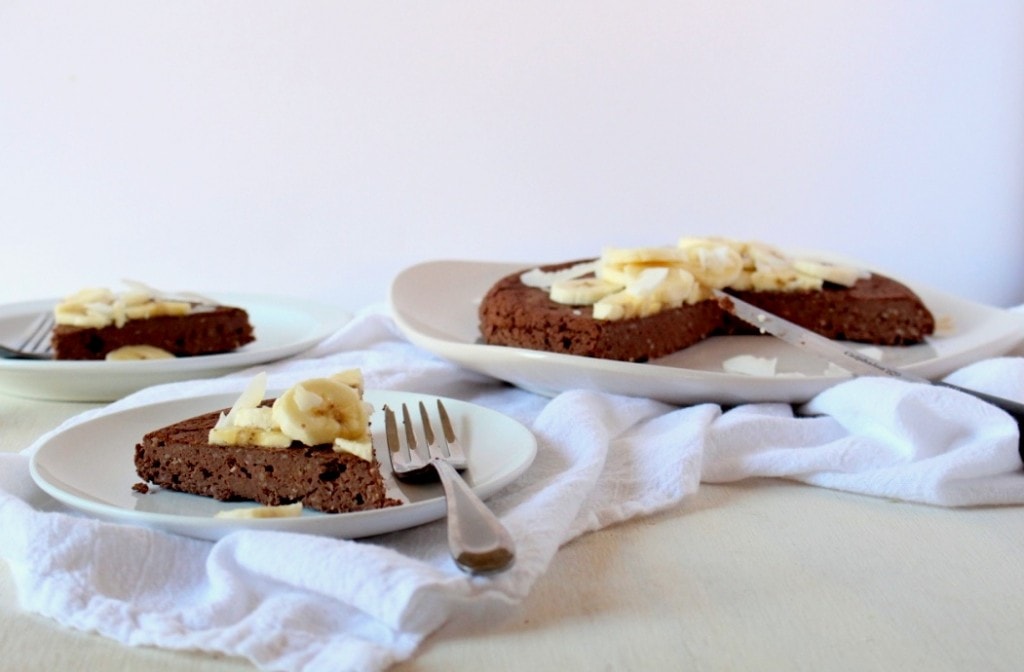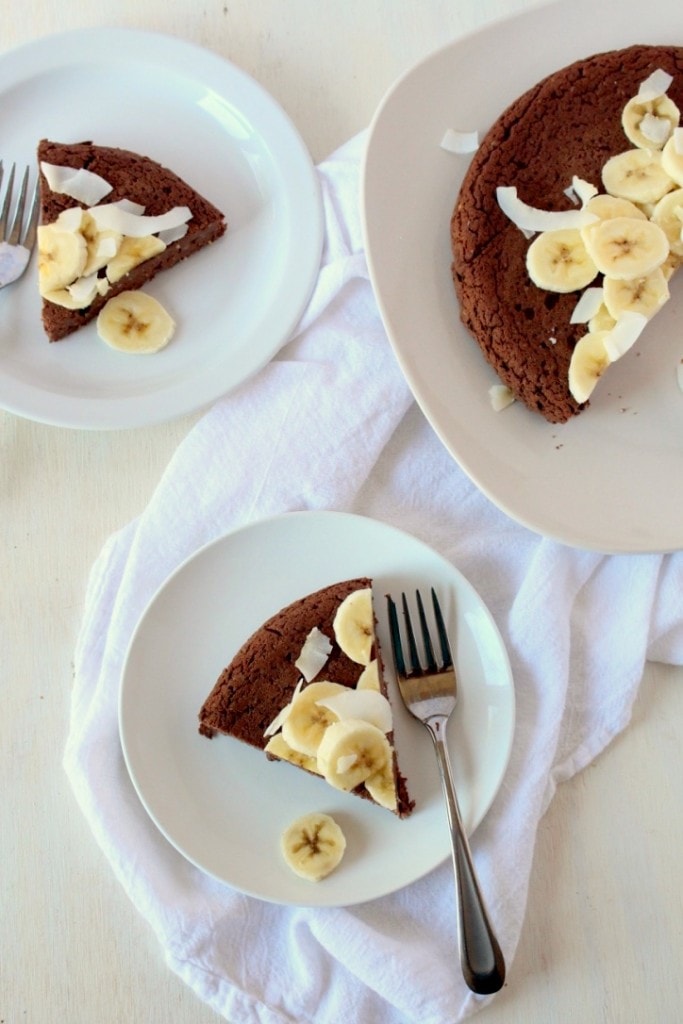 The texture that the protein gives the cake is a little bit different than your average cake. I added oats to the batter to give it a little more texture, so it ended up being somewhere in between cakey and fudgy. Does that make sense? It is soft and chewy, but doesn't really crumble like a regular cake would. It is only sweetened with the banana, so you won't have a sugar high to start your day. And I kept it completely vegan by using flax eggs. I figured because the protein powder is vegan, I didn't want to add animal products to the recipe.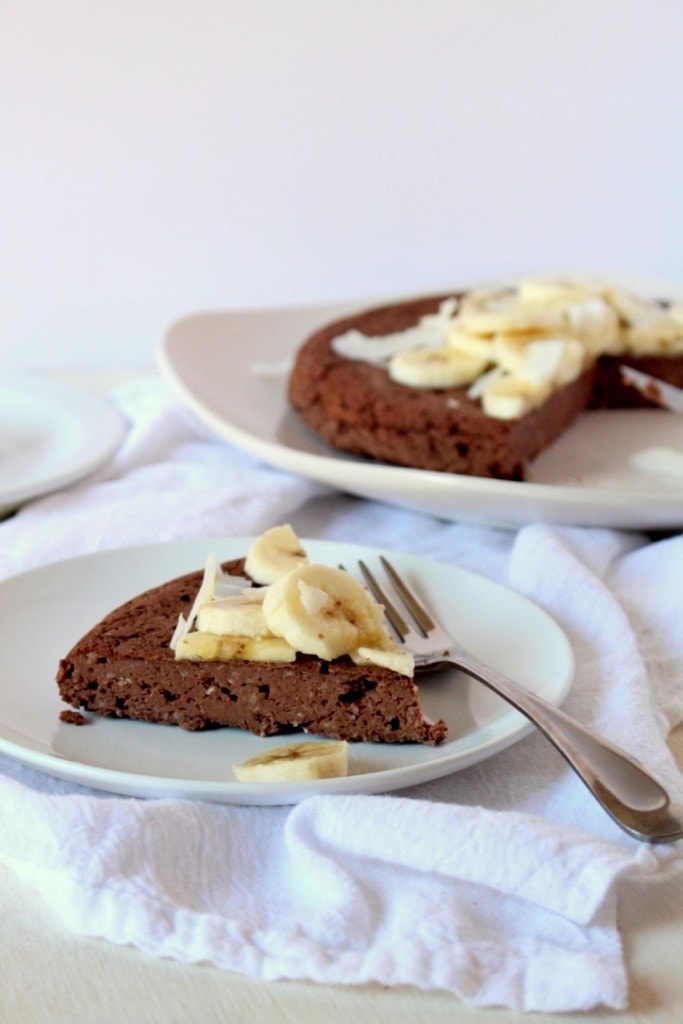 Top it off with banana slices, almond butter, and flaky coconut. Just trust me. You will not regret the toppings because the toppings are always the best part, of course. It doesn't take long to come together, and you will soon be in breakfast cake Heaven.
I was not compensated for this post, but I was sent free product to create a new recipe. All opinions are my own, and I really do love Sunwarrior.
Chocolate Banana Protein Breakfast Cake
Ingredients
1 cup Sunwarrior chocolate protein powder
1/2 cup GF oats
2 flax eggs -> (2 tbsp ground flaxseed + 6 tbsp water, mix together and let sit for at least 10 min. to thicken)
1 large ripe banana
1 cup unsweetened vanilla almond milk
1/4 tsp salt
1 tsp vanilla extract
Instructions
Preheat the oven to 350 degrees.
In a food processor, add all of the ingredients and process for about 30 seconds. The batter should be smooth with not many clumps.
Spray a round or square glass baking dish with non-stick spray, and pour the batter into the dish. Smooth the top with a spoon.
Bake for 25-30 minutes, until cooked through. You should be able to insert a knife in the center and it come out clean.
Let the cake cool for about 5 minutes, until you can handle the dish. Once cooled, remove the cake from the dish by flipping the cake upside down onto a large plate or platter.
Top it with banana slices, coconut flakes, and then cut into desired pieces. Serve with a dollop of nut butter if you want, and enjoy!
https://www.thewheatlesskitchen.com/chocolate-banana-protein-breakfast-cake/