[Gluten-Free] Pumpkin Coffee Cake
COFFEE CAKE! GIMME ALL THE COFFEE CAKE!
I have always loved coffee cake, it is one of my favorite desserts/snacks everrrr. I obviously haven't eaten the normal coffee cake that you can get at Starbucks in several years now, but not to fear, we're making our own today my friends!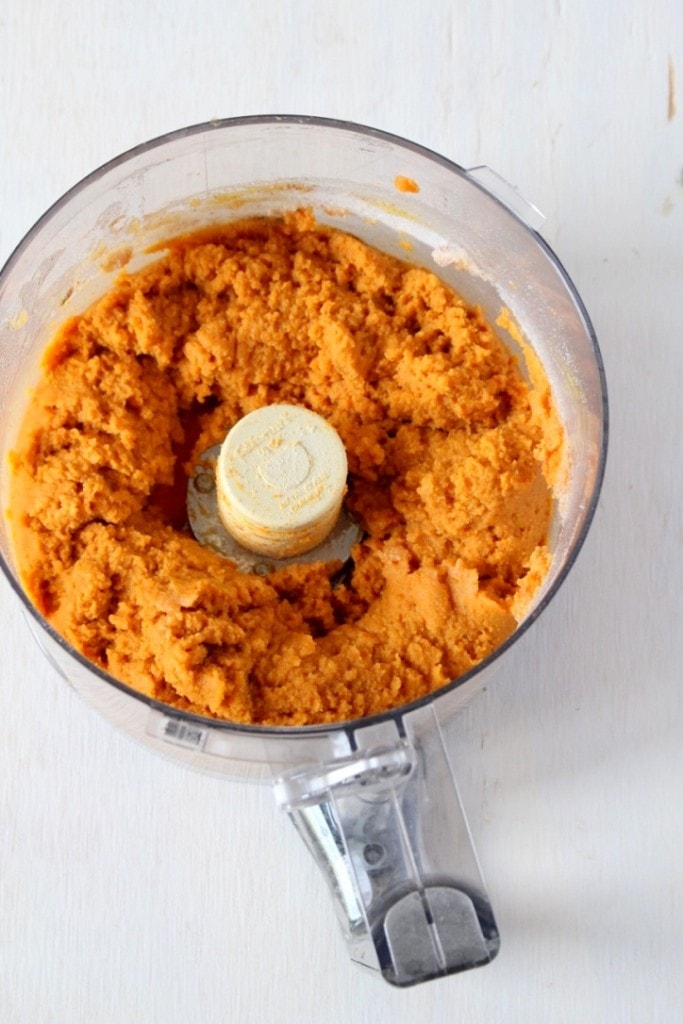 Because pumpkin EVERYTHING is always so huge in the months of October and November, I came up with this fun (healthy!!!) pumpkin coffee cake with the best crumbly, streusel-y topping you ever did see. And yes, in my brain, streusel-y IS a word.
This cake is full of slightly sweet, light, fluffy, cinnamon/maple goodness that will make you come back for more. Seriously, I dare you to only eat one piece. I had no self-control around these. But that's okay because they're healthier, right?! I thought so. GIRL MATH.
The streusel topping is doing nothing to help with my issue of self-control. I put the mixture in a food processor to bring it all together and I LOVE the not-too-crunchy texture that I ended up with. I may or may not have eaten a few handful before topping the cake. Don't judge me.
It can be served warm or cold, it is good both ways! Brew yourself a nice hot cup of strong coffee and let yourself arrive in coffee cake Heaven. If you guys make this, take a picture and show me on Instagram! I want to see your creations, and be sure to hashtag #thewheatlesskitchen. Happy Fall, my friends!
[Gluten-Free] Pumpkin Coffee Cake
Ingredients
1 cup pumpkin puree (not pumpkin pie filling)
1/2 cup coconut flour
1/2 tsp baking soda
1/2 tsp baking powder
1/2 tsp salt
1/2 tsp cinnamon
1/2 tsp ground nutmeg
1 tsp vanilla extract
1/3 cup real maple syrup
2 tbsp melted coconut oil
3 eggs

Streusel Topping

1/2 cup GF oats
1/2 cup raw walnuts
1/2 tsp cinnamon
1/2 tsp nutmeg
1 tsp vanilla
3 tbsp coconut sugar
3 tbsp coconut oil
Instructions
Preheat the oven to 350 degrees. In a food processor, add all of the cake ingredients and turn the processor on for about 30 seconds, until all of the ingredients have come together to make an even batter.
Spray a 9x9 glass baking dish with non-stick spray, and then spoon the cake batter into the baking dish. Use a spoon to smooth it out into an even layer.
Rinse any pieces of cake batter out of the food processor, and then add all of the streusel ingredients into the processor. Pulse a few times, until the mixture comes together and turns into a crumbly texture. Pour the streusel over the cake and spread it out with your hands into an even layer.
Bake for 30 minutes, then cover the pan with a piece of foil to prevent the top from burning.
Bake for another 10 minutes with the foil on top.
After the total of 40 minutes in the oven, remove from the oven and let the cake cool for at least 5 minutes before cutting into it.
Use a sharp knife to cut the cake into squares and serve!
https://www.thewheatlesskitchen.com/pumpkin-coffee-cake/