Chicken Chopped Salad with Roasted Chickpeas
Try to say the title of this recipe three times fast. Ha, now laugh at yourself. Don't worry, I did the same thing.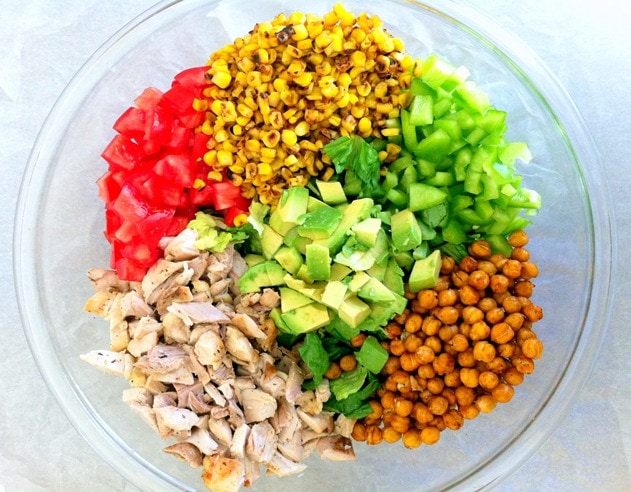 One of my favorite things about this time of year is the amazing, colorful, beautiful produce that is available to us. And not just the produce, but the flowers too. I feel like everywhere I look I see beauty. God really knew what he was doing, and man, did He do a good job.
I have been on a salad kick lately. It may be because of all of the pretty vegetables that are calling my name every time I walk into the grocery store, or it could also be because I am going on a beach vacation where I have to be in a bikini in two short weeks. Both are good reasons. But regardless, I always love a good salad. The only problem with a salad is that it can get boring pretty quickly. This is why I love chopped salads, you can get so creative!
Chopped salads are typically just several different types of fresh produce chopped into small-ish equal sizes and tossed to combine. I think chopped salads are more fun than regular salads. I don't exactly know why I believe this, but it may be because it makes me feel like I'm eating a burrito bowl from Chipotle. I could live at Chipotle, so chopped salads are here to stay.
I like to get creative with salads so that my husband and I don't get too bored with them. Today, I started with fresh romaine, bell peppers, tomatoes, and avocado. I wanted to add a couple of different types of protein, so I went with chicken and roasted chickpeas. You could always add the chickpeas in raw, but I like the crunch they give when they are roasted. I finished off the salad with a homemade honey 'soy' dressing. The dressing doesn't actually have any soy sauce in it. I love the taste of soy sauce, but of course, it is definitely not gluten free. So I used liquid aminos in place of it. It was amazing, and my husband asked me to make it again very soon. Score!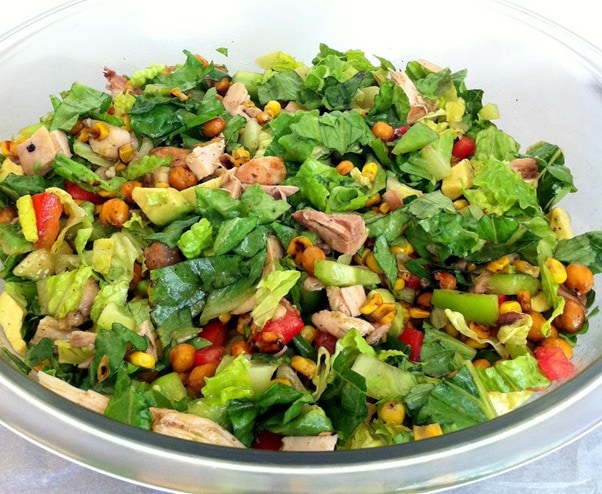 Chicken Chopped Salad with Roasted Chickpeas
Ingredients
1 cup cooked pulled chicken (I used chicken thighs)
1 can roasted chickpeas
1 large romaine heart, washed and chopped
2 roma tomatoes, seeded and chopped
1 green bell pepper, chopped
1 cup sweet corn
1 large avocado, chopped

For dressing:

1 Tbsp honey
1 Tbsp liquid aminos
pinch salt
1/4 tsp black pepper
1/8 tsp garlic powder
3 Tbsp extra virgin olive oil
Instructions
Heat skillet to medium-high heat, spray with cooking spray and add the corn. Spread the corn out in a thin layer in the skillet, and let it brown. Don't stir it too often, you want it to char on the edges a little bit. This will take about 5-7 minutes, stirring occasionally.
When the corn is cooking, chop up all of your vegetables and add them all to a large bowl. In a small bowl, add all of the dressing ingredients and whisk to combine.
When corn is done cooking, and is nice and charred, add the corn and dressing to the other salad ingredients. Gently toss to combine. Serve and enjoy!
https://www.thewheatlesskitchen.com/chicken-chopped-salad-with-roasted-chickpeas/
What are your favorite chopped salad ingredients? I always love new ideas!