Gluten-Free Travel -> Cabo San Lucas
Hey guys! A few weeks ago, Kenny and I went on an absolutely amazing vacation to Cabo San Lucas, Mexico. It was glorious, and I want to tell you guys all about it because we really enjoyed our stay at the Pueblo Bonita Pacifica Resort. I highly recommend staying there if you ever take a trip to Cabo.
Let me walk you through our week…
When we arrived at the resort, I was completely amazed by the little water pond in the middle of the lobby. I wanted to walk through it, but apparently it is frowned upon. Whatever.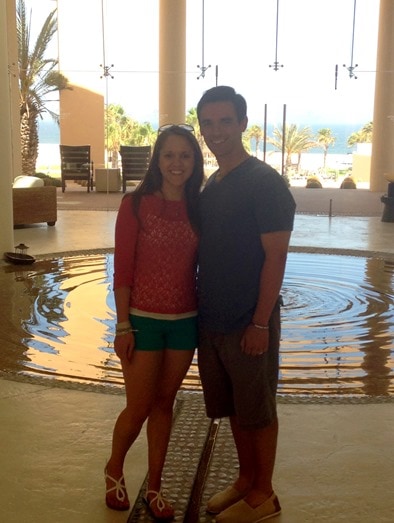 Our room wasn't quite ready yet, so we went on a walk to explore the resort. It was so peaceful and quiet. The ambience was like the beach meets the desert. Very different, and so nice. The whole place had a very laid back, calm vibe to it. It was an adult only resort, and there wasn't really too much going on there. They had a few different activities throughout the day that you could do, but for the most part, it was very chill. It was definitely our kind of place. The rooms were also very nice and spacious.
Our main goal for the week was just to relax, but we also wanted to go on several excursions. So we made sure that we spread them out throughout the week as to not feel overwhelmed and too busy. We just wanted to be bums on the beach. Our typical day went a little like this…
We started with breakfast, the resort had a pretty great breakfast buffet at one of the restaurants. Of course, buffets are always a little hard to navigate when you have a gluten allergy, but we were able to make it through. I would normally get tons of fruit, an omelet, a little bacon, and of course coffee. After breakfast, we would go straight to the pool to claim our spots. And yes, that's a cactus. In the middle of the pool. Crazy.
The rest of the morning/afternoons were just spent reading, talking and napping. It was nice to not have too much of a schedule.
When we got bored by the pool, we would go take a walk on the beach. And of course, act like goofballs. It's what we do.
They also offered a beach yoga class a couple of times. There is definitely nothing better than doing yoga when it's just you and the waves.
This is what our meals looked like pretty much all week. I could live on mexican food.
We also did the normal tourist-y things. We went on a glass bottom boat tour and saw the famous arch. The views in Cabo were absolutely breathtaking.
You could also take a taxi into town. So we went to Downtown Cabo to do some sightseeing and shopping. We ate at some really cute local restaurants. The food at Mariscos Las Tres Islas was SO good. It is a really great place to go if you want to eat at the places where the locals eat.
I also got to live out one of my life long dreams. I SWAM WITH THE DOLPHINS! I know a lot of people have done this already, and it may not be a huge deal to some people, but I was FREAKING out. It was the coolest experience, and I am so grateful to my sweet husband for making it happen
I mean, seriously, you can't tell me that dolphins are not the coolest animals EVER.
The beaches were incredibly beautiful. I have never seen water this blue before. Apparently, on the part of the beach that our resort was on you are not allowed to swim in the water. The current is very strong on that side and the waves are HUGE. It was really cool just to go out and sit on the beach and watch the giant waves come in.
We would end our days with a nice dinner at one of the restaurants at the resort, and then a sunset walk on the beach.
We had such a wonderful time, and hope to go back to Cabo someday
What is your favorite place you have ever visited? We are already talking about our trip for next year. We need suggestions!