Tomato & White Bean Panzanella Salad
Tomato & White Bean Panzanella Salad is a hearty salad that is perfect for a main course. Packed with white beans for protein, juicy tomatoes and cucumbers, and crunchy baguette.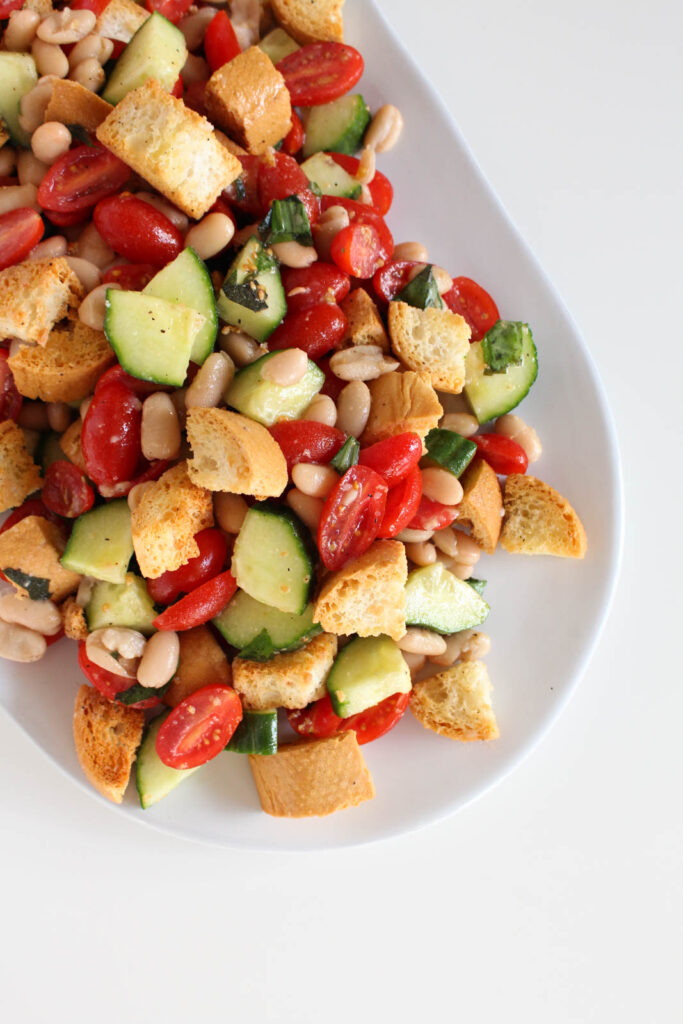 I love a good loaded salad, but the best way to make a salad even BETTER is to add bread to it. I mean, you can't go wrong, in my opinion. Big chunks of crunchy gluten-free baguette is a perfect way to impress your friends if you make a salad for your summer dinner party.
Traditional panzanella is basically a mix of Tuscan bread and tomatoes, so this isn't far off from that. There are many variations of recipes that you can do for this, and I love the addition of white beans. They add protein to make it a bit more hearty, and also a creamy texture that counters that bread perfectly. The addition of cucumbers is also pretty clutch for an added crunchy texture, and not to mention refreshing.
Ingredients for Tomato & White Bean Panzanella Salad
Cherry Tomatoes – I like using these instead of chopping a large tomato, they give off a little less juice, so it doesn't make the bread soggy.
Cucumbers – They add a nice crunchy texture and are extra refreshing.
White Beans – Added protein to make it a more well-rounded meal, as well as creaminess.
Fresh Basil – The addition of fresh herbs adds SO much flavor and brightness. You can also use dried basil, but I would recommend using fresh if you can.
Gluten-Free Baguette – I used Udi's, their french baguette toasts up perfectly in the oven, and adds the best crunch.
Red Wine Vinegar – You can use your favorite type of vinegar for the vinaigrette, but I love red wine in this one.
Extra Virgin Olive Oil – Olive oil or avocado oil are my two favorite oils for dressings.
Salt & Pepper – the staples!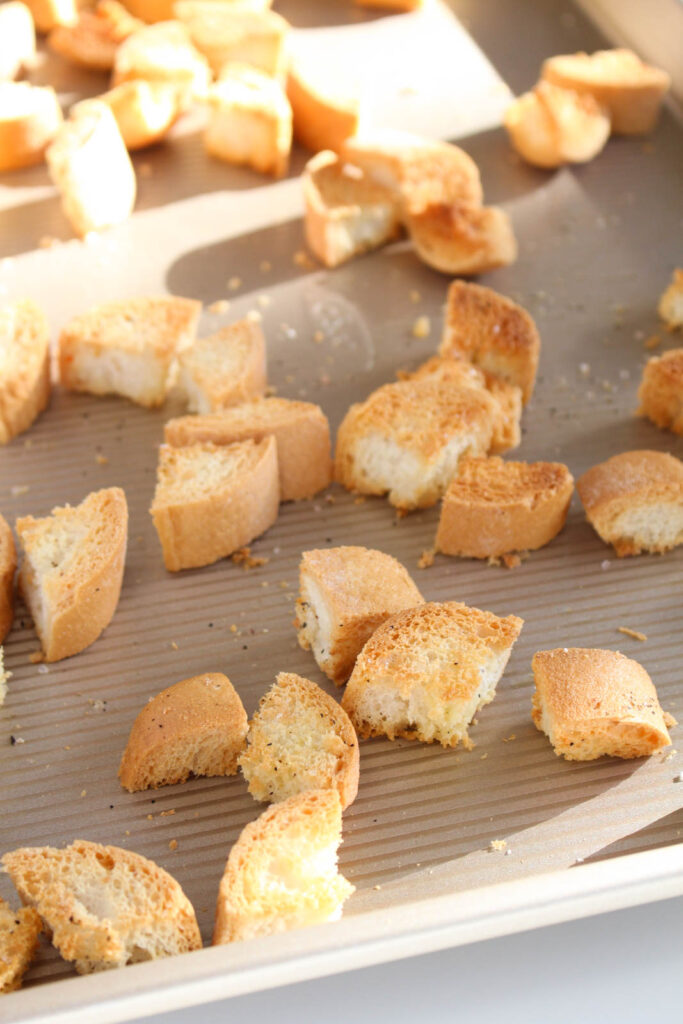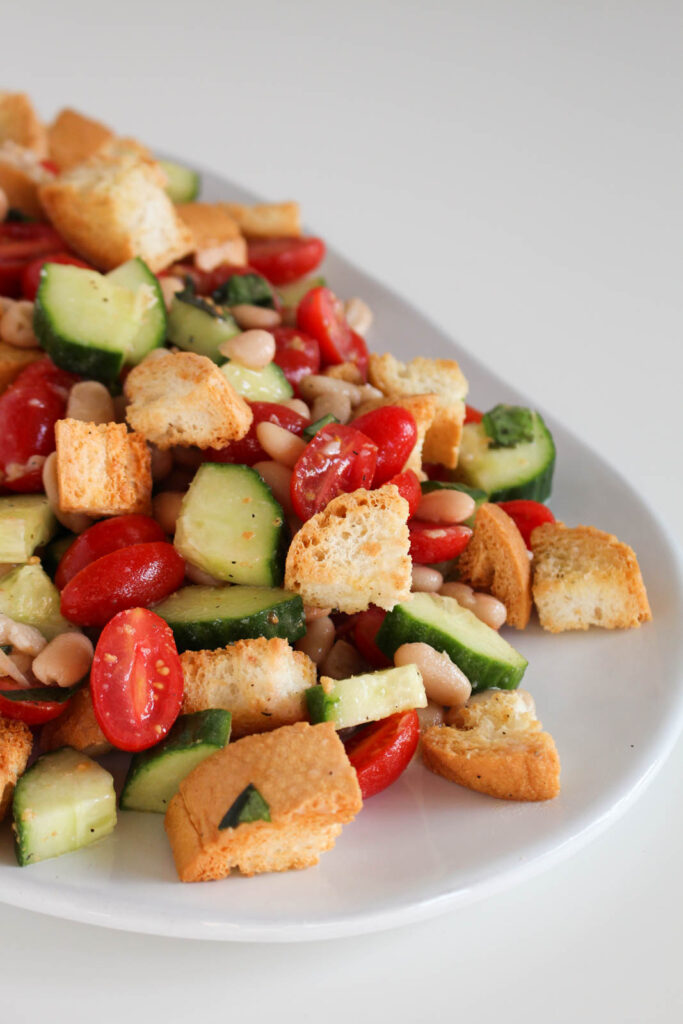 Tips & Tricks for the Best Panzanella Salad
You can chop and mix the veggies together ahead of time to save time. But make sure that you don't add the bread to the salad until right when you are going to serve it. You want the bread to stay crunchy and not get soggy.
You can add the dressing to the vegetables ahead of time to let them really soak up that flavor, but I would only do it about an hour before you serve the salad.
Toast your bread! I cut my baguette into chunks the size of a large crouton and put them on a baking sheet to let them toast in the oven. You want them to be lightly golden and crunchy.
Feel free to add a protein to the salad too! I love grilled chicken or salmon to accompany this.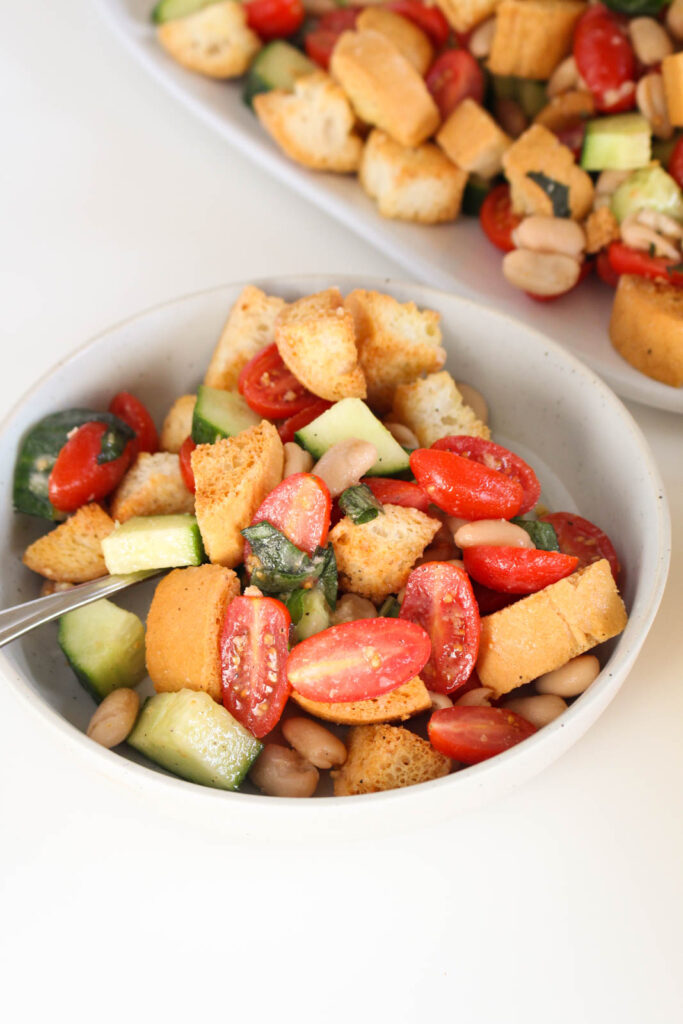 Looking for more salad recipes?
FOLLOW ALONG! Subscribe to my newsletter and follow along on Facebook, Instagram, and Pinterest for my latest recipes!
Tomato & White Bean Panzanella Salad
Ingredients
2

cups

cherry tomatoes

, halved

1

large

english cucumber

, chopped

2

(14oz)

cans white beans

, rinsed and drained

1/3

cup

fresh basil

, chopped

1

gluten-free baguette loaf

(I used Udi's)
Red Wine Vinaigrette
3

tbsp

extra virgin olive oil

3

tbsp

red wine vinegar

1/4

tsp

salt

1/4

tsp

black pepper
Instructions
Preheat the oven to 375 degrees. Cut the baguette into large chunks, about the size of large croutons. Spread them out onto a baking sheet in an even layer, and toast them in the oven for about 7-10 minutes. Cooking time may vary with this depending on what kind of bread you use. Just keep an eye on it, and toast it to your desired golden color. Then remove from the oven and set aside.

In a large serving bowl, combine the tomatoes, cucumbers, white beans, and fresh basil. Use a wooden to stir to combine.

In a smaller bowl, whisk together the vinaigrette ingredients until combined. You can also do this in a jar instead of a bowl. Just add the ingredients to a jar, put the lid on, and shake vigorously. Pour the vinaigrette all over the tomato mixture. Toss to combine.

When you are ready to serve, add the bread pieces and toss to combine. Serve and enjoy!