Roasted Carrot & Leek Soup
This is the kind of soup that I want to be eating on those days where it's freezing outside and all I want to do is curl up in my sweats and stay inside. It is the perfect combination of creamy, filling and warming. Perfect for a cold January day.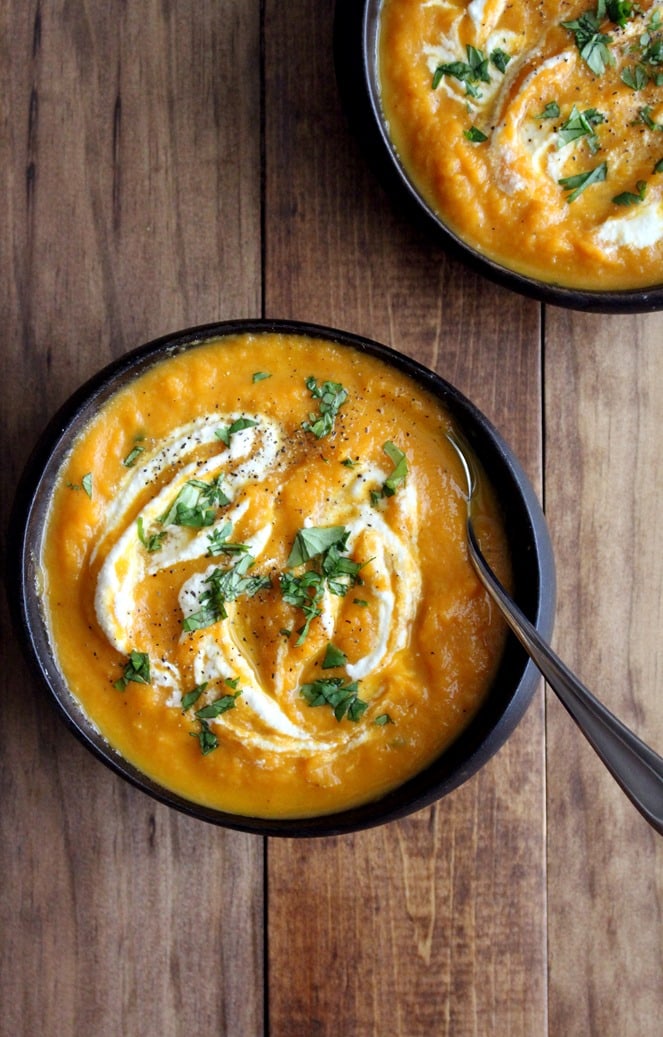 Carrots are one of those vegetables that we almost always have in our fridge. We eat them all sorts of different ways, but I think using them in a soup is one of my favorites. And my favorite part of this simple soup –> 6 ingredients! Yep, it is so simple and very quick to make. In my mind, this means I'm getting into my sweats on that couch in front of Netflix much faster. It's a win win.
Roasting the carrots and leeks absolutely makes this soup. This step shouldn't be skipped, it brings out such great flavor from the veg. I just don't feel like sautéing them in a skillet would do the same thing. Roasting brings out the natural sugars and sweetness out in the carrots, which totally sends the final product over the top.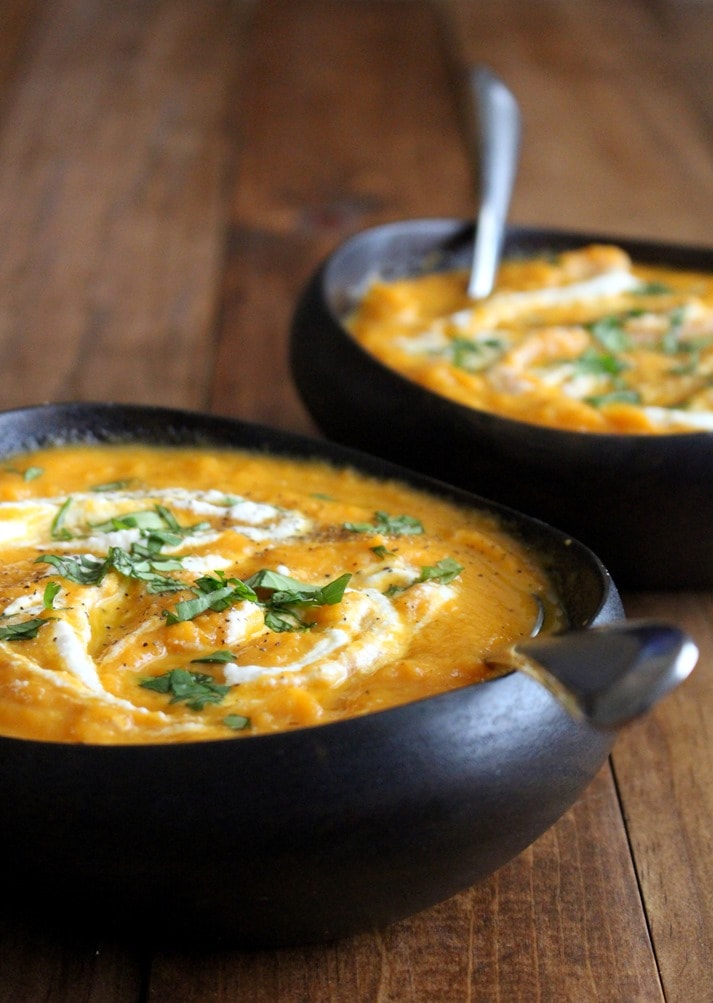 My favorite way to garnish this is with a little dollop of my vegan sour cream, some parsley and sunflower seeds for a little added crunch and protein. You definitely need to make this for your family and friends, they will be so impressed. It looks a lot fancier than it really is, so let's just let them think you're fancy like that.
If you make this, be sure and tag me on Instagram and hashtag #thewheatlesskitchen! I love to see your creations!
Roasted Carrot & Leek Soup
Ingredients
7 large carrots
2 large leeks
3-4 garlic cloves
1/2 tsp salt
1/2 tsp black pepper
2 tbsp extra virgin olive oil
4 cups vegetable broth
optional toppings: parsley, chopped nuts or seeds, vegan sour cream, goat cheese, etc.
Instructions
Preheat the oven to 400 degrees.
Cut the ends and most of the greens off of the leeks, then chop them and place them in a large colander. Rinse all of the dirt off that gets stuck inside all of those inner layers. Place on a towel and let dry.
Roughly chop up the carrots and dice up the garlic cloves. Place the carrots, leeks and garlic on a lined baking sheet, drizzle with olive oil and season with a pinch of salt and pepper. Roast for 30-40 minutes, until the carrots are lightly golden brown.
When done roasting, scoop all of the vegetables into a blender, add the broth, and blend until smooth. Add more salt and pepper to taste, if needed.
To serve, spoon into bowls, and top with your desired toppings.
https://www.thewheatlesskitchen.com/roasted-carrot-leek-soup/