Millet Salad with Roasted Butternut, Kale, Walnuts & Tahini Dressing
This dish is comfort food to the max, in my opinion. It is warm, hearty, offers several different textures and flavors, and contains tons of nutrients. It's basically a hug in a bowl.
Millet has quickly become one of my new favorite gluten-free grains. I will never completely steer away from my beloved quinoa, but sometimes a girl needs a little bit of a change, and millet was just what I needed. Millet is a super healthy grain that contains lots of plant-based protein and fiber, and can be used in sweet or savory dishes. It cooks in the same way that you would prepare quinoa or rice, so it is simple to make.
I thought it was only natural to pair it with subtly sweet butternut squash (my fav squash!). I can't seem to get enough butternut squash lately, Kenny and I have been eating it like it's going out of style. You can see the results of my obsession with butternut here, here, here, here and here. And that's not even all of them. Don't judge me.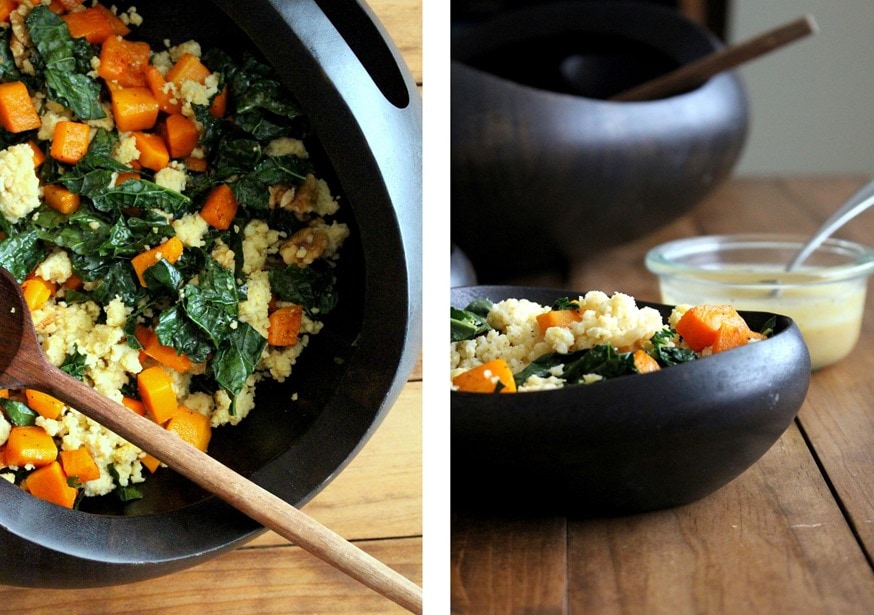 And then of course, I wouldn't be me if I didn't throw in some greens for good measure. I wanted something that was sturdy enough to stand up to the grains and tougher vegetables, so kale it is. OH, and the crunch from the walnuts cannot, I repeat, cannot be skipped. I just love how all of the different savory flavors and textures come together in this dish.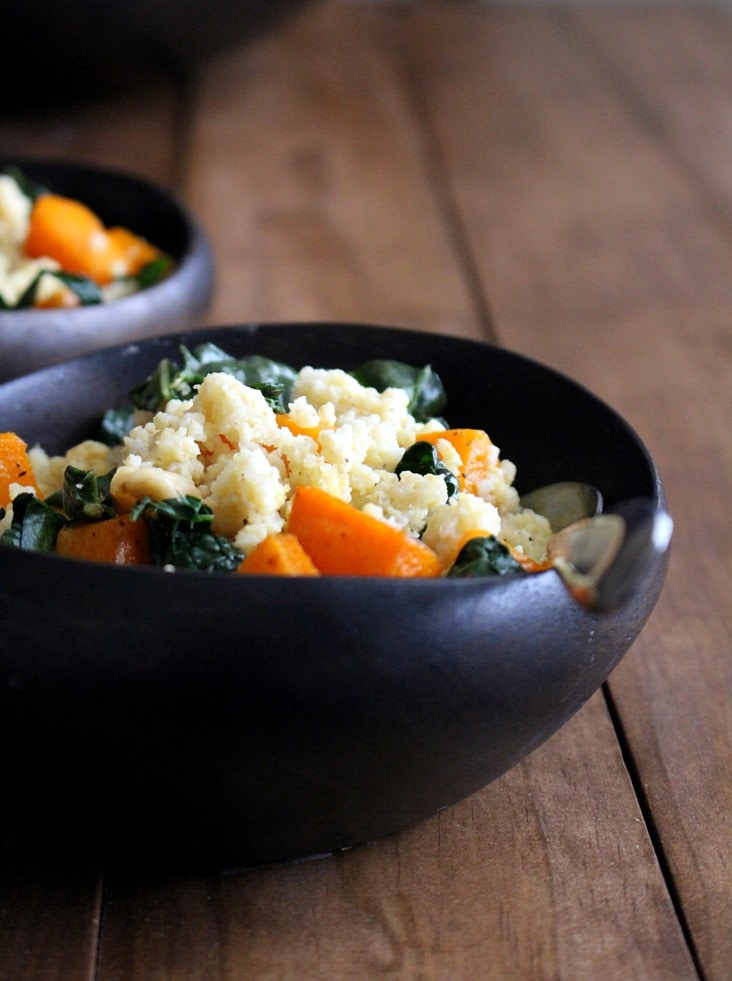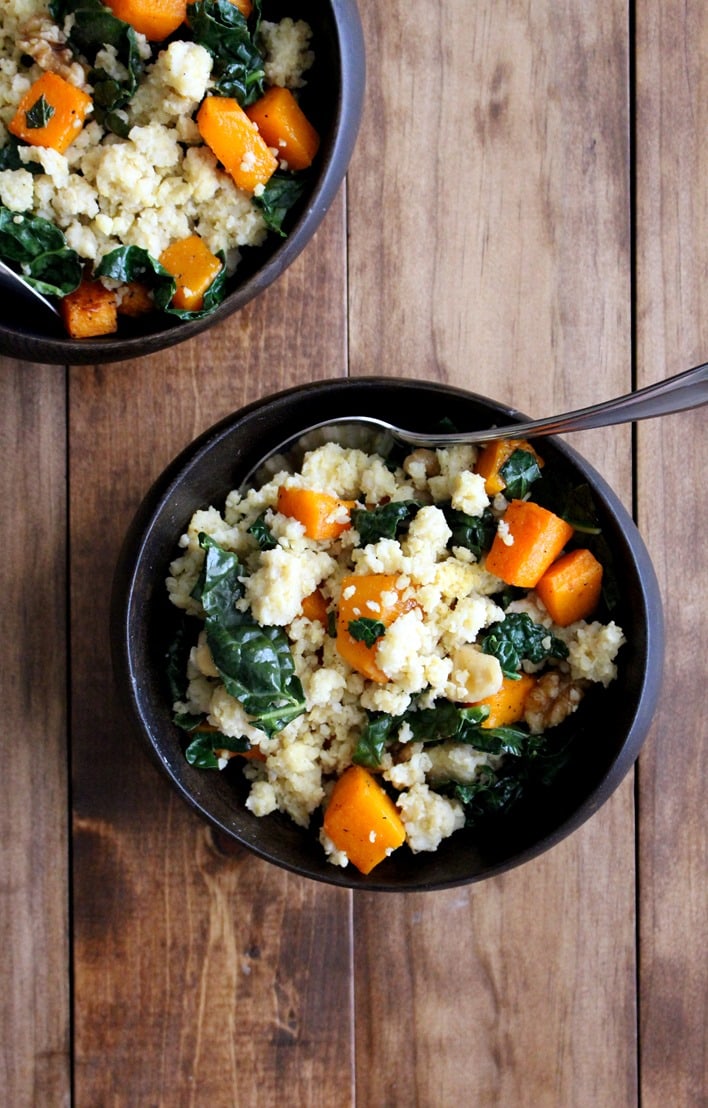 Then you go and lightly dress it with this BOMB dressing, and you get that oh-my-gosh-this-is-the-best-salad-slash-grain-bowl-concoction-I've-ever-had feeling. Or at least I had that feeling. And so did Kenny, so I'm hoping you will too!
p.s. for and extra flavor explosion in your mouth, crumble some goat cheese on top. OH MY GAH.
Millet Salad with Roasted Butternut, Kale & Walnuts
Ingredients
1 cup millet (uncooked)
3 cups water
2 whole garlic cloves, skins removed
1/2 tsp salt, divided
1/2 tsp black pepper, divided
juice of half a lemon
1 large butternut squash (peeled, seeded and chopped)
1-2 tbsp extra virgin olive oil
3/4 cups walnuts
2 cups kale, chopped

Lemon Tahini Dressing

3 tbsp tahini
1 tbsp lemon juice
1-2 tbsp extra virgin olive oil
1-2 tbsp water
pinch of salt and pepper
1 tbsp honey
Instructions
In a medium saucepan, combine the millet, water, garlic cloves, juice of half a lemon, and a pinch of salt and pepper. Cover and bring the water to a boil. Once boiling, reduce heat to low and let it simmer for 40-45 minutes, until all of the water is dissolved. Fluff with a fork and set aside.
Preheat the oven to 400 degrees. Place the chopped butternut squash on a lined baking sheet. Drizzle 1-2 tbsp of olive oil, and season with a pinch of salt and pepper. Toss to coat, and roast for about 30-35 minutes, until cooked through and slightly golden brown.
In a skillet over medium heat, add 1-2 tsp olive oil, and saute the kale until slightly wilted.
To assemble the salad, combine the millet, butternut and kale in a large mixing bowl. Add the walnuts and toss to combine.
To make the dressing, whisk together the tahini, lemon juice, water, salt, pepper and honey. Stream in the olive oil while whisking to complete the dressing. Pour the dressing over the salad and toss again to combine.
Serve and enjoy!
https://www.thewheatlesskitchen.com/millet-salad-roasted-butternut-kale-walnuts-tahini-dressing/