Butternut Squash Puree with Chipotle Chickpeas
Butternut squash is one of my all time favorite fall vegetables. It always hits the spot. I love how it is sort of sweet and savory at the same time.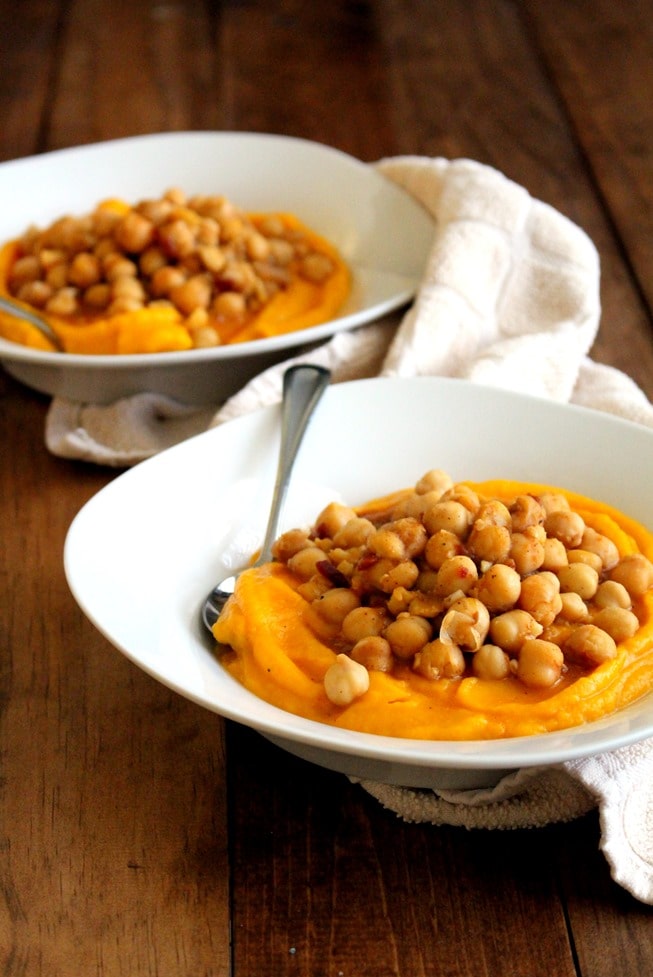 My original thought for this recipe was to just leave the squash in small pieces, roast it and combine it with the chickpeas with spices, sort of like a curry dish or thick stew. But, then for some reason I pulled an audible and decided to make it into a smooth puree and top it with the spicy chickpeas. It seemed kind of strange to me at first, but it works.
The subtle sweetness and creaminess from the butternut goes really well with the spicy chipotle chickpeas. I love that it's so creamy, warm, and SO fall-like! It will fill you up and satisfy any fall craving. Although butternut is normally my favorite, you could always get a little crazy and use another squash if you want. Acorn, kabocha,whatever floats your boat. Oh oh oh! I bet sweet potatoes would even be great!
Make this, sit out in the crisp fall weather, and soak it all in. I think I'm going to need a giant spoon so that I can shovel this into my pie hole.
Butternut Squash Puree with Chipotle Chickpeas
Ingredients
Butternut Puree

2-21/2 cups butternut squash (peeled, seeded and cubed)
1-2 tbsp extra virgin olive oil
pinch of salt and black pepper
2 tbsp unsweetened almond milk
1 tbsp butter (I used Earth Balance vegan butter)

Chipotle Chickpeas

1 can chickpeas, rinsed and drained
1 chipotle pepper in adobo + 1 tbsp adobo sauce
2 cloves garlic, diced
1 cup vegetable stock
pinch of black pepper
Instructions
Preheat oven to 400 degrees. Line a baking sheet with parchment and lay the squash on the baking sheet. Toss with olive oil, salt and pepper. Roast for about 20-25 minutes, until soft.
Remove from oven and scrape all of the squash into the food processor, add the butter and milk. Pulse until it turns into a smooth puree. Season with more salt and pepper if needed.
Make the spicy chickpeas by preheating a saucepan over medium-high heat. Finely chop the chipotle pepper and add the chickpeas, chipotle, adobo sauce, garlic, stock and pepper to the saucepan. Cover and bring to a low boil. Once boiling, turn the heat down to low and let it simmer for about 5 minutes, it will thicken up just a bit.
To assemble, spread the puree onto a plate, and top with the chickpeas. Garnish with parsley if desired.
https://www.thewheatlesskitchen.com/butternut-squash-puree-chipotle-chickpeas/