Lentil Stew with Tomatoes & Kale
We're still having random days of cold weather. I THINK it's almost over, but who knows. Apparently, this week is supposed to bring us warmer temps. Like up to the 70s and 80s. Whaaaa?! I feel like I'm going to get way too excited and then mother nature is going to laugh in my face and bring us more cold. That would be my luck.
Anyhoo. Cold days call for stew. Lentil stew, to be exact. I got the inspiration for this recipe from A Couple Cooks. From the moment that I saw it on their blog, I knew that I had to make it. I only tweaked a few of the ingredients and omitted the artichokes, and it turned out to be amazing. I've made several recipes from their site, and am impressed every time. A Couple Cooks is definitely one of my favorite blogs, the recipes are awesome and the couple behind it are just the cutest.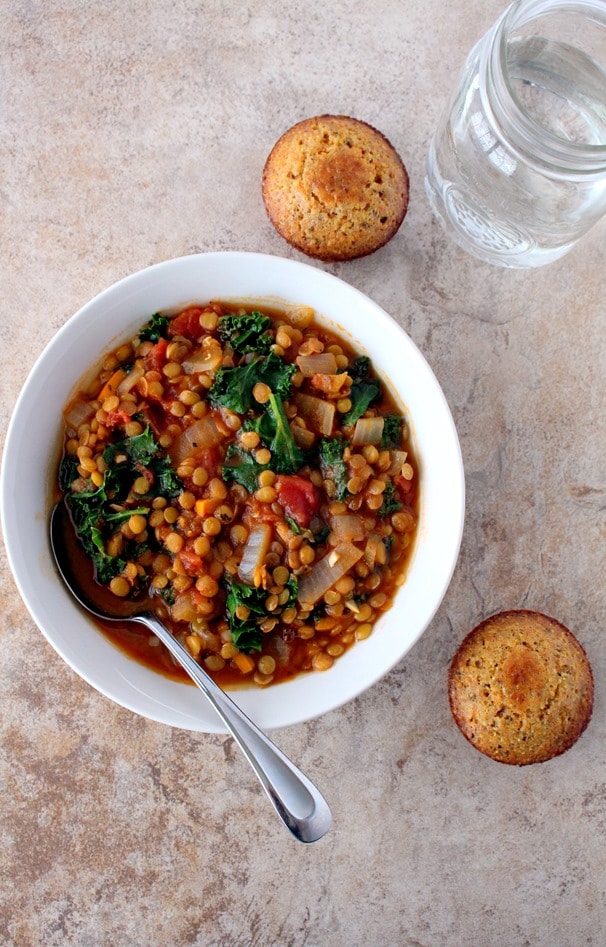 Flavored with a few Italian herbs and spices, this stew is earthy, hearty, and filling. And as a bonus, lentils are a completely protein, great for all of my vegetarian and vegan friends out there. Served alongside my corn muffins or paleo rolls, THIS is a winner. Thanks Sonja and Alex!
Lentil Stew with Tomatoes & Kale
Ingredients
1 ¼ cup uncooked lentils
1 yellow onion, diced
3 cloves garlic, minced
2 tablespoons olive oil
1 tablespoon dried oregano
1 tablespoon dried basil
2 cups water
4 cups vegetable broth
¼ teaspoon crushed red pepper
1 teaspoon kosher salt
1 28-ounce can fire roasted whole tomatoes
½ bunch kale, chopped
Instructions
In a large soup pot, heat 2 tablespoons olive oil over medium heat and saute the onion for 5 minutes, until soft and translucent. Add the garlic, oregano and basil. Saute for another minute.
Add the lentils, 2 cups of water, vegetable broth, crushed red pepper, salt, pepper and can of tomatoes. Use a wooden spoon to break up the whole tomatoes a bit.
Bring to a boil, once boiling, reduce to a simmer and cover. Let it simmer for about 20-25 minutes, until the lentils are tender.
Add the kale, stir, and let simmer for another 5 minutes or so.
Serve with a drizzle of olive oil and enjoy!
https://www.thewheatlesskitchen.com/lentil-stew-tomatoes-kale/