Gluten-Free Travel -> California Coast Road Trip [Part 2]
I'm back with more details about our California road trip! You can check out the first part of our trip here.
So, we left off with the crazy story about Kenny losing his wallet ON THE SIDE OF A MOUNTAIN, and how a Heaven sent angel named Caroline found it and got it back to us. That was a ridiculously eventful day, and all I wanted to do was sleep. We stayed in the cutest hotel called the Carmel Mission Inn. It was quaint, cute, and had that Carmel charm.
We woke up a decent time the next morning because we wanted to explore the city of Carmel before we got back on the road to go to San Fran. I wish we could have stayed in Carmel longer because I LOVED it. In my opinion, it was by far the cutest town that we drove through. The town has sort of a European-style to it, and has tons of shops, restaurants, art galleries, adorable hotels and amazing houses. We just happened to wander onto a street called Scenic Road. And let me tell you, the view from this road was breathtaking. And don't even get me started on the gorgeous houses. I went ahead and made an executive decision (and later informed Kenny) that we are definitely going to make it our life goal to buy one of those amazing houses on Scenic Road and retire there. Oh yes, that's happening.
I mean, just look how at how pretty it is. I easily could have stood there and stared at the ocean all day long.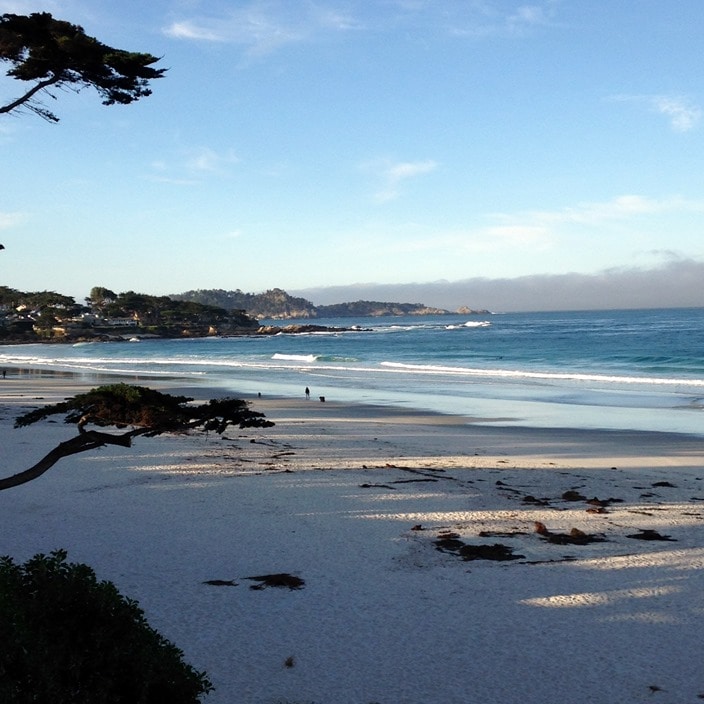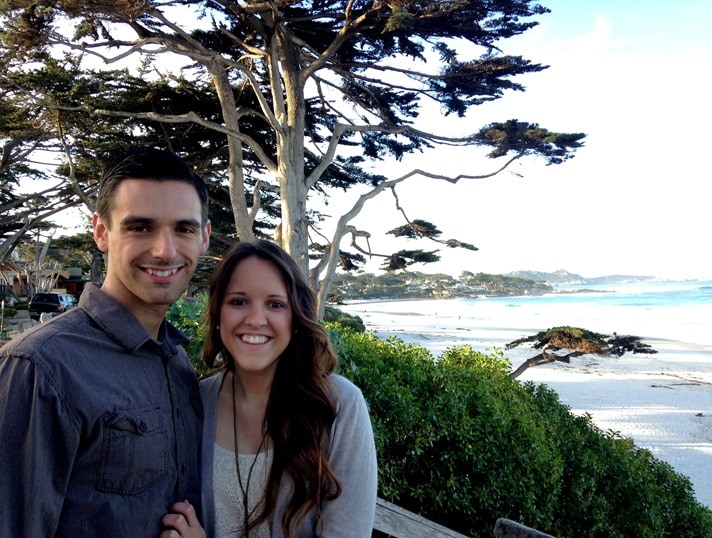 On the way out of Carmel, we took the 17-Mile Drive on the way to Monterey. You can get to Monterey a lot faster, but the 17-Mile Drive takes you all the way around the Monterey Peninsula. And again, the coastline was completely amazing.
We stopped and had breakfast at Trailside Café & Coffee House. They don't have a separate gluten free menu, but they did have a good amount of gluten choices. They assured us that our entrees were not cooked amongst the gluten-full foods. I got the huevos rancheros with black beans (and of course coffee), and Kenny got an omelet that was stuffed with greens and goat cheese with a side of potatoes. It was all delicious.
And finally, we set out on our last leg of the drive, to San Francisco. When we arrived, we drove straight to the Golden Gate Bridge. We drove over the bridge and stopped at the Golden Gate Park on the north side to get out and walk around. There were a TON of tourists out there just snapping away with their cameras. You get a really cool view of San Francisco from the north side of the bridge. Oh, and on a side note, here's a small bit of girl advice. If you ever visit the GG bridge and decide to walk out onto it, just know that it is WINDY. So, if you have long hair, put it up. I learned the hard way.
After the bridge, we were ready for lunch. We ate at Pica Pica Maize Kitchen, and it was so great. It is a 100% gluten free restaurant, and it was on Diners, Drive-ins & Dives!! So cool. Anyhoo, their arepas are to die for, seriously, they are like little corn pillows of love. I got the grilled chicken, and Kenny got the pulled pork. Both were delicious. Their plantain chips and guac are awesome too.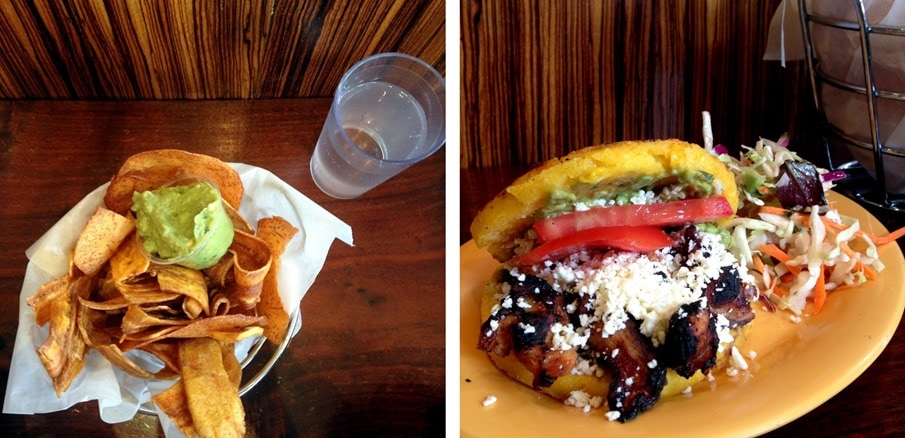 After lunch, we started to just drive around and explore the city. Overall, I liked San Francisco, but it was definitely a little chaotic and overwhelming in certain parts. We are from Houston, so we can handle traffic, but this was like Houston traffic on steroids. Once we figured out the different areas of the city, and what areas we liked and didn't like, we were a little more at ease. I'm not sure of exactly what I was expecting San Fran to be like, but it definitely wasn't that. This city was so different from pretty much anything I've ever seen, and it was a cool experience.
That night, we ate dinner at Minako Organic Japanese. And this was probably one of my favorite restaurants, and not just because the food was awesome, but also because of the service. The owner of the place is hilarious, quirky and super helpful. She makes you feel at home and treats you like family. I told her about my allergy, and she actually handed me an envelope FULL of recommendations for places around the city that were gluten free-friendly! And they were all from other celiacs! So you know it was legit. She said that she always asks the locals with gluten allergies for restaurant suggestions to tell the tourists about. It was SO nice.
We got miso soup, a salad, and a couple of rolls to share. The rolls are massive, and we were stuffed when we left. It was some of the best sushi I've ever had.
The next morning, we ate breakfast at the Beach Street Grill, and had their gluten free pancakes. They were completely amazing, and we were both questioning the fact that they were actually gluten free. They were that good. The waiter told us that they are not cooked on the same surface as the regular pancakes. I was so in love with them that I asked the waiter what they were made with because I wanted to come home and recreate them. So he went to go ask the chef, aaaaaand he came back with a box of gluten free Bisquick. Whaaaa? Well, they were delicious, but I'll make mine with more whole ingredients. Hopefully I can get them to taste that good.
For lunch, we ate at this cute little burger spot called Greenburger's. It's kind of funky, I really liked the atmosphere. The burgers were delicious and they have gluten free buns. They will even make the french fries in a separate fryer to keep them away from other fried things.
We walked around Fisherman's Wharf and Ghirardelli Square, which was fun. I just wanted ALL the chocolate things. Inside Ghirardelli Square was a cute little cupcake shop called Kara's Cupcakes, and they had a couple of different GF cupcakes. Of course, we HAD to get one.
We also walked over to Lombard Street, and it is definitely as crooked as you would expect. Walking the hills in SF is no joke, we definitely burnt off the calories from that pesky cupcake.
After we saw all of the areas of SF that we wanted to see, we decided to drive north over the bridge again and head into the woods. We went into the Muir Woods and down to Muir beach. It was overcast out there, but it was still really pretty.
For dinner, we ate Basil Thai, which was one of Kenny's favorite meals of the trip. It was definitely delicious. They had a separate gluten free menu, and took special care with the preparation. We both got a stir-fry type of dish with a side of brown rice, and both were awesome. My was chicken and Kenny's was beef. I tried to get a picture, but it was so dang dark in there that you can hardly even tell what the food is.
Oh heyyyyyy!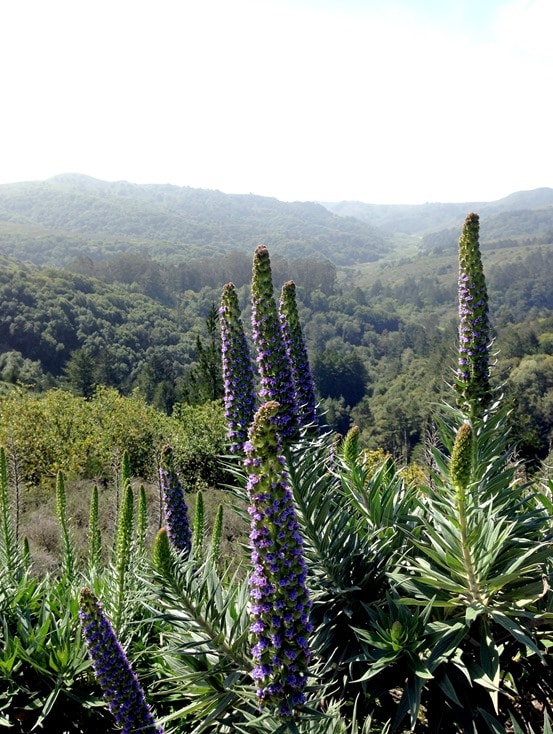 Phew! I'm sorry for being so long winded in both of these posts about the trip, but we had so much fun and I just had to tell you about it! If you made it all the way to the end of these posts, congratulations. You get a cookie.