[Grain-Free] Baked Glazed Vanilla Donuts, 2 Ways!
You guys, I have to apologize. I told you that I was going to post this donut recipe yesterday, but I didn't. I promise I have a good excuse though. I went out to lunch with friends, and it happened.  That evil gluten got me. It punched me in the face, poisoned me, and took my guts captive for a while.
Okay fine, I'll spare you the details, let's just say I was sick and felt too crappy to write up a post. But I'm coherent enough now to at least sit up in bed with my laptop for long enough to type a few things. Let's get to it…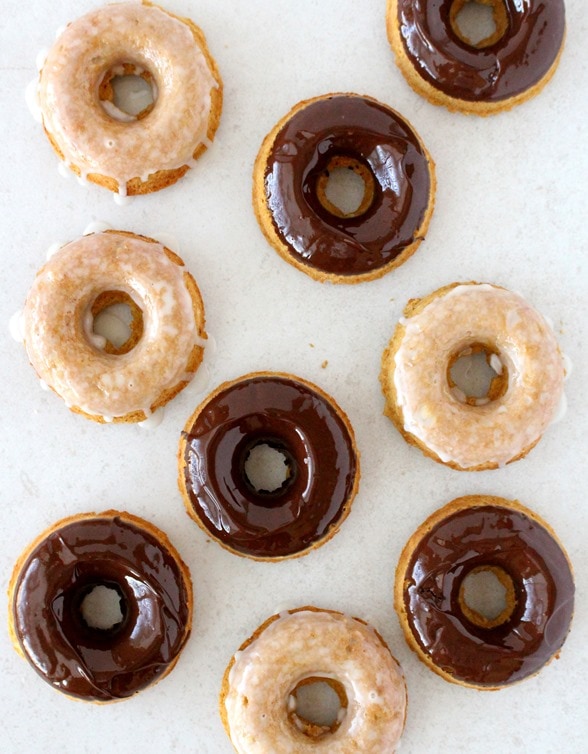 I can't even remember the last time I had a donut, that's just sad. But not to fear, I recently got a donut pan, and I think I may be obsessed. There is a good chance that we are going to have a never ending supply of donuts in our kitchen, not that Kenny would complain about that.
Dessert has always been one of my favorite things, and dessert for breakfast is even better. When Kenny was a kid, during his elementary school days, he and his grandma would go to Shipley's Donuts almost every day. He would get four chocolate iced donuts(yes, FOUR!), a dozen donut holes and chocolate milk. At nine years old. He was a machine. An unhealthy little machine. Now that he's older and wiser (read: I have drilled healthy eating into his poor little head), he won't touch a donut like that.
Until today, enter Candace. A.K.A. donut healthify-er.
I think we may have created a beast.
Two of my favorite flours to bake with are almond and coconut flour, so of course I had to use a combination of those to make these sweet treats. These donuts are moist and fluffy. Sweet but not too sweet. Grain, dairy and refined sugar-free. And the best part, you can whip them up in about 20 minutes. And and and, we're going with a bit of variety today with two different glazes. Heck to the yes. It's time to get a donut pan, my friends.
p.s. Please ignore my dry alligator hands, homegirl needs some hand lotion.
[Grain-Free] Baked Glazed Vanilla Donuts, 2 Ways!
Ingredients
1/2 cup almond flour
1/2 cup coconut flour
1 1/2 tsp baking powder
1/3 cup unrefined coconut sugar
4 eggs
3 tbsp coconut oil (melted)
2 tsp vanilla extract
3/4 cup unsweetened vanilla almond milk

Chocolate Glaze

1/2-3/4 cup Enjoy Life

Sweet Vanilla Glaze

3/4 cup powdered stevia (or powdered sugar)
1 tsp vanilla extract
2 tbsp almond milk, more as needed
Instructions
Preheat the oven to 350 degrees.
Combine all of the donut ingredients in a large mixing bowl, and whisk until evenly combined.
Spray your donut pan with non-stick cooking spray, and pour batter into the pan. This batter may be a bit thick, so you might have to spread the batter into the pan with your fingers or a spoon.
Bake for 11-13 minutes, until lightly golden. Remove from the oven and flip the pan over to drop the donuts onto a metal cooling rack.
Let cool for 10 minutes before glazing.
In a small bowl, melt the chocolate chips over a double boiler or in the microwave.
In a second small bowl, whisk together all of the vanilla glaze ingredients until smooth. If you need more liquid, add milk a teaspoon at a time until you have your desired consistency.
Once donuts have cooled slightly, one at a time, carefully dip a donut into the chocolate glaze and lightly swirl it around to coat the top. Repeat for the rest of the donuts. Half for the chocolate, and half for the sweet vanilla.
Notes
*I used a standard donut pan, but you could also use a mini donut pan, just reduce the bake time to 7-8 minutes.
https://www.thewheatlesskitchen.com/grain-free-baked-glazed-vanilla-donuts-2-ways/