[Grain-Free] Chocolate Baked Donuts & Peanut Butter Maple Glaze
Donut day! Donut day! Donut day! IT'S NATIONAL DONUT DAY!
Let's celebrate.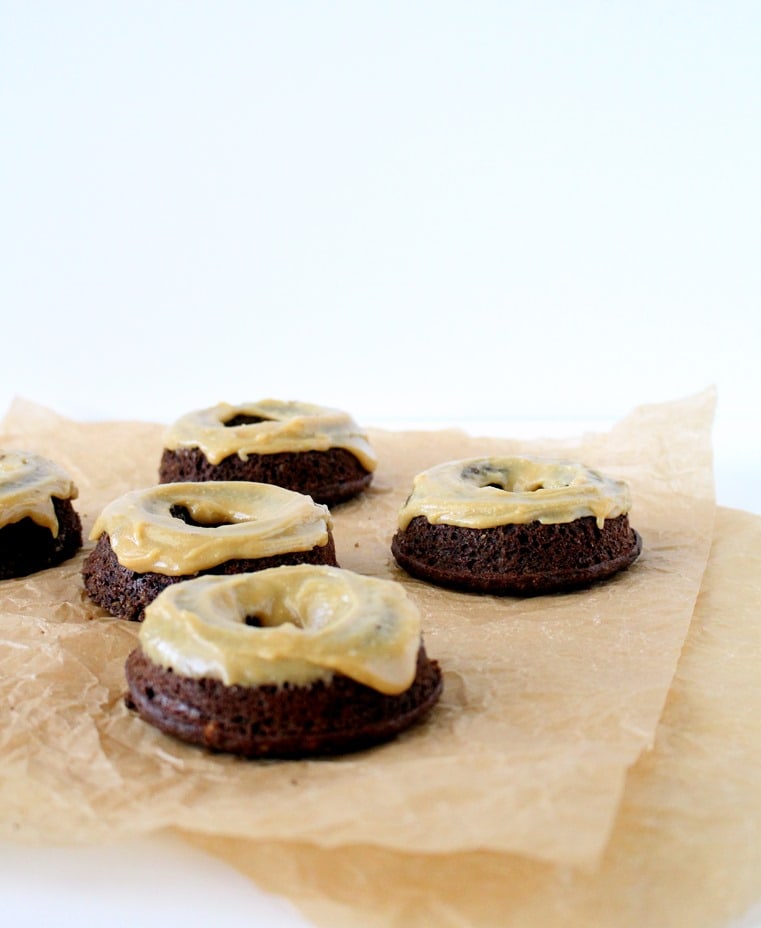 When I saw that there were SO many other bloggers contributing tons of amazing donut recipes to National Donut Day, I knew I had to get in on that action. I mean, check out all of the deliciousness that has happened this week…
Molly's biscuit donuts
Stephanie's waffle iron donuts
Melissa's mix and match donuts
Ashley's samoa donuts AND savory donuts
Billy's peanut butter oreo donuts
I could go on all day, all of these amazing donut creations are blowing my mind. It has been a good week.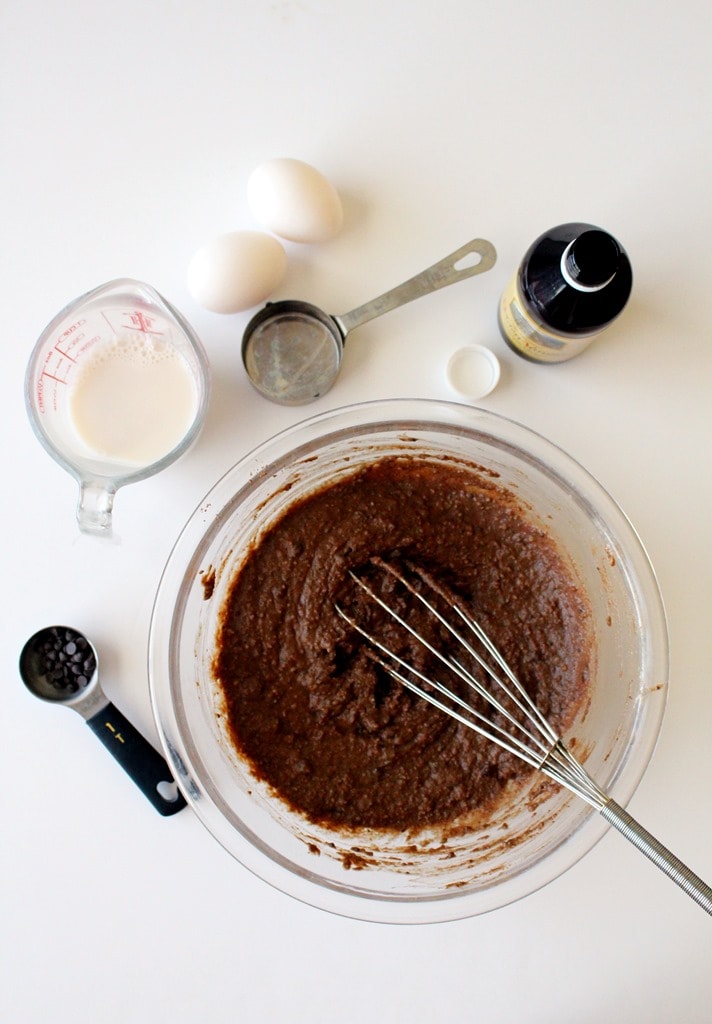 Now, I'm sure it's no surprise that I prefer my donuts baked instead of the fried variety. Fried foods make me feel a little sick, and I don't want to feel sick after eating a glorious, tasty donut. There have been all kinds of crazy donut creations all week long, but I wanted to keep my on the simple side, with a bit of a twist.
I decided to basically make a peanut butter cup donut. Whaaaa?! Now, this is obviously not revolutionary, so I added some maple syrup to the PB glaze. Oh yes, I did. Hallelujah. I think the angels are singing.
The addition of the maple syrup in the glaze really sets it over the top. I think PB and maple were just meant to be, almost as much as PB and chocolate. Don't tell chocolate I said that.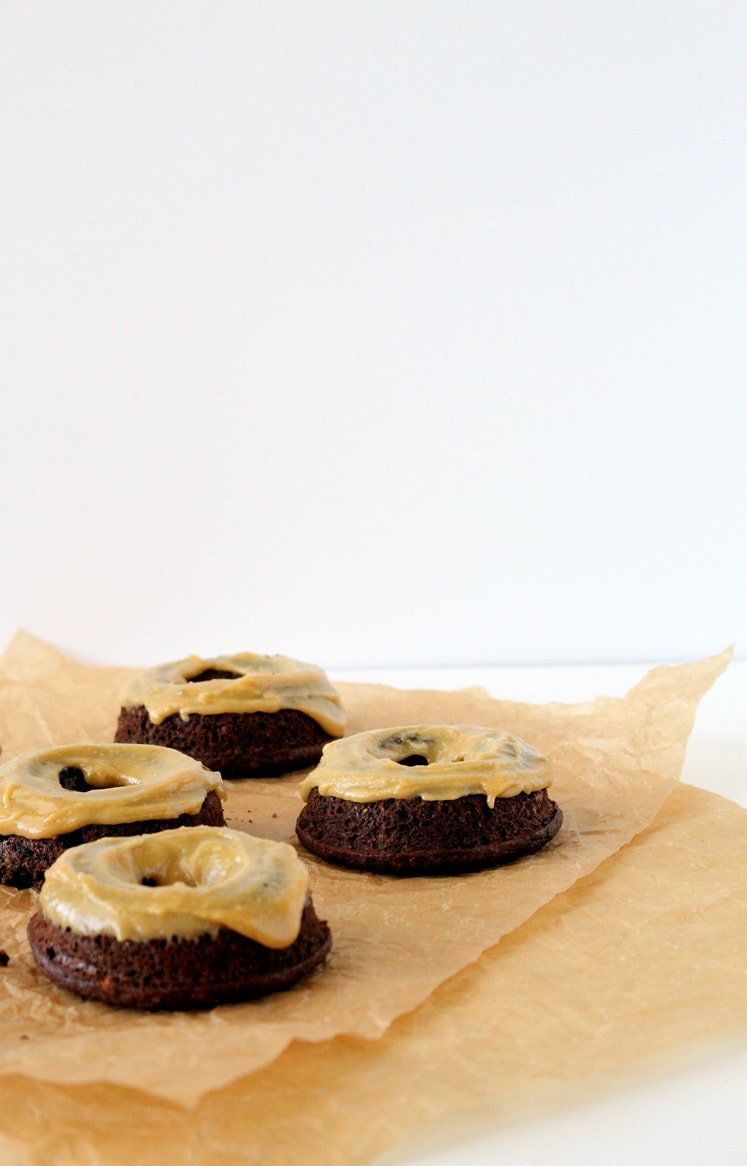 These little bites of Heaven are completely grain-free and made with natural sources of sugar. Does that mean we can have more than one? I think so.
[Grain-Free] Chocolate Baked Donuts & Peanut Butter Maple Glaze
Ingredients
1/2 cup almond flour
1/4 cup coconut flour
1/4 cup cacao powder
1/4 cup coconut sugar
3 tbsp chocolate chips or chopped dark chocolate (I used Enjoy Life)
1 1/2 tsp baking powder
2 large eggs
1 tsp vanilla extract
3 tbsp coconut oil, melted
3/4 cup unsweetened almond milk

Glaze

2 tbsp powdered stevia (or powdered sugar)
2-3 tbsp real maple syrup
2 tbsp creamy peanut butter
Instructions
Preheat oven to 350 degrees. Lightly spray your donut pan with cooking spray.
In a large mixing bowl, whisk together all of the donut ingredients, until evenly combined. Gently spoon the batter into the donut molds, filling only about 1/2 to 3/4 of the way up.
Bake for 12-15 minutes. Remove from oven and let cool in the pan for 2-3 minutes. Then gently turn the donut pan upside down onto a cooling rack. Remove pan and let donuts cool on rack for at least 10 minutes.
In the meantime, make the glaze. In a small bowl, whisk together all of the glaze ingredients until smooth.
To glaze the donuts, gently spoon the mixture onto the top of the donuts, smearing it all around with the spoon.
https://www.thewheatlesskitchen.com/grain-free-chocolate-baked-donuts-peanut-butter-maple-glaze/