Dairy-Free Vegetarian Lasagna
This Dairy-Free Vegetarian Lasagna is a healthier version of your favorite traditional recipe! Layered with gluten-free lasagna noodles, melty vegan cheese, thinly sliced zucchini, and a flavorful vegetarian sauce. It is a perfect comfort food dish for the whole family.
Who says you can't have lasagna when you have to cut out gluten and dairy from your diet? Not me, that's for sure! There are SO many amazing options for gluten-free noodles and dairy-free cheeses out there these days. I have done lots of trial and error with both, and I think I've got a great option for you when you're craving a comforting meal.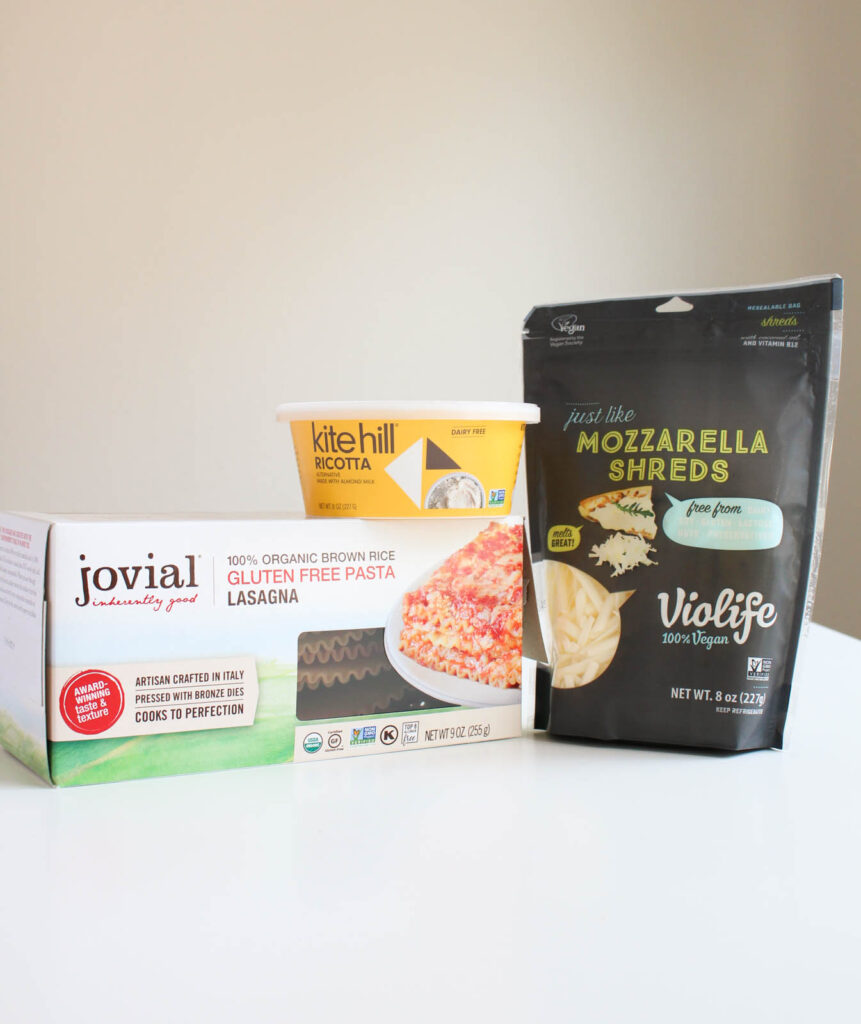 Lasagna is typically thought of as heavy and not so healthy, but you can easily change that with very small tweaks. Just add in some extra veggies to the mix, and you are automatically adding lots of fiber, vitamins, and minerals, without sacrificing flavor. I layered in thinly sliced zucchini and squash between the noodles, cheese, and sauce. And it only adds to the flavor!
You can also be sneaky and add extra veggies to the sauce by finely chopping up mushrooms and using them as you would ground meat in a meat sauce. They add amazing meaty flavor, and a little more substance and thickness to the sauce. It is a very similar texture to meat sauce, without the meat!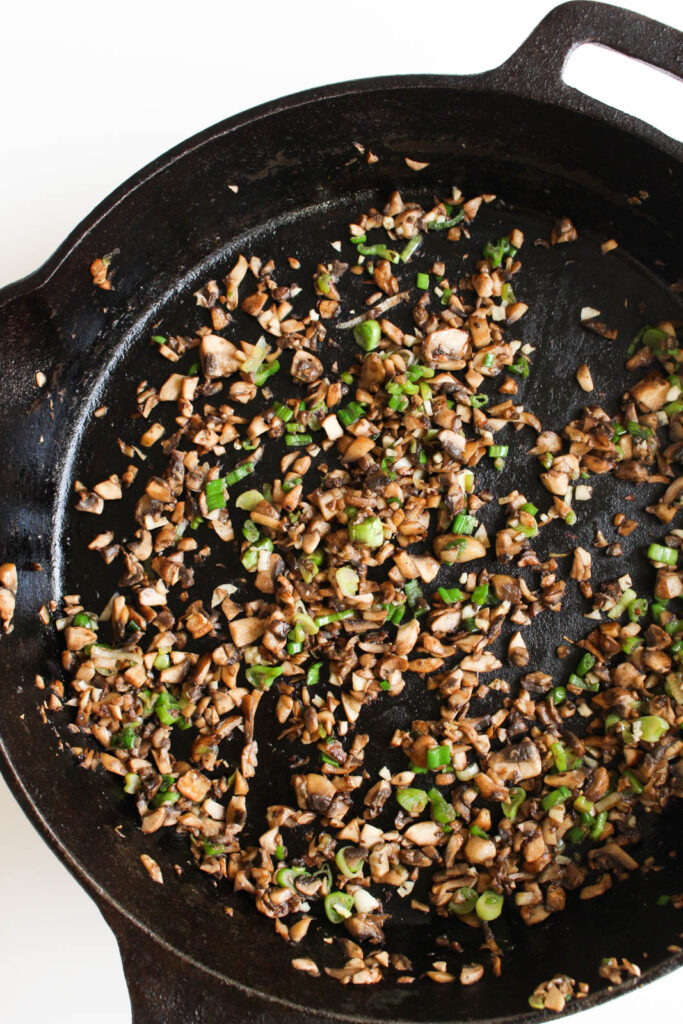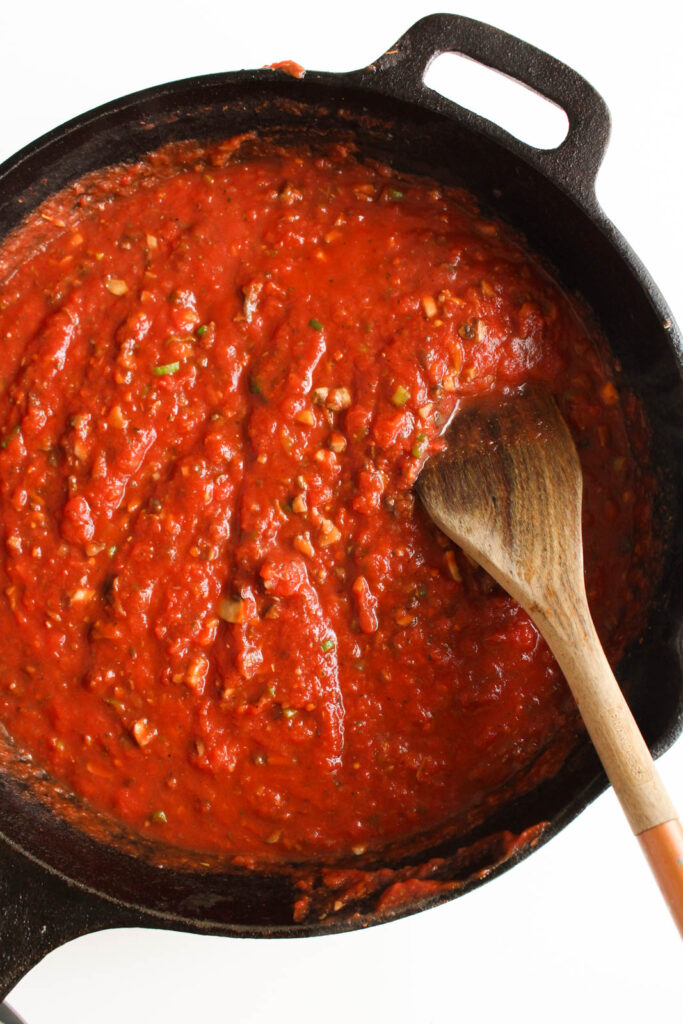 DAIRY-FREE VEGETARIAN LASAGNA INGREDIENTS ->
GLUTEN-FREE LASAGNA NOODLES – I used Jovial lasagna noodles because I love that you don't have to do the extra step of boiling them first. Less work, and they are delicious!
CANNED CRUSHED TOMATOES – You make the vegetarian "meat" sauce with this, it is SO easy to jazz up a can of tomatoes with lots of herbs and spices.
ZUCCHINI & SQUASH – Thinly slice the squash to layer it between the noodles and gooey cheese.
VEGAN MOZZARELLA – You HAVE to have mozzarella in lasagna, and Violife is one of the best vegan mozzarella options I have found. It melts beautifully.
VEGAN RICOTTA – Ricotta is also often used in lasagna (if you're not doing a beschamel sauce), it gives that thick creamy consistency next to the sauce. Kite Hill recently came out with a ricotta that is amazing in this recipe!
VEGAN PARMESAN – I used the Whole Foods 365 brand, but you can use whatever brand you want. This one is fine, and you don't have to use much parmesan.
MUSHROOMS & GREEN ONION – These are both in the sauce, and they give so much flavor to the dish. The mushrooms are used in place of meat for a "meaty" sauce, and they give a really great texture.
SPICES & HERBS – You know I don't play around when it comes to flavor. You are going to be putting lots delicious spices and herbs into the sauce.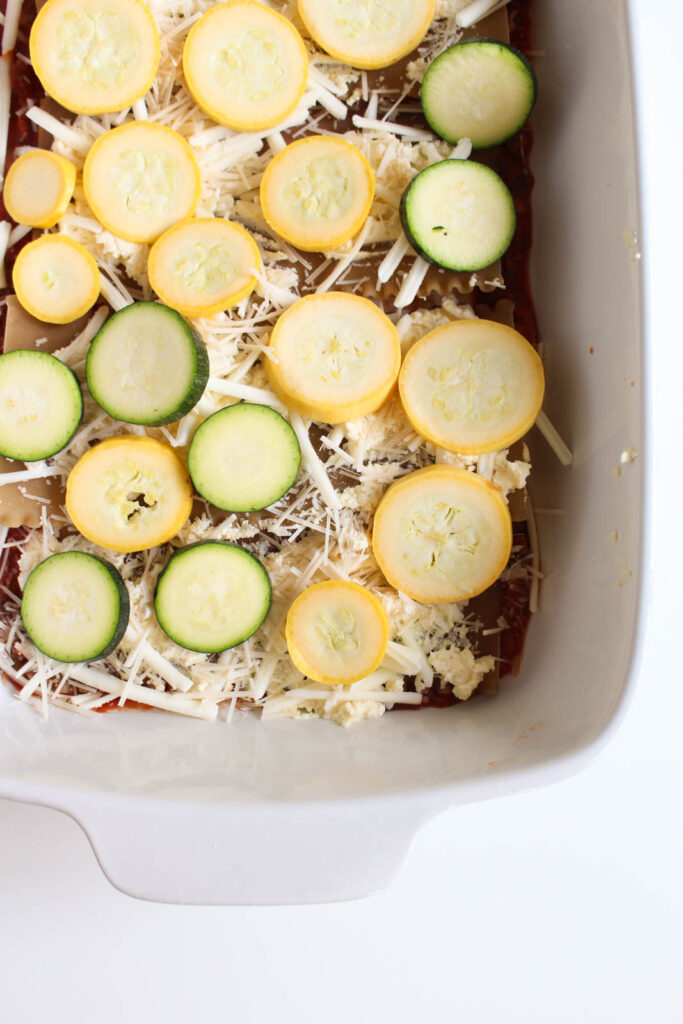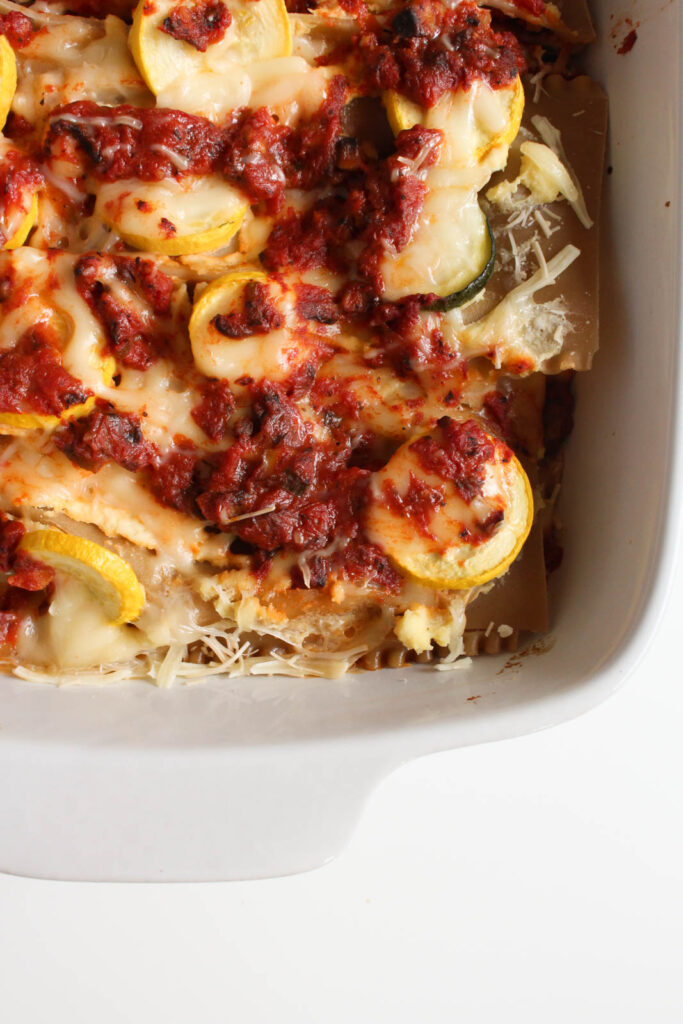 HOW TO REHEAT & STORE LASAGNA ->
REHEAT – I always just reheat mine in the microwave for 1-2 minutes on a microwave safe plate. You can also do it in the oven, it will just take a bit longer.
FRIDGE – Lasagna will last in the fridge for up to 5 days, just make sure it is covered with foil or a lid.
FREEZER – You can do this two ways. If you want to freeze it before baking, just assemble it, cover it with plastic wrap and foil, and it will last in the freezer for up to 3 months. Or you could bake it first, then store it the same way in the freezer. To thaw, just set it in the fridge for at least 24 hours to thaw, and then remove the plastic wrap to reheat it in the oven at 350 degrees.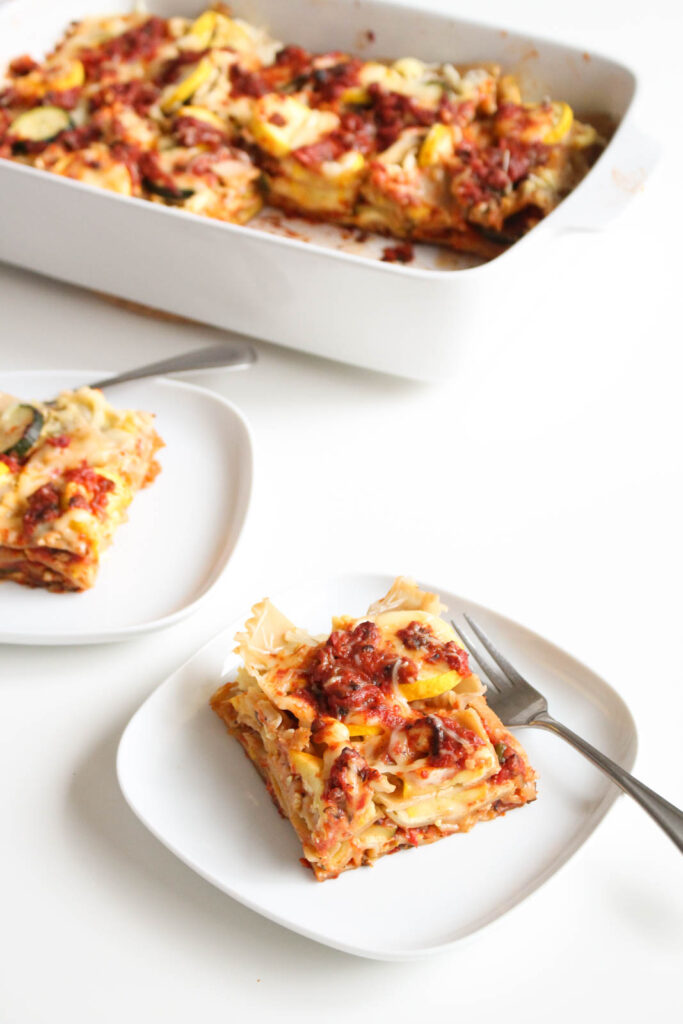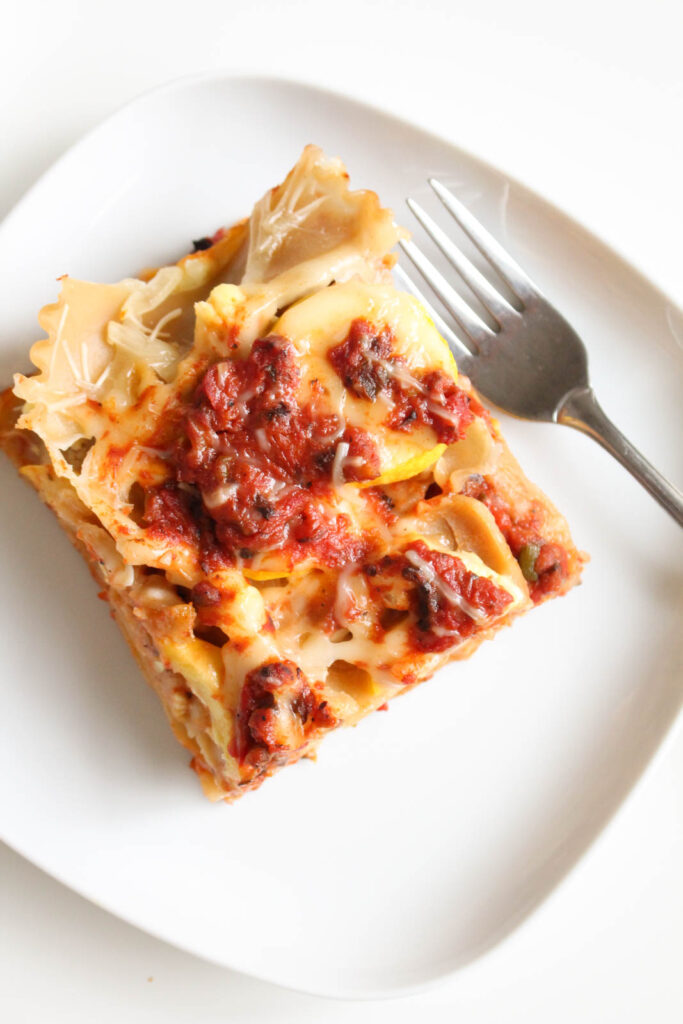 You are in for a treat with this delicious vegetarian lasagna! It is comforting, healthy, and so satisfying. Lasagna can sometimes seem intimidating, but it really is easier than you think. This is perfect for an amazing Sunday family dinner!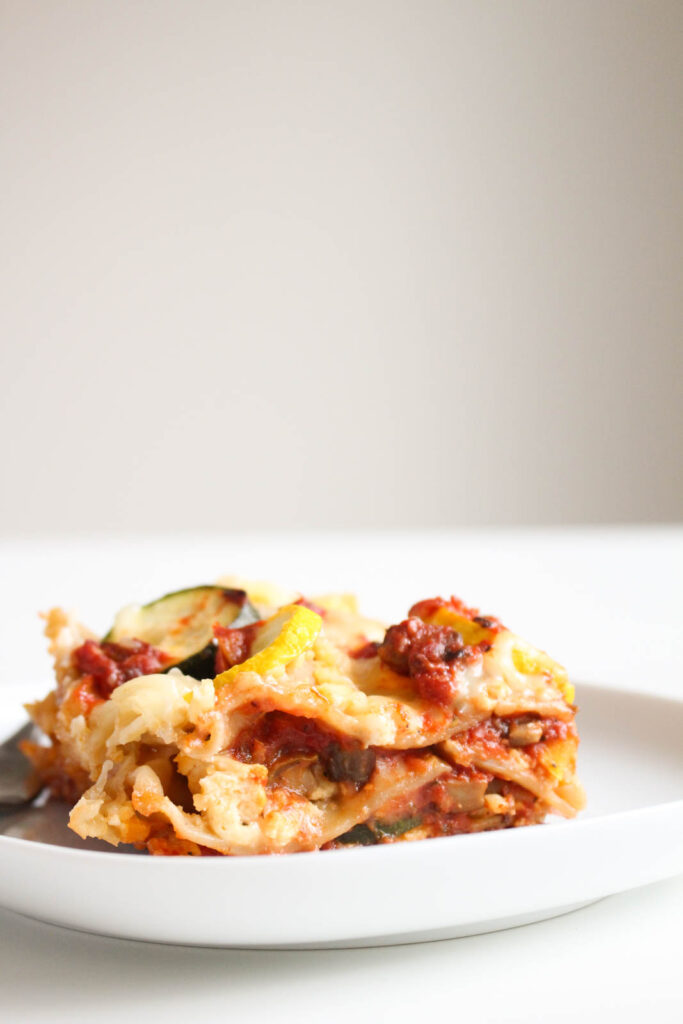 Looking for more dinner ideas?
FOLLOW ALONG! Subscribe to my newsletter and follow along on Facebook, Instagram, and Pinterest for my latest recipes!
Dairy-Free Vegetarian Lasagna
Ingredients
1

package gluten-free lasagna noodles

(I used Jovial)

3

zucchini

, thinly sliced

2

yellow squash

, thinly sliced

1

(8oz)

bag vegan mozzarella cheese

(I used Violife Foods)

½

cup

dairy-free parmesan

1

package

dairy-free ricotta

(I used Kite Hill)
Sauce
1

(28oz)

can crushed tomatoes

8

oz

mushrooms

, finely chopped

1

bunch

green onions

, finely chopped

3

cloves garlic

, finely chopped

2

tbsp

extra virgin olive oil

¼

tsp

salt

1

tsp

dried basil

½

tsp

dried oregano

pinch of black pepper
Instructions
Preheat the oven to 350 degrees.

I used noodles that you don't have to pre-boil. But if you have noodles that need to be boiled first, then follow package instructions. 

In the meantime, make the sauce. Preheat a deep skillet or pot over medium heat, add the olive oil, garlic, onion, and mushrooms. Saute for 4-5 minutes, until the mushrooms start to turn a darker brown. Next, add all of the seasonings and the tomatoes, stir and let simmer on medium-low heat for 15 minutes. 

Once the sauce has simmered and thickened a bit, it is time to start layering the lasagna. In a 9×13 glass baking dish, spoon a thin layer of sauce into the bottom of the dish. 

Next, put down an even layer of the noodles, covering the bottom. On top of the noodles, add another thin layer of sauce, then scatter 1/3 of the squash in an even layer.

Dollop a third of the ricotta all over the vegetables, then top with a handful of mozzarella, and a sprinkle of parmesan.

Keep layering in this order until you have reached the top. End with the vegetables and then a layer of sauce, mozzarella and parmesan on top.  

Cover with foil and bake for 40 minutes, then uncover and bake for another 5-10 minutes. 

After you remove from the oven, let the lasagna sit for at least 10 minutes before cutting into it.